For parents, there's nothing quite as anxiety-inducing as not knowing where your kids are or if they're safe. Yet parents have to deal with that anxiety every day and send their kids out into the world, to school, to playgrounds, etc.
You can never really truly know what your kids are doing when they're out of sight. The world is a scary place and we all know that it's full of predators and kidnappers.
Even in the Online World, kids these days are subject to cyberbullying, pornographic content, catfishing, and a number of other harmful activities. The only way to truly protect your kid is to use a parental monitoring tool. And that's where FamiSafe comes in.
Famisafe is a parental control app that has been launched by technological giants Wondershare. Coming from one of the world's leading technological empires, FamiSafe is extremely reliable and it has already established a name for itself. It is designed to help parents keep track of their children and their online activities 24/7.
In this review, we'll determine how to use FamiSafe, what its prime features are, and whether it's the right choice for you!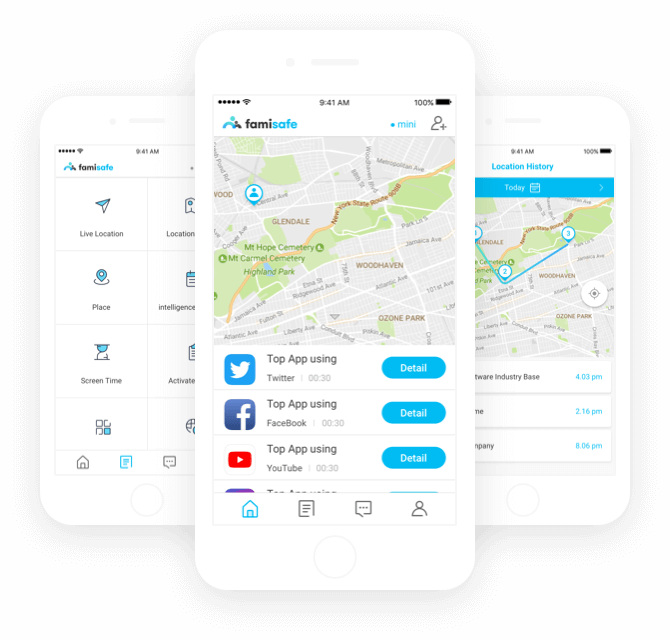 Can't Miss: How Can I Monitor My Child's Text Messages for Free?
FamiSafe at a Glance
FamiSafe is a fairly basic parental monitoring app. It gives you access to features like GPS tracking, monitoring apps, checking browser history, etc. However, it doesn't have many of the advanced monitoring features that advanced spy apps have like checking call logs, text message logs, etc.
On the other hand, it's a completely legit app that's also found in the Google Play Store and App Store so you can install it easily without having to jailbreak or root the target phone, as is necessary in many other phone monitoring apps.
Website: https://famisafe.wondershare.com/
Pro
Can track kids effectively, including Geo-Fencing.
Can remotely control the kid's phone and limit its usage.
Easily installed and downloaded from legit sources.
No jailbreaking or rooting necessary.
Comes with a 3-Day Free Trial.
Cons
Can't monitor texts or social media apps.
Our FamiSafe Review
FamiSafe Features
FamiSafe has a wide range of features that makes it ideal for parents who are always concerned about their children's safety.
Location Tracking & Geo-Fencing
This is one of the most frequently used features of FamiSafe. When you're kids go out of sight, it's impossible to know if they're safe or where they are exactly. Parents often get concerned if their kids are returning from school at late hours.
With FamiSafe, you can keep track of your kid's location at all times. You'll always know where they are, and thus prevent them from wandering towards danger.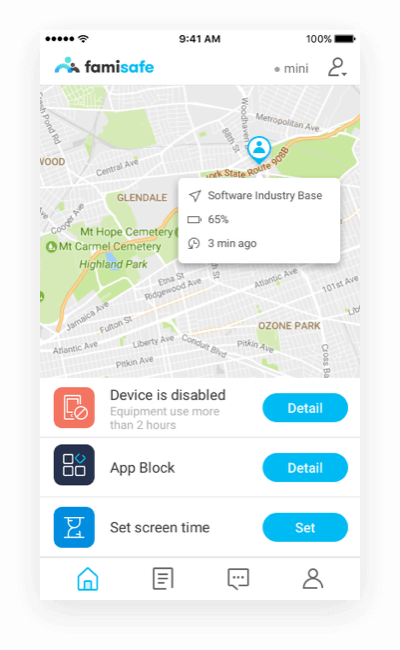 You can even check their location history to determine which areas they have been to throughout the day and at what time.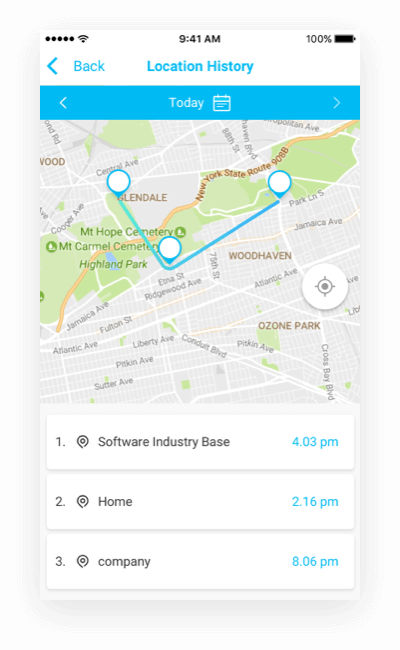 One of the most impressive features, however, is Geo-Fencing. This feature allows you to set up a geographical radius for your kid's phone, ranging from 100m to 1000m.
If your kid wanders out of that radius, you'll immediately get an alert. This is an effective feature if you want to make sure your kid isn't wandering too far from home. 
Monitor App Usage
We all know how easy it is for kids to get addicted to certain mobile apps, especially ones related to social media such as Facebook, Instagram, etc.
As parents, it's important to ensure that their lives aren't lead completely through the screens. You can help enforce that by setting up time periods when certain apps will be blocked from their phones. 
Besides that, parents also get a complete log of all the apps accessed by your kids. You can find out which apps they've used, when, and for how long. This will help you determine which apps to block and when.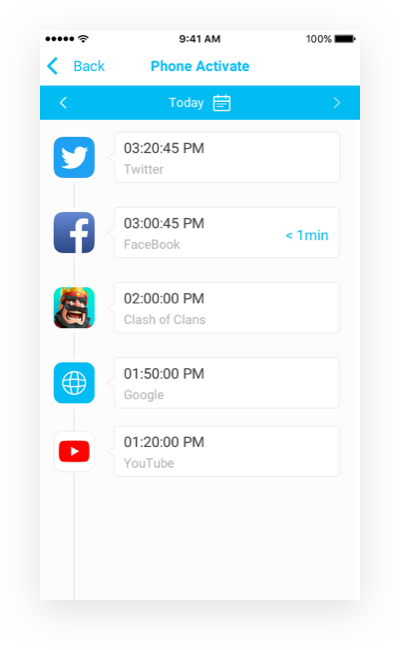 Web Content Monitoring
The internet can be a useful place. But it's also full of pornographic and violent content that can be damaging to little children. With this feature, you can find out which sites your children access, and block out all suspicious or unwanted sites.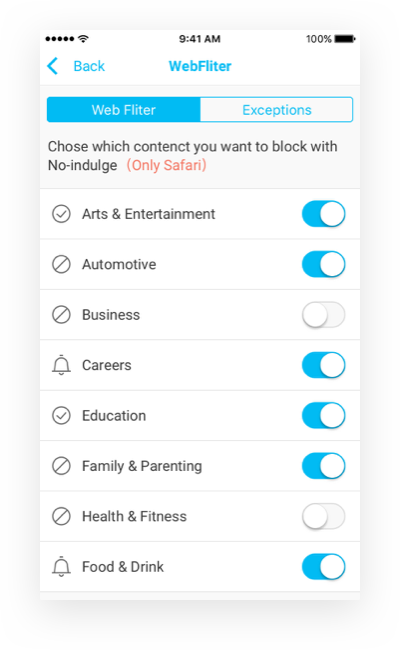 Screen Time Monitoring
This feature gives you the power to lock their phones during certain periods of time. For example, you can lock their screens during bedtime so they're not distracted.
Related Reading: 10 Best Android Monitoring Apps to Monitor Child's Phone Remotely
Remote Control
Once you've set up the app, you don't need to access your kid's phone again. You can handle all of the settings remotely from your own phone.
Compatibility
FamiSafe is compatible with all Android 4.4 and above phones and tablets. For iOS devices, it's compatible with iOS 9.x, 10.x and above.
How much does FamiSafe cost?
FamiSafe follows a subscription-based model. As such, you can get it for three different subscription periods:
Monthly: US $9.99
Quarterly: US $19.99
Yearly: US $59.99
However, before purchasing FamiSafe, you can also try out a free 3-Day Trial version. The Trial Version will give you access to 90% of all the FamiSafe features.
What if I need a Refund?
FamiSafe is purchased through Google Play or App Store. As such, any requests for refund have to be sent to the following platforms:
FamiSafe Alternatives
How to Install FamiSafe?
One of the best aspects of FamiSafe is that it's extremely simple to install and use. You just have to follow these steps.
Step 1: Download and Install
Download it from the App Store or Google Play and install it in your own and your kid's phones. 
Step 2: Register
Next, you have to register a FamiSafe account, either from your own or your kid's phone.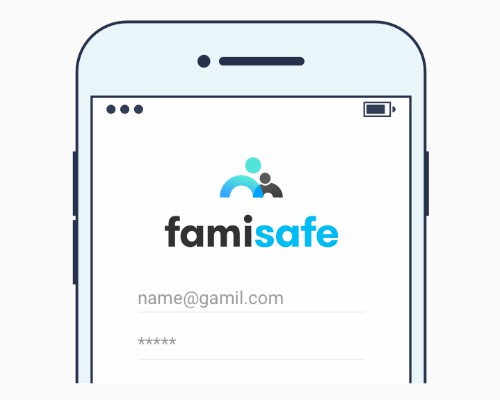 Be sure that you apply the correct designation in both the phones. Yours should be registered as 'Parents' and your kid's phone should be registered as 'Kid'.
Step 3: Setting up the Kid's Phone
For iPhone:
Log into your account, choose the Kid identity, and then enter your'd kid's personal details like name and age. 
Now you need to grant access to FamiSafe. First, allow it to access location, and then install MOBILE DEVICE MANAGEMENT
For Android:
Log into your account, choose the Kid identity, and then enter your'd kid's name and age, the same as for iPhone.
Grant permission to FamiSafe when requested. 
Give App usage access. 
Grant administration access to FamiSafe. This will protect the app against being uninstalled by anyone other than the Parent. 
Activate Location Tracking feature so the kid's phone can be tracked by you.
Setting up the Parent's Phone
This is fairly simple. You just log into your own account and select your identity as a Parent and then you link your phone to your kid's device.
If you have any difficulty in installing the app, you can also contact the support team for help. You can submit a ticket through the Help section of their app. Or you can directly email them at [email protected]. They respond within 24 business hours.
How to Uninstall FamiSafe?
Uninstalling FamiSafe is an easy and effortless task. On the parent's device, you can simply uninstall the app directly as you do with any other app in your phone.
However, on the kid's phone, you'll have to first log in with your password and account details and then uninstall the app.
FAQs
1. Can FamiSafe be used to control the kid's XBox, Computer, Nintendo, etc?
FamiSafe is only used to access and monitor mobile devices, specifically iOS and Android phones. You cannot control a PC or a video game console with it. However, FamiSafe may develop a desktop version later.
2. Is there any difference between using FamiSafe on iOS or Android phones?
In most cases, the two phones have similar functionalities in terms of FamiSafe. However, there are a few key differences:
iOS devices are currently limited in certain features like checking browser history report and app usage report. These features will be added in the upcoming iterations of the FamiSafe app.
iOS is more discreet than Android. When you block an app in your kid's phone, the icon will disappear in an iOS phone. However, if your kid uses an Android phone, they'll be able to see the app icon but not be able to access it.
3. Important Considerations
When installing FamiSafe into your kid's phone, it's highly advised that you grant Location Access to the app. That's the only way for it to track your kid's phone.
FamiSafe can only track your kid's phone if it's connected to the internet and turned on. As such, it's advised that you give your kid a strong data plan so they're always online.
Sometimes, FamiSafe might suddenly get disconnected or it might crash. In that case, you can activate the app in your kid's phone again.
Final Thoughts
As you can see, FamiSafe has a pretty comprehensive set of features that all parents can benefit from. YES, it is a worthy parental control app you can trust. They also have a great set of reviews from satisfied customers from around the world. As such, we highly recommend this parental control app to all concerned parents out there!
References: