Snapchat is one of the most popular social media platforms used by kids these days.
With Snapchat, kids can send videos out that disappear after a short period of time, or after the recipient has seen them. Because of this feature, a lot of kids have started using Snapchat for sexting and other shady purposes.
If you monitor Snapchat, you can find out what your kids discuss with their friends, if they're doing anything inappropriate, or if they're getting cyberbullied. It gives you the power to really take care of them and protect them from the world.
There are a lot of great Snapchat monitoring apps in the market, and there are also several spam apps out there. To help you weed out the spam from the legitimate apps, we've created this article.
In this article, we'll show you how to monitor Snapchat using one of the 10 Best Snapchat Monitoring Apps to Monitor Your Kid's Snapchat.
Part 1: #1 Snapchat Parental Monitoring App – Cocospy
Cocospy is the most reliable mobile tracker app for parental control purposes. Designed primarily for the parents, Cocospy understands your concerns as a parent.
As a parent, you need to protect your child from bad company and influencers. You need to protect them from cyber criminals. You need to know what is shaping their behavior and interests these days.
To address your concerns, Cocospy gives you complete details about every activity on your child's device. Let's take a look at the features and see how Cocospy can help you monitor your child's online behavior.
Sneak into the Snaps!
Spying on Snapchats is tricky because the moments quickly disappear within the next 10 seconds of sharing. Knowing the password of your child's Snapchat account will not suffice in this case.
You need to have a powerful app like Cocospy which can capture the Snapchat moments as they are shared.
You can review the shared Snapchat moments and stories anytime, by logging in to your Control Panel. Go to the dashboard, open social apps and click SnapChat. Read the conversations and see the shared moments at your ease.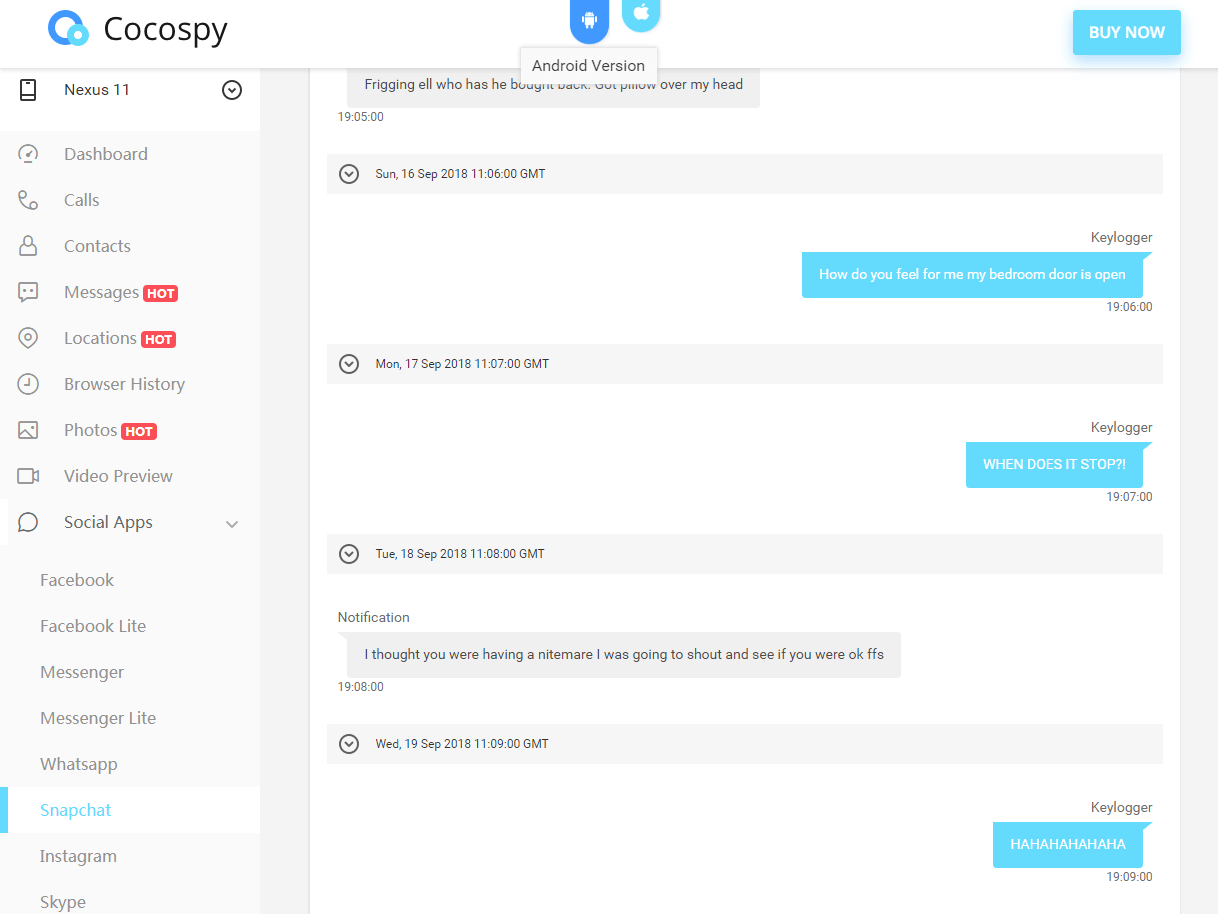 Browse through Media Files
You may like to browse through the media files and the phone gallery. Go through the photos and videos on the target device to keep an eye on your child's interests.
Check out other Social Activities Apps
If you find out that your kid is involved in any inappropriate behavior, it's vital for you to check out the activities on other social applications.
Cocospy gives you access to the data of several social media applications including Facebook, Facebook Lite, Messenger, WhatsApp, Tumblr, Tinder, Skype, and others.
Keylogger
The keylogger feature is helpful to get you all passwords and other credentials. You can see a log of all keystrokes as they occurred on the target phone.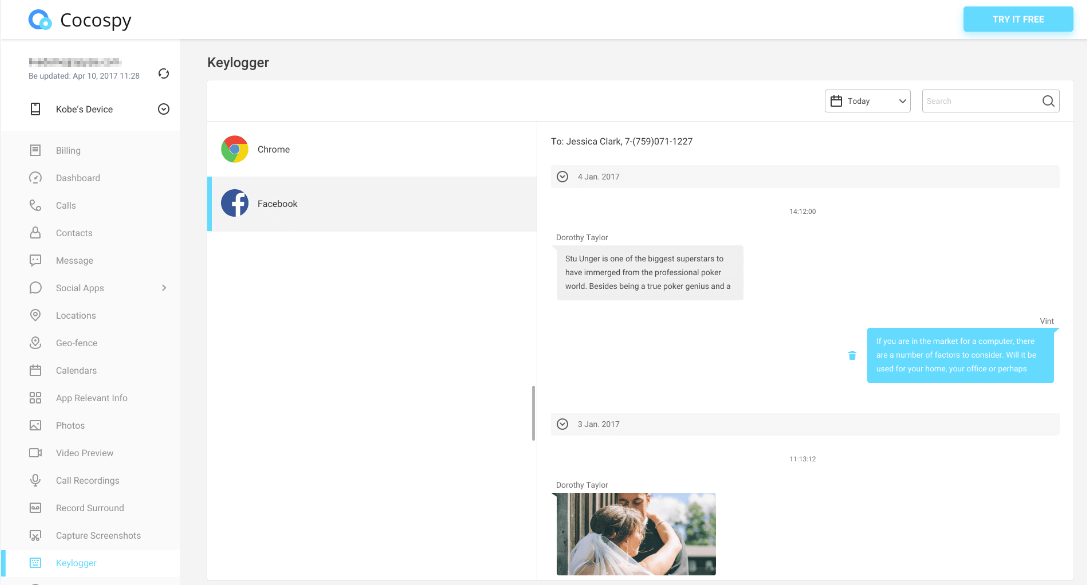 Why should I choose Cocospy?
Cocospy is the best cell phone monitoring app for parental control. Cocospy is leading the spy market as a perfect blend of features, performance, and affordability.
Easy to Use Interface
The well-designed user interface makes Cocospy easy to use. It can be quickly set up within a couple of minutes. You can start tracking your child's Snapchat soon after the data synchronization process completes.
No Root and No Jailbreak Monitoring Solution
Cocospy provides a No Root Monitoring solution for your child's cell phone.
To keep your child's device protected, Cocospy uses advanced technology to spy on to third-party apps without rooting the target device. On the other hand, the competitor spy apps require to root the target device and expose it to vulnerabilities for monitoring third-party apps.
Similarly, Cocospy provides a No Jailbreak iOS solution to fulfill the spy needs on iOS devices.
No need to Install Software (iOS Version)
The iOS version of Cocospy is web-based. There is no need to install any app on the target iPhone. All you need is the iCloud credentials of the target device.
Stealth Mode of Operation
For Android devices, Cocospy runs silently in the background without any trace or app icon, so your child would not know about being monitored. Though it is ethical to inform them about being monitored, yet you can decide better as a parent.
Legitimate and Safe to Use
It is a 100% legitimate and secure app. The spyware is free from viruses or malware. It does not steal your information and can be used safely on your kid's phone.
How to Monitor My Child's Snapchat?
Step 1: Create an account with Cocospy.
Step 2: Configure the target device as per instructions of the Setup Wizard.
Step 3: Go to your Cocospy Dashboard and select 'Snapchat'.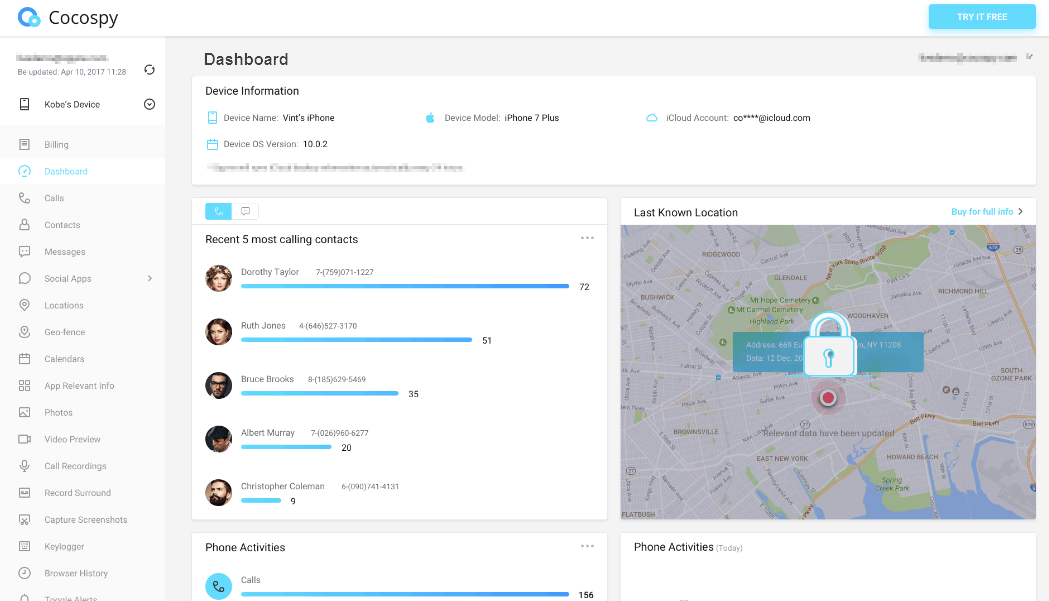 Sign up to Cocospy for free or check the live demo here >>
Part 2: #2 Snapchat Monitoring App for Parents – Spyic
Spyic is another popular spy app for monitoring Snapchat activities on the target phone. It is a reliable and trusted cell phone monitoring solution. Spyic is used by parents to stay updated with their child's usage of mobile phones.
With Spyic, you can remotely monitor the target iPhone device using iCloud credentials. However, you will need physical access to the Android device for the installation and setup of Spyic.
You do not need to root or jailbreak the device for using Spyic solution, not even for monitoring third-party apps.
Besides seeing someone's Snapchat history, Spyic offers several other useful features to monitor your kids' activities on their smartphones.
Monitoring Features
Spyic app comes second in the list because it does not provide Snapchat monitoring feature for the iOS devices. On the other hand, you can monitor the Snapchat on Android devices without rooting the device.
Here are a few salient features of Spyic cell phone monitoring solution.
Snapchat Monitoring
Monitor the Snapchat moments, messages, photos and videos by choosing the 'Snapchat' option in the 'Social Apps' section from the dashboard.
In addition to tracking the deleted pictures and videos, you can see timestamp and details of the contact.
Keylogging Feature
Like Cocospy, Spyic has a keylogging feature as well to capture all keystrokes on the target device.
Ambient Recording
The 'Ambient Recording' functionalities of Spyic makes it stand out from the competitors.
If you see a Snap story and want to know more about the surroundings of your child, turn on the camera to capture the photos secretly.  You can also turn on the voice recorder to hear the voices and phone surroundings.
Moreover, you can access all the standard monitoring features with the Spyic. Check out the live demo of Spyic here and explore the functionalities yourself!
Don't Miss: How to Read Snapchat Messages Without Them Knowing
Part 3: #3 Snapchat Monitoring App – Famisafe
Famisafe is the cheapest Snapchat monitoring app in the market. In addition to Snapchat, it's also perfect for monitoring other social media platforms like Facebook and Instagram. It has a similar range of features as the apps mentioned earlier. And you need to jailbreak or root the target phone in order to spy on Snapchat.
However, Famisafe is a lot more secure and discreet than mSpy and Cocospy for one vital reason. In the other apps, you have to manually delete the icon after installing the app.
But in Famisafe the icon gets automatically deleted so there's no possibility of human error due to forgetfulness.
Snapchat Monitoring Features:
Keylogging: You can find out all the keys being pressed by the target phone. As such, the moment your kid logs into Snapchat, you'll have their password and then you can monitor it from the inside.
Snapchat Spy: You can go to the 'Snapchat' option in the 'Social Apps' tab to get a complete log of all the messages exchanged from the target phone's Snapchat account. You can also view all the deleted pictures.
How to Monitor My Child's Snapchat?
Go to Famisafe.com and create an account.
While setting up, you'll have to enter the target device's vital information like your kid's name, their device type, etc.
For iPhone – Jailbreak the target iPhone and install the Famisafe iPhone app into it.
For Android – Root the target Android phone and install the Famisafe Android app into it. However, before installing, you'll have to go to Settings > Security, and turn on Unknown Sources.
Go to the dashboard and click on the 'Social Apps' or the 'Keylogger' tabs, depending on the feature you want to use.
Part 4:#4 Snapchat Tracking App – FlexiSPY
FlexiSPY is one of the most advanced Snapchat tracking apps in the market. It's way more advanced than Cocospy or mSpy, with features like Call Interception, Call Recording, etc. However, simply in terms of Snapchat Monitoring, Keylogging and direct Social Media monitoring features are enough.
The reason FlexiSPY is lower in this list is because it's the most expensive app in the market. Even it's lower subscription model is more expensive than the advanced versions of the other apps. However, if you get the Extreme version of FlexiSPY, you also get a complementary tool called Password Cracker with which you can find out the target user's Snapchat password directly without having to decipher the keylogging data.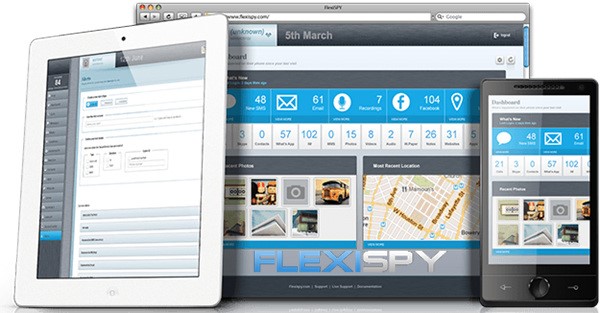 Part 5: #5 Snapchat Spy App – hoverwatch
hoverwatch is the cheapest Snapchat spy app in the market. However, it's not very advanced. It doesn't have a Keylogger feature. As such, if you want to spy on Snapchat, you can only do so directly through the Snapchat spy feature which gives you access to message logs and all deleted videos and snaps. hoverwatch can't help you find out your kid's Snapchat password.
However, hoverwatch has one great benefit over all the other apps. It can monitor up to 5 Snapchat accounts simultaneously, so it's ideal for big families.
Part 6: #6 Snapchat Monitoring App – iKeymonitor
iKeyMonitor is purely meant to be an iPhone parental monitoring app. This app is also discreet and it can be used on Android phones as well. But it works best in iPhones.
It has both a direct Snapchat spying feature and a Keylogger feature. With the Keylogger, you can find out all of the target user's keystrokes and hijack their Snapchat account.
Part 7: #7 Snapchat Monitoring App – XNSPY
XNSPY is a Snapchat monitoring app that's used by parents to keep track of their kids's online activities without their knowledge. It's a perfectly legal and legit application that has been featured in various media channels as well so you can trust it. It's completely stealthy because you can delete the app's icon from the target user's phone after installing it.
When it comes to monitoring Snapchat, you can do so directly from the Snapchat Spy feature or you can use the Keylogger feature. Both of them are effective.
However, the Keylogger feature will also give you access to the target user's Snapchat password, allowing you to completely hijack the account if you so choose. Like all the other apps, in order to monitor Snapchat, it's compulsory for you to jailbreak or root the target phone.
Part 8: #8 Snapchat Monitoring App – FoneMonitor
FoneMonitor is an Android and iPhone Snapchat Monitoring App. It allows you to track anyone's online activities from anywhere in the world. You can purchase either the Premium Edition or the Ultimate Edition of the app. However, all Snapchat spying features are only available in the Ultimate package.
FoneMonitor isn't as advanced and powerful as the other apps in this list. If you monitor Snapchat using the direct Snapchat Spy feature, you can only check out the date and time stamped messages. You won't gain access to all of the deleted pictures and videos.
The only way to completely monitor Snapchat using FoneMonitor is to use the keylogger feature to decipher the password and then monitor it from the inside.
Part 9: #9 Snapchat Monitoring App – Guest Spy
Guest Spy is a newly established Snapchat monitoring app. As such, it's not extremely advanced and powerful, however its future seems promising. All you have to do is jailbreak or root the target phone, install the app into it, and then you'll gain access to the target user's Snapchat account in your personal control panel!
You can use the Keylogger feature to decipher the target user's Snapchat password by going through a log of all the keys they've pressed in their phone. This gives you the chance to log into their Snapchat account secretly and monitor all their activities. Guest Spy also comes with a 5 days money back guarantee.
Part 10: #10 Snapchat Hacking App – OneSpy
OneSpy is a completely reliable and trustworthy India-based Snapchat Hacking App. One of the things that sets them apart is the fact that their website clearly lists out their physical address. You can make an appointment to physically meet them any time, so you know that they're not a scam or illegitimate business.
Like the other apps, jailbreaking and rooting the phone is necessary if your want to monitor Snapchat. You can do so either through the direct Snapchat Spy feature or via the Keylogger feature.
Installing the app into the target phone is a simple 5-minute process and you can delete the OneSpy icon after installation. The biggest issue with this app is that it's meant only for Android phones, not for iPhones.
Conclusion
As you can see, there are a lot of different ways to monitor Snapchat account without your kids finding out. My personal recommendation is to use mSpy or Cocospy for the purpose as they're the most advanced and well reputed apps in the market.
Some of the other Snapchat Monitoring apps also have their unique advantages. For example, FlexiSPY gives you access to a direct Password Cracker, even though it's very expensive. And hoverwatch allows you to monitor up to 5 Snapchat accounts simultaneously, even though it's not very advanced.
The final decision regarding which app to use is all yours. However, whatever you decide, do let us know about it down in the comments section. We'd love to hear your opinions!
This post is also available in: Português (Portuguese (Brazil)) Español (Spanish)