Do you want to check your call history on iPhone but don't know how to do that? Are you interested in viewing call history of your loved one to see who is contacting them? Do you want to keep an eye on your employees to know who they are getting in touch with?
Get yourself at ease and follow up as we explain how to view iPhone calls log. We will also explore how to remotely check call logs of other people on iPhone using the Cocospy solution.
Before we get started, let us quickly understand that a call log stores the record of all outgoing and incoming calls on a phone.
Hence, 'call log' and 'call history' terms are used interchangeably. Call history can be used to view the list of all dialed, missed, received and cancelled calls.
Part 1: How to Remotely Check Someone's iPhone Call History
In life, we come across situations where we need to check someone else's call history to make sure that they are safe. In other situations, we might want to assure ourselves that we are not being cheated or lied to.
As a parent, you may want to keep a track of your child's activities and check who they are friends with. As a spouse, you may want to know if your other half is facing some trouble and seeking help secretly. As an employer, you may want to know if any of your employees are instigating trouble against you or your company.
No matter what your situation is. No matter what your reason is. We don't judge you. We assist you – and, we do so by offering the Cocospy solution. Cocospy lets you remotely check other people's call history.
Why should I choose Cocospy?
Cocospy is a reliable and a legal spy application for monitoring mobile phones. To use Cocospy's iOS solution, you don't need to install any software or jailbreak the system. Instead, Cocopy will secretly use iCloud backup and  the target user would not even know you are spying on their call logs.
How will Cocospy remotely check call history of other people on iPhone?
Cocospy iOS solution utilizes the iCloud backup to sneak into the target's device call log. As soon as Cocospy acquires iCloud credentials of the other person, it syncs up with the iCloud backup. Cocospy displays the retrieved call history on your dashboard in the 'Calls' section.
How can I get started with Cocospy iOS solution?
Getting started with Cocospy iOS solution is quite simple. All you need is your Cocospy account credentials and iCloud credentials of the particular person.
Step 1: Sign Up to Cocospy
Signing up with Cocospy is real easy.
Enter your email address.
Give a password to your account.
Click 'Sign Up Free'.
You will receive a 'Welcome' email from Cocospy.
Step 2: Select Target Device
You need to select the target device to be monitored.
Hover over the 'Apple' logo.
Click it.
Step 3: Purchase a feasible Plan
Now, you need to purchase a feasible plan for monitoring devices as per your need. You can select amongst Family, Premium and Business plans. Check the pricing page here >>
Select a plan.
Enter details of your VISA, MasterCard, American Express, PayPal, JCB or Maestro card.
The system will verify your information.
Upon successful verification, you will receive a purchase success email on the registered email address.
Click on the link in the email to open the Coccospy Control Panel.

Step 4: Enter iCloud Credentials of the Target Device
Now, enter the iCloud credentials of the target device.
Enter iCloud ID and password.
Click 'Verify'.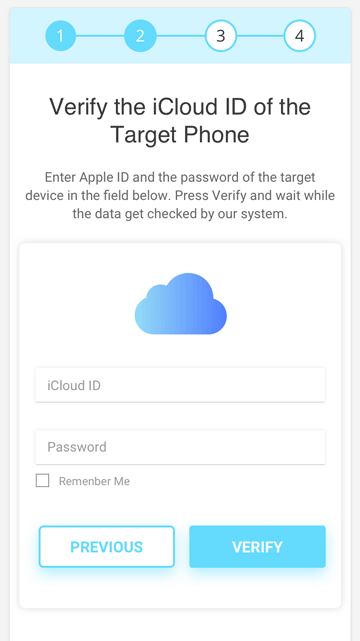 The system will verify the iCloud credentials.
Step 5: Finish Installation
Once verified, the data will begin to sync up.
Click 'Start' to start monitoring of the device.
It might take some time for the call history data to appear in your Cocospy dashboard.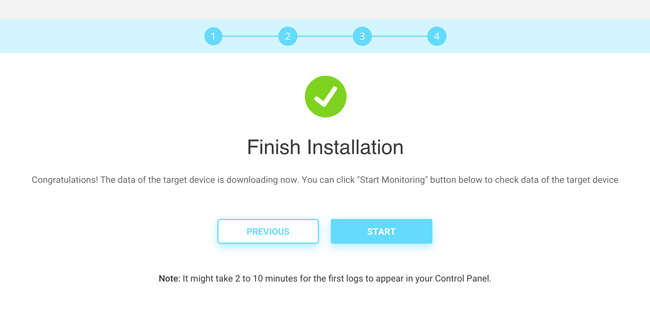 Step 6: Check Other Person's iPhone Call History
Wohoo! You are now in the Cocospy dashboard. You can see the iPhone call logs by:
Either go to 'Recent 5 most calling contacts'
Or go to 'Calls' tab.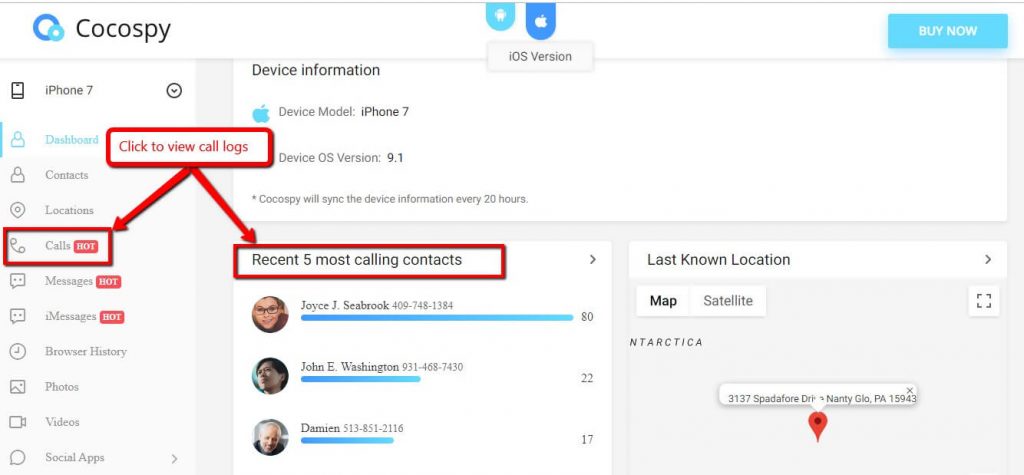 It will open the call history of the person.
The displayed data contains contact name, contact photo, phone number, duration, date and call type.
How about playing around with Cocospy Live Demo and see for yourself how you can check other people's call history on iPhone?
Don't Miss: How to Use Router to Monitor Which Websites Are Visited
Part 2: How to Check Your Call History on iPhone
You just got your new iPhone and love playing around with it. By chance, you missed a few calls and now you want to know who called you.  Or you are looking for history of calls but you don't know how to check your call history on iPhone?
Do not worry! You can access the call logging feature of iPhone using any of the following options:
Solution 1: Check your iPhone Call Logs
You can check your iPhone call history through call log.
Tap to 'Phone' icon in your dock.
Tap the 'Recents' option at the bottom of the screen.
Your call history is opened up. Call history is grouped into 'All' and 'Missed' calls. You can switch between the two tabs to view your desired option.
iPhone call logging feature does not only record the calls sent, received, missed or cancelled on the cellular network. Instead, it logs the call history of calls over the VOIP applications too, such as FaceTime and Skype.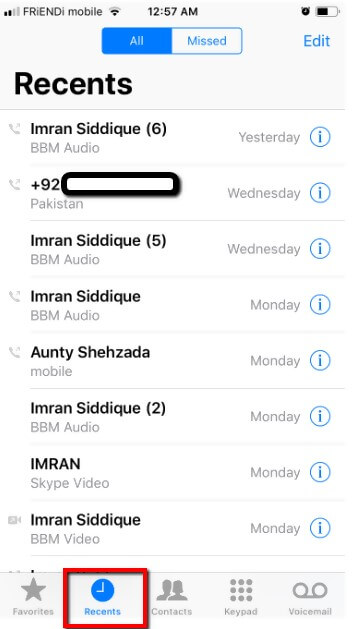 Click on the 'i' (info) icon to see details of the call.
Solution 2: Use Siri to check your Call History on iPhone
How about asking your personal digital assistant to check your call logs?
Press the home button or say 'Hey Siri' to open up Siri.
When Siri shows up, command her to show the call logs. You can ask her to open up call history by saying any of the following or similar commands.

Show me my call history.
Who called me yesterday?
Show me the calls I received
Can you show me missed calls?
Can you show me call log?
Voila! Now, you know how to check your and other people's call history on iPhone.
Did you find the solution helpful? Do you have something to add? Let us know of your opinion in the comment section below.