There are a lot of reasons for parents to monitor Android phones that their kids use. These days the online world is full of dangers. These may include inappropriate content containing porn and violence, predators who stalk adolescent kids' social media platforms, and many others.
To protect kids from these dangers, parents should seek the help of monitoring apps for iPhones and Android phones. These monitoring apps can help you track your kids' GPS locations, check their browser history, monitor their SMS, calls, and even social media accounts.
In this article, we'll show you how to monitor Android phones using the 10 Best Android Monitoring Apps to Monitor Child's Phone Remotely.
Part 1: #1 Android Monitoring App: Cocospy
Cocospy is the No.1 professional and discreet Android monitoring app. After installing Cocospy Android app into the target phone, you can delete the icon and prevent your kid from finding out that you're monitoring them.
If your child's phone runs iOS, then you don't need to install any software on his/her device. You also don't need to jailbreak it. To know more about it, you can check Cocospy's Free Live Demo or Cocospy iOS non-jailbreak solution here >>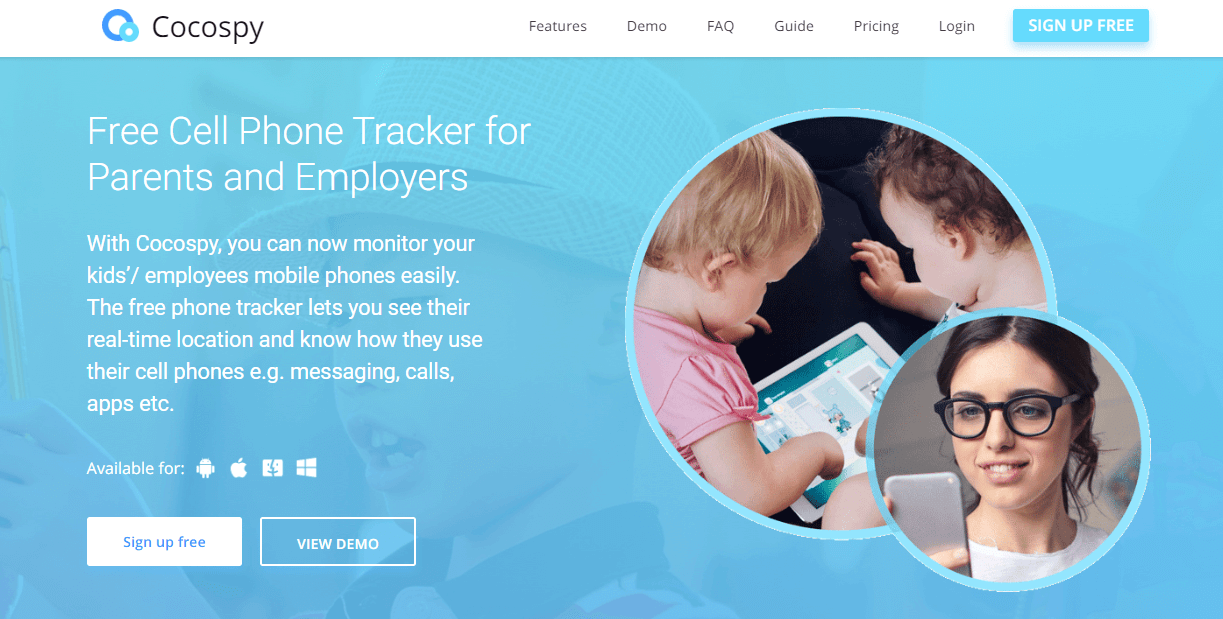 Features:
Social Media Monitoring: You can track all of your kids' online footprints. You can gain access to their social media accounts and read all the messages they share with others in private, check their public posts, and even block contacts. 
Keylogger: Gain access to your kids' keystrokes and use that information to decipher their passwords. Once you have their passwords, you can directly log into any of their accounts and monitor them. 
GPS Tracking: Get live updates on where they are at all times, complete with a location history. You can even set up geofencing so you get an alert whenever they go outside of a specific geographical radius. 
Call Logging: Check all of your kids' call logs to see who they are talking to, when, and for how long. 
How to Monitor Android Phone with Cocospy?
Step 1: Create a Cocospy account.
Step 2: Access the target phone and root (or don't root) it.
Step 3: Install Cocospy into it and then hide the icon.
Step 4: From your control panel, start monitoring your kid's activities.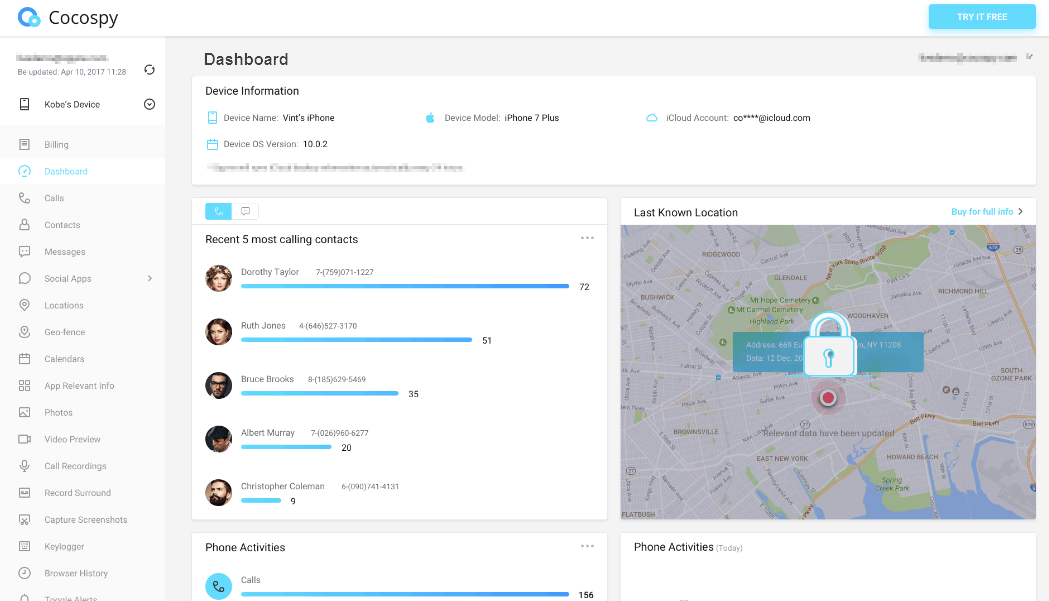 Sign up for Cocospy for free or check the live demo here >>
Part 2: #2 Android Monitoring App: Spyier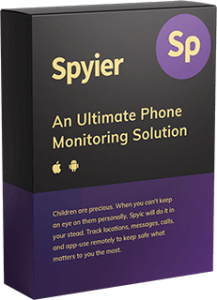 Spyier is the best hidden & undetectable Android spy apps in the market for a number of reasons. Amongst all the legit monitoring apps, it has the highest number of features with which to monitor your kids.
Furthermore, if you're uncertain about paying for it, you can also use a Limited Free Version of the app. The Free version won't give you access to all the advanced features, but it will give you a good idea about whether you want to proceed with the Premium package. The only real issue here is that the Premium version is pretty expensive compared to other apps.
Spyier can monitor Android phones based on the following functions:
You gain access to a Control Panel through which you can remotely access your kids' phone.
Set up boundaries and restrictions based on locations, screen time, apps, etc.
The Filtering technology helps you protect them from inappropriate content.
Features:
Filter Inappropriate Content: The Filtering Process allows you to decide which kind of content you want to protect your kids from. You can select categories like Porn, Violence, Guns, Religion, etc. Once you've selected, those contents will be blocked from your kid's phone.
Monitor Social Media Activity: You get a detailed report of what your kid is doing on various social media accounts like Facebook, Instagram, WhatsApp, etc. If you want to prevent them from certain platforms, you can block them.
Monitor App and Games Usage: You can monitor the apps and video games they're using on their phones. Based on that report, you can block some of them, or you can set up time restrictions.
Time Restrictions: If you want to minimize cellular distractions, you can lock your kid's phone during certain preset hours.
SMS and Call Monitoring: Get date and time stamped log of all their messages and calls along with contact details. You can even block certain contacts from their phone.
GPS Tracking: Receive live updates of wherever your kids are at all times. You can even use the Geofencing feature to set up a geographical boundary for your kids. As such, if they go beyond that boundary, you'll get an alert.
How to Monitor Android Phone with Spyier?
Create a FREE Spyier
Download the Spyier app for Android phones and install it into your kid's phone.
Access your personal Family Portal and monitor the phone.
Part 3: #3 Android Monitoring App: FamiSafe
Famisafe is an extremely reliable Android monitoring app that's rich with features. The app has been designed by one of the World's most reputable technology enterprises – Wondershare. Famisafe gives you access to a wide range of features such as:
Track your kid's location at all times and check their route history. If they go somewhere they're not supposed to, you'll find out. 
Kids can use the Panic Button in their phone to send you an alert with their location so you can find them.
Geofencing feature helps establish a geographical boundary. If they try moving beyond that with their phones, you'll immediately get an alert. This is a great tool to use if you want your kids to come back home directly from school and not wander off.
You can draw a regular statistical overview of all of their cellular activities, including what they're doing on social media and the internet.
Lockdown app or website from their phone, either temporarily to prevent distractions, or permanently.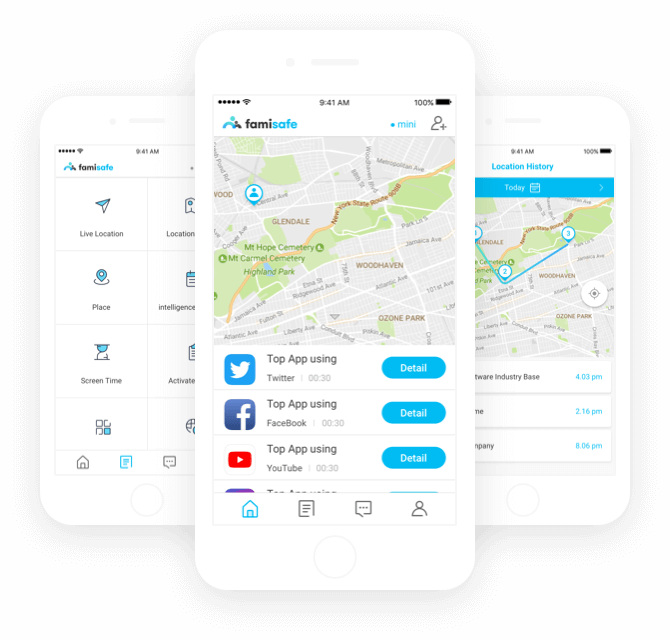 Check out our in-depth FamiSafe review
Part 4: #4 Android Cell Phone Monitoring App: mSpy
mSpy is a professional surveillance app that allows you to monitor your kid's phone remotely. As a professional monitoring app, mSpy also allows you to track your kids secretively.
After you install mSpy into the target phone, you can hide the icon so that your kid never finds out they're being monitored. This will give you a more unfiltered look at what your kids do when they don't know you're watching.
Being a professional and discreet Android monitoring app has its advantages and disadvantages. On the plus side, it's secretive and has a much wider range of features than Spyier.
However, the drawback is that it can't give you access to Filtering Technology or Blocking Apps because these will warn the target user that they're being monitored.
You can monitor Android phones either by rooting or without rooting them. If you don't root the phone, your access to features will be limited. However, if you root the phone, you'll get access to all advanced features.
Advanced Features of mSpy:
Geo-Fencing: Set up a boundary for your kids on the GPS system. As such, if your kids leave the geographical boundary, you'll get an alert and you'll know immediately. 
Social Media Monitoring: mSpy allows you to spy on apps like Facebook, Instagram, WhatsApp, Snapchat, etc. You can find out all the messages being sent, received, and deleted from these accounts.
Keylogging: Get a log of all your kids' keystrokes on their phone. The moment they enter a password, you can decipher it. As such, you gain complete access to all of their online accounts. 
The aforementioned features are some of the advanced features available in the Rooted version of the app. However, even without rooting, you get access to call logging, text message monitoring, checking browser history, etc. 
How to Monitor Android Phone with mSpy?
Purchase mSpy. If you want to monitor your kid's phone without rooting, you can get the Basic package. If you want the advanced features, then get the Premium package. And you can get the Family Kit if you want to monitor up to 3 Android phones together.
Next, you'll have to set up your Control Panel by following the link sent to your email. You'll have to choose the Android option when asked for the target phone's device type. Next, you'll have to select the Rooting or Non Rooting version.
Access the target phone, root (or don't root) it, and then install the mSpy app into it. Hide the icon after installation is done.
From your control panel, you can now monitor your kid's Android phone. 
Part 5: #5 Android Monitoring App: FamilyTime
FamilyTime is one of the best parental monitoring apps for Android and it's highly trustworthy because it has been recommended by several media outlets like The Washington Post, BBC, HuffPost, Fox News, and various others. It's used by millions of users around the world, including several celebrities who have recommended it.
FamilyTime allows you to access various types of features. You can set up several restrictions to limit screen time or lock the phone.
There are Location Tracking features available to track your kid's GPS location and set up Geofencing. Blocking features enable you to filter inappropriate content and block certain apps, websites, and games.
And, finally, there are Alert features with which your kids can send out an SOS or a PickMeUp Alert with their location details.
FamilyTime offers different types of subscription plans depending on whether you want to monitor a single Android phone, 2 phones, or up to 5 phones. The latter is especially useful for large families.
Part 6: #6 Android Monitoring App: Minspy Global
Minspy Global is perhaps the most unique Android monitoring app in this list. It sets itself apart from the other based on the fact that it encourages kids to learn. Basically, parents can use this app to lock certain apps and video games. And the only way for their kids to unlock them is to correctly answer a Math or a Quiz question.
The only drawback here is that Minspy Global is meant for that very specific purpose – limiting screen time and quizzing their kids. It doesn't have other important features like filtering inappropriate content, monitoring messages and calls, tracking GPS location, etc.
If you want access to those features, you should consider using apps like Spyier, Cocospy, etc.
Part 7: My Mobile Watchdog
My Mobile Watchdog is yet another powerhouse name in the Android monitoring app industry. It has been featured in reputed outlets like TIME, Forbes, CBS News, NBC News, Wall Street Journal, and various others.
This monitoring app is fairly reasonable and it gives you access to a wide range of features. You can set up time restrictions, block apps, gain insight into social media and internet usage, check call and message logs, track GPS locations, etc. You can even prevent certain contacts from contacting that phone.
Check it out at the Official My Mobile Watchdog Website.
Part 8: Locategy
Locategy is primarily an Android location tracker app for families. It allows you to track the location of your kids at any time with the click of a single button. You can also set it up so that you receive an alert every time your kids reach a particular destination.
Parents can also download a complete report of all their kid's activities including how long they spend on certain calls, social media apps, etc.
Based on that information, you can decide to block certain apps or limit the time allowed for those apps. This feature is also pretty useful when they're in school or sleeping and you want to protect them from distractions.
Locategy allows you to set up several "Parents" devices so multiple people can keep track of your kids.
Part 9: Spyrix Free Keylogger
As the name suggests, Spyrix is a free keylogging software. As such, you can use it to record all of your kids' keystrokes. You can then go through all of the records and decipher all of their passwords to various accounts.
This information can help you directly log into all of their mailing addresses, social media accounts, etc, and find any information you need. Installing it into the target phone is easy and it doesn't get detected by antivirus either.
Part 10: TeenSafe
TeenSafe is a useful Android monitoring app that allows parents to find out what their kids are doing on their PC or their phones. It gives you access to the following information:
How long your kid has been using the phone at a single stretch.

Which apps has your kid been using and for how long.

Check the browser history of your kid's phone.

Check all their communication logs over phone, Skype, SMS, Facebook, etc, to determine all their favorite contacts.

Track their GPS location and get a route history.

Read all sent and received messages.
You can read more about this app on this TeenSafe review post.
Conclusion
I hope this article has given you plenty of options regarding which Android monitoring app to use.
If you want to discreetly monitor your kids without them finding out, then my personal recommendation would be to use mSpy or Cocospy. However, if you're monitoring them with their consent than FamiSafe and Spyier are the best apps.
Whichever app you finally decide to use, do comment about it down below and let us know if you found this article helpful.
This post is also available in: Русский (Russian) Português (Portuguese (Brazil)) 日本語 (Japanese) Español (Spanish)