Are you a concerned parent trying to figure out how to monitor iPhone activity remotely? Perhaps you're afraid that your child might be getting bullied or cat-fished. Or maybe you just want to keep track of their movements so you always know where they are.
Regardless of your specific interests, modern technology has made it possible to protect our children better than ever before. There are iPhone monitoring apps out there that help you track GPS locations, or monitor social media platforms like Snapchat and Facebook.
In this article, we'll give you a detailed overview of the 10 Best iPhone Parental Monitoring Apps to Monitor Child's iPhone. All of these apps have been compiled after our team personally tested them, and after consultation with reputed security firms.
Please Note: This article is specific to iPhone monitoring apps. If your child owns an Android phone, you should read our article on the Best Android Monitoring Apps.
Part 1: # 1 iPhone monitoring app: Cocospy
Cocospy is the most powerful and popular iPhone parental monitoring app which has millions of users in over 190 countries.
It's a professional surveillance app that can also be used for phone cloning, tapping, and various other functions. However, due to the professional nature of the app, it's also a lot more discreet.
What need to mention is that you do not need to install any app or jailbreak your child's iPhone/iPad with Cocospy's iOS non-jailbreak solution.
Features of Cocospy:
Track GPS Location (non-Jailbreak): You can get live updates on where your kid is located at all times.
Geo-Fencing (non-Jailbreak): Set up a geographical boundary for your kid's iPhone. As soon as they cross that boundary, you'll get an alert on your phone.
View Multimedia Files (non-Jailbreak): Go through your kid's iPhone gallery to check out all of the media they consume regularly, including pictures, videos, audios, etc.
Monitor Social Media (non-Jailbreak): Gain access to all of their social media accounts like Facebook, Instagram, WhatsApp, Telegram, etc. This will give you access to all of their private conversations and messages.
Keylogging (non-Jailbreak): Get access to a log of all the keys being pressed by your kid. You can use this information to decipher all of their passwords and then gain direct access to their Social Media accounts.
These are just some of the most powerful features available in Cocospy. In addition to these, you can also monitor browser activities, read text messages and iMessages even it is deleted,  check call logs, go through calendars, etc.
Sign up for Cocospy for free or check the live demo here >>
Part 2: #2 iPhone parental monitoring software: Spyier
Spyier is one of the best iPhone parental monitoring apps in the market. With Spyier, you can easily track your child's phone without them knowing. It's completely FREE to start with and it's designed for the sole purpose of protecting your children's online activities. Spyier has three primary functions:
Give you an overview of how your kid's use their phones via a parental monitoring app and a personal control panel.
Manage their phones remotely to set healthy boundaries.
Use the filtering technology to protect them from harmful content.
It's extremely easy to install and use Spyier. The whole process just takes 5 minutes. You need to Sign up with Spyier by creating a free account, and then install Spyier into your kid's iPhone, and then manage it from the Family Portal.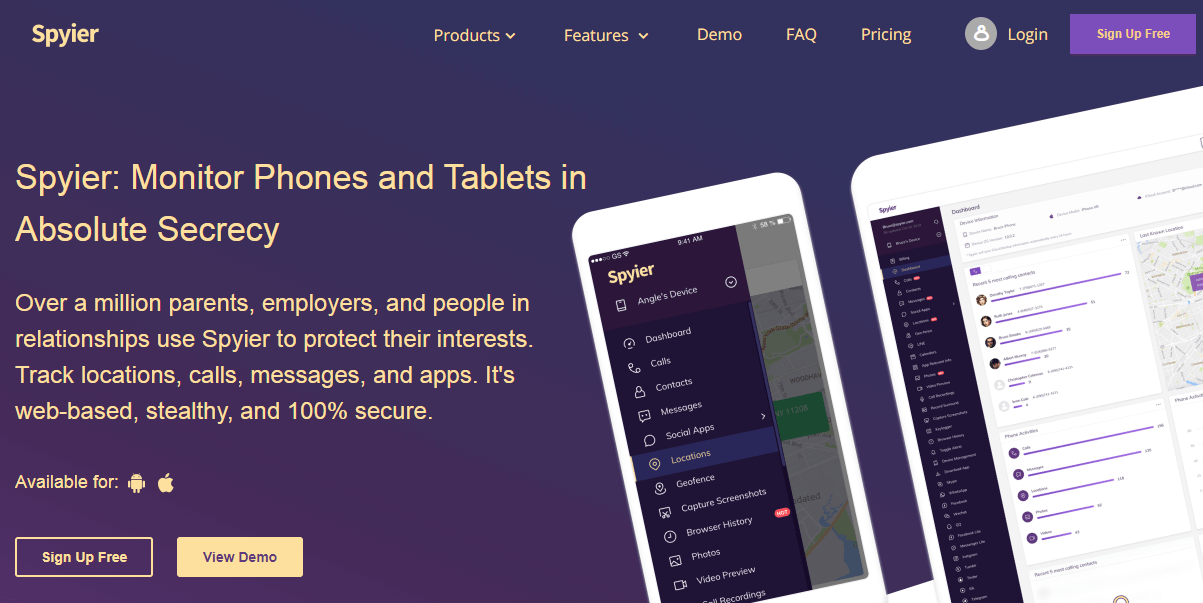 Below is an overview of all the features you get access to with Spyier.
Features:
Block Porn: You can block inappropriate content using the real-time filter. The filters will apply even if your kid is using private browsing mode.
View Social Media Activity: You can remotely monitor what your kids do in their online worlds through platforms like Facebook, Instagram, Twitter, etc.
Control Apps and Games: You can set up time restraints on certain apps and games. And you can also block certain apps from the iPhone.
Time Schedules: You can limit the number of hours your kids can access the phone, or set up restrictions during certain hours. This can protect your kids from distractions during school hours or after lights out.
SMS Monitoring: Read all text messages sent or received from the phone. You can also block certain contacts from the phone.
GPS Tracking: Get Real-Time updates on your child's location at all times. A Panic Button is available in the kid's phone in case they are in trouble.
The best aspect of Spyier is that its basic version is available for Free. However, the Free version has limited functionality. You can only use it to monitor a single iPhone, and it doesn't have a lot of advanced features like Social Media monitoring, Panic Button, etc. If you want access to all of the features, you'll need to subscribe to the Spyier Premium package, which is quite expensive.
Part 3: #3 best iPhone monitoring app: mSpy
mSpy is another one of the best iPhone monitoring apps with which you can monitor your kid's phone remotely.
Unlike Spyier, mSpy isn't meant just for parents. It's meant for professional surveillance. As such, mSpy gives you access to a lot more features than Spyier.
Furthermore, you can use mSpy to monitor your kid's activities without them even knowing. After you install the app into your kid's phone, you have the option of deleting the mSpy icon so your kid doesn't find out you're monitoring them.
mSpy is available in a jailbreak and a non-jailbreak version. If you have your kid's iCloud credentials, you can monitor their iPhone remotely without having to jailbreak or physically access the phone. However, this will be a limited version and won't give you access to some advanced features.
How to Monitor my Child's iPhone with mSpy?
Purchase mSpy for your phone or computer. You can choose one of three packages — Basic, Premium, or Family. The Basic package gives you access to basic features that can be accessed without jailbreaking the phone. The Premium package gives you access to all the features. And the Family Kit is useful if you want to monitor up to 3 iPhones simultaneously.
You'll receive an email with a link to your setup page. Select the 'iPhone' option when prompted, and then select whether you want to jailbreak or not jailbreak the phone.
If you choose the Non-Jailbreak option, enter your kid's iCloud details.
If you choose the Jailbreak option, then access their iPhone, jailbreak it, and then install the mSpy app into it. Hide the icon after you're done.
Now simply access your personal control panel and monitor iPhone activity remotely.
Part 4: #4 Best iPhone monitoring software: FamilyTime
FamilyTime is one of the best parental monitoring apps for iPhones because it's extremely reliable and is used by millions of users around the world. When you're monitoring your kid's phone, you should make sure to use a trustworthy app.
FamilyTime has been featured in media outlets like DailyMail, The Sun, The Washington Post, BBC, HuffPost, Fox News, and various others. As such, it's completely reliable.
There are three different FamilyTime subscription plans depending on how many iPhones you want to monitor simultaneously. MyFamily can monitor just one device at a time, MyFamily 2 can monitor 2, and MyFamily 5 can monitor 5. All of them come with a 3-Day Free Trial so you can test it before making any payment.
Features
FamilyTime has a wide range of features that can be divided into three categories according to functionality — Limiting Screen Time, Location Tracking, Blocking, and Alerts.
Limiting Screen Time:
You can set up device restrictions during certain hours of the day so your kids don't get distracted during school hours or while doing their homework.
The BedTime controls help you set up restrictions during sleep hours so they can enjoy a sound sleep.
The Homework Time screen lock shuts off the screen when they're studying.
Location Tracking:
The Family Locator shows you exactly where all your kids are at all times. The geographical location is updated in real-time.
Location History gives you a date and time stamped overview of where your kids have been throughout the day.
Geofencing allows you to set up boundaries for your kids. When they cross that geographical boundary, you get an alert on your phone.
Blocking:
You can block social media platforms and apps from your kid's phones. You can either block them permanently or during certain hours to prevent them from getting distracted.
Block all websites that might contain inappropriate content like excessive violence, pornography, etc.
Alerts:
An SOS Alert can be set off by your kids if they are in some danger.
A PickMeUp Alert can be set off if your kids need you to pick you up from somewhere. You'll get the alert as a Push Notification along with their location details.
Part 5: #5 iPhone monitoring app: FamiSafe
Famisafe is yet another powerful and reliable parental control iPhone app. It has been developed by technological giants Wondershare so you know you can trust it. With Famisafe, you can access the following features:
FamiSafe allows you to get real-time updates of your kids' locations.
Geofencing allows you to set up a boundary and get notifications whenever those geographical boundaries are crossed.
You get a complete statistical overview of all of their app usage, website usage, etc.
You can block certain apps and games from the phone, either temporarily or permanently.
Limit the amount of time your kids spend online.
Control different aspects of their phone remotely.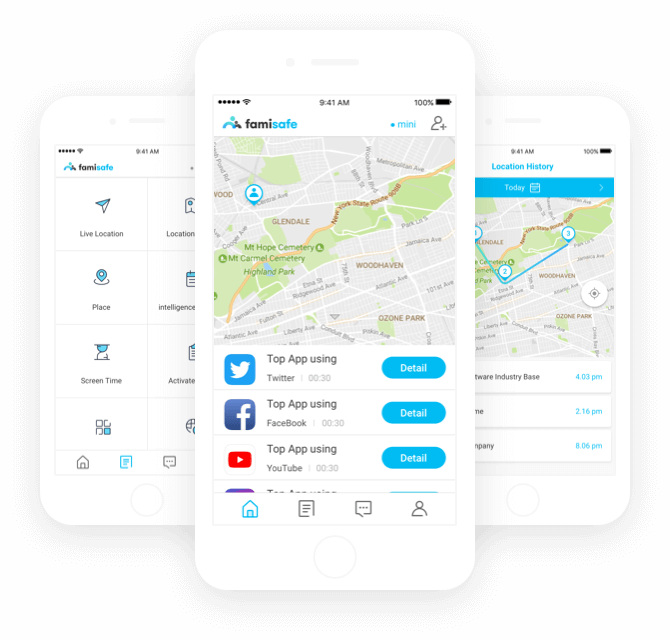 FamiSafe has some powerful features, However, the features aren't as expansive as some of the other apps like Spyier or mSpy. For example, FamiSafe doesn't let you monitor social media accounts.
Part 6: Screen Time Labs
Screen Time Labs is an extremely user-friendly iPhone monitoring app for parents. With this app, you can manage the amount of time your kids spend on their iOS devices remotely.
The best aspect of this app is that it comes with a Free version as well. Even though the Free version has limited features, it still gives you access to the Premium version for a period of 14 Days. As such, you can try it out before deciding if you want to continue with it.
With Screen Time Labs, you can do the following:
Receive a daily report of all the apps, websites, and games accessed by your kids.
Give monitoring access to other people such as grandparents, caretakers, etc. As such, several people can monitor the kids and make sure they remain safe.
You can lock the Screen Time app with a password so your kids can't delete it.
With a single account, you can monitor unlimited devices. As such, you can monitor all your kids' iPhones with a single subscription.
Block inappropriate apps, websites, etc.
Part 7: Minspy Global
Minspy Global is a simple iPhone monitoring app that can control various aspects of your kids' online activities. The most powerful and impressive aspect of Minspy Global is that it gives you access to 47 filter categories. They include porn, violence, alcohol, crime, religion, etc.
As such, you can apply a wide range of filters to protect your kids from content that might be inappropriate for them. It also allows you to monitor all of your kids' online activities, either through apps, web browsers, social media, etc.
Part 8: Boomerang
Boomerang is a fantastic way to monitor your child's iPhone activities. It's an extremely flexible app that can be used to monitor your kids from anywhere in the world. With this app, you can set up Bedtime Restrictions, Limit Screen Time, Block Apps, Filter Content, get Usage Reports, etc.
If you're unsure about buying it directly, you can get the limited Free version with a 14-Day Free Trial. If you like the app, you can continue by subscribing to the Single Device License or the Family Pack. The latter gives you access to monitor up to 10 iPhones simultaneously.
Part 9: TeenSafe
TeenSafe is an iPhone parental monitoring app that allows parents to monitor all text messages, call logs, view GPS location, monitor browser history, check Social Media accounts, block apps, and access a number of other features. This app has been featured in various reputed outlets like New York Post, The View, USA Today, etc. As such, you know you can trust it.
Part 10: Kidslox
Kidslox is a free downloadable iPhone monitoring app that allows you to block apps and websites, limit daily usage, set time restrictions, and access a range of other features. You can even monitor Social Media apps like Instagram and block them either temporarily or permanently to prevent your kids from getting distracted.
Conclusion
So now you know all about the 10 best iPhone parental monitoring apps in the market. Some of them, like Spyier and FamiSafe are meant for parents to monitor their kids with their consent. And some, like mSpy and Cocospy, are meant for discreet monitoring.
Whichever app you decide to finally use, do let us know about it down in the comments section. We'd love to hear from you!