Do you want to monitor the websites that people who are connected to your wifi are visiting? These people can be your spouse, siblings, or children. Learning about their website history can tell you a lot of secrets about them.
Therefore, this is a guide that will help you sneak on anyone's browser history for free! At the end of this guide, I will even give you five FREE router tricks that you will enjoy trying.
How to Check What Websites Were Visited on Wifi
Checking all the websites that are visited through your wifi is a very simple task. You don't need to have any technical knowledge for it. You are good to go if you can operate a web browser.
To accomplish this, follow these simple steps:
Step 1. If you are using a computer, type 'ipconfig' in the command prompt window and check the 'Default Gateway' Address. This is the address of your router. If you are using a mobile or a tablet, you can also find this address printed on the router manual or its body.
Step 2. Enter this default gateway address in the web browser. You will be taken to your router's page. All your router settings are accessible through here. Enter the username and password as provided on the router.
Step 3. Now that you can access the router's settings, you will need to find the history option under these.
Different routers have different places where you can check the history. For example, in a NetGear browser, you can check the browser history under the 'Wifi History Viewer' option or under 'Logs'.
In some routers, like Linksys, you will have to enable the logging feature if you want the router to record history
While this method is free and seems easy, there are few pros and cons to it.
Pros
Totally free.
Checks all the pages visited by every user on the wifi.
Will tell you about the history of every device, whether it is a phone, PC, or a tablet.
You don't have to access the user's phone or PC for it..'
Cons
It only works IF the device is connected to your WiFi.
It can be evaded by using VPNs.
You have to enable 'Logging' in the router to use this feature.
If 'Logging' is enabled, other users on the router can use the router to view your history as well.
The logs are present in a haphazard manner. There is no neat organization. Therefore, most of the times it can be hard to identify any important information out of them.
As you can see, the cons often outweigh the pros making this method fairly useless at times. Don't worry, I have a better suggestion for you.
Don't Miss: How to Check Someone's Call History Online
Cocospy- Check EVERY Web Page Ever Visited By ANY Device
Cocospy is a phone monitoring app that can help you in tracking the browser history of any device. Not only that, it can give you so much more like the user's social media accounts, chats, usernames, passwords, and every possible thing of their phone.
Sounds surprising, right? You might not be surprised if you try it out. Here, check out its free live demo and see for yourself the features it offers.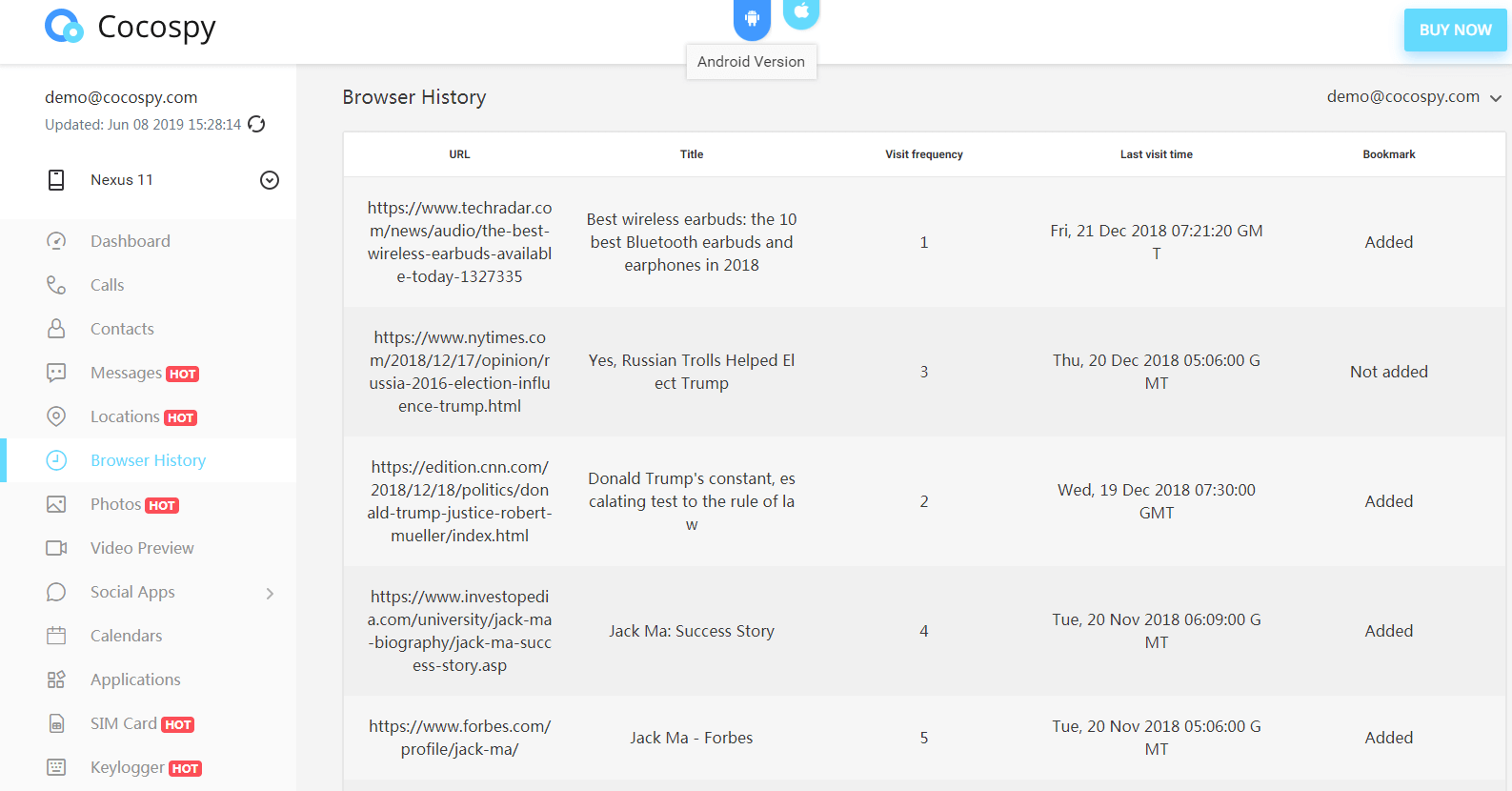 Tracking Browser History with Cocospy
With Cocospy, you can track the browser history of any device whether it is connected to your wifi or not. It could even be in a whole other part of this world, yet you will be able to view its history.
Not only that, but the browser history is displayed in a beautiful dashboard that is designed for the purpose. All the data is organized and sorted in quite a wonderful manner.
You don't only get the URLs, but also the title of the page, the visit frequency, the last visit, and if the website is bookmarked or not.
It is quite a useful feature as it can help you in analyzing the data very easily. If you want to keep an eye on a family member, Cocospy will be your best bet.
Website Monitor
It even has the website monitor feature. This feature will let you block access to any website of your choice. The user will no longer be able to visit the website unless you remove the restriction.
It is a pretty cool feature and very helpful if you want to restrict your children from accessing harmful content on the internet.
Pros
You can track any device whether its connected to your wifi or not.
It works on both iOS and Android.
There are so many added features you can use.
Price is so cheap that it feels almost free.
Works without the knowledge of the user who you are monitoring.
Cannot be used to track your own browser history
Safe, secure, and used by millions
Works from your internet browser, no app installation needed
These are only some of the pros that I could list. If I start listing all, the list would keep going on.
Further, I wish I could give you cons for Cocospy, but I don't really have any. I found it to be as good as something can be.
Therefore, I suggest that you go to their website and try it out for yourself to find out. The demo is free and doesn't require any app installation.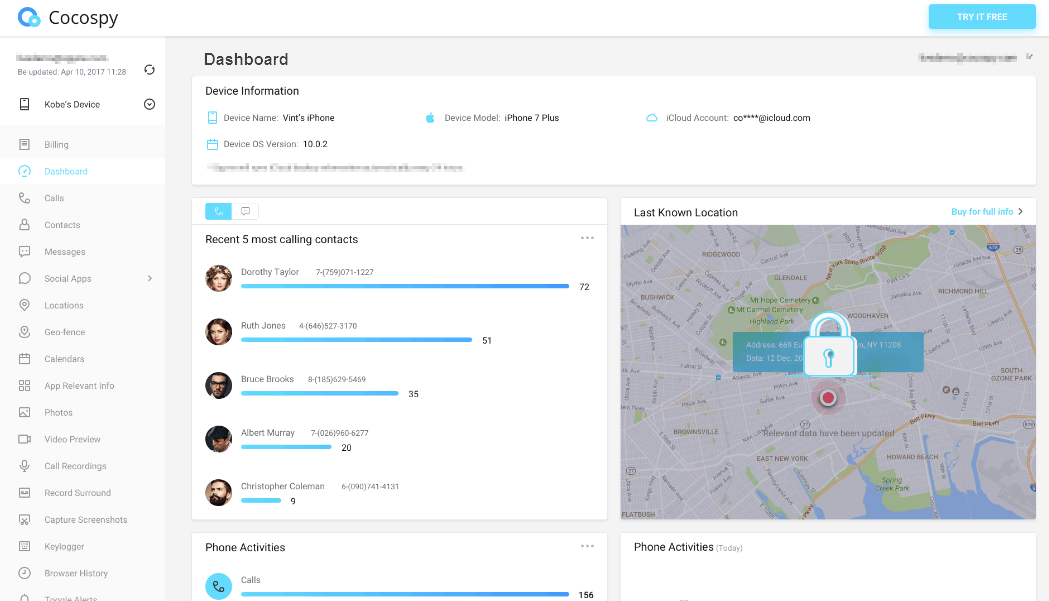 Don't Miss: How to View iPhone Calls Log
Five Free Router Tricks
Here are some router tricks that you should definitely try. Some of these will boost your internet speed, while others will add to the security.
1. Kicking Devices From The Router:
Often, a router can have many devices connected to it. These devices could be hogging on your bandwidth leading to slow internet connection for you. Many times, even neighbours connect to the wifi in order to get some free internet.
Therefore, kick all the devices from the router that you don't know. You can do this from the router page which I mentioned earlier.
2. Rebooting Your Router:
At times, the internet speed can often fluctuate or dip unexpectedly without a cause. If you are experiencing slower speeds than usual, it is a good idea to reboot your router. You can do this from the router page as well.
3. Factory Reset:
At times, people often mess up their router settings and find out that their internet is not working at all. Don't worry, it is easily fixable and you don't need to call a professional.
Just go to the factory reset option on the router page and you are good to go!
4. Router Cables:
The internet speed that you get is largely affected by the internet line that is coming to your router. If these cables' routes come across television lines, phone lines, or any such signal interferences, your internet speed can dip considerably.
Further, twists and turns in the cables also affect internet speed. And don't get me started on joints. The more the wire joints, the lesser the speed.
5. Perfect Place:
In order for your router to give you maximum speed and signal, you need to find a perfect place for it.
If there are too many obstacles in the path of your router, the speed is bound to get slow. Further, radio interferences can slow the speed as well.
Always keep the router near the room you would be using it. Try to avoid placing it behind televisions or near phones. Make sure it is in an open place free of any dust.
Now that you know these router tricks, you can enjoy them and try out various things that your router can do. However, if website monitoring is what you need, I would always suggest using Cocospy rather than the router itself.
You can get Cocospy from here.