There are many reasons why you might want to read someone's Facebook inbox messages. Maybe you're trying to see what your kids are doing while on the popular social media site. Perhaps you need to monitor what employees at your place of work are doing. You could even review your romantic partner's messages to see that he or she isn't cheating on you.
So, how can you read Facebook messages on someone else's device? You might be surprised over how easy the process for doing so is like no matter what the intention you have is for. You can choose from one of three cell phone monitoring apps – Cocospy, mSpy, and Hoverwatch – to help you review what someone is doing online. Each app lets you see what is happening on someone's phone without the app being exposed.
Part 1: How to Read Facebook Messages Without Being Seen via Cocospy
Cocospy is a cell phone tracker that works on most Android and iOS devices. You can use Cocospy to view Facebook messages without being seen.
You can read private messages and group chats, find photo profiles of people someone interacts with, and details on any media files that move between accounts. You can also use the keylogger on Cocospy to identify what someone is entering into the device.
The process for reading Facebook messages on Cocospy entails these steps:
Step 1: Sign up for a free account with your email and password.
Step 2: Download the app onto the target device.
Step 3: After installing the app, use the Cocospy dashboard on your computer to see what Facebook messages are being posted.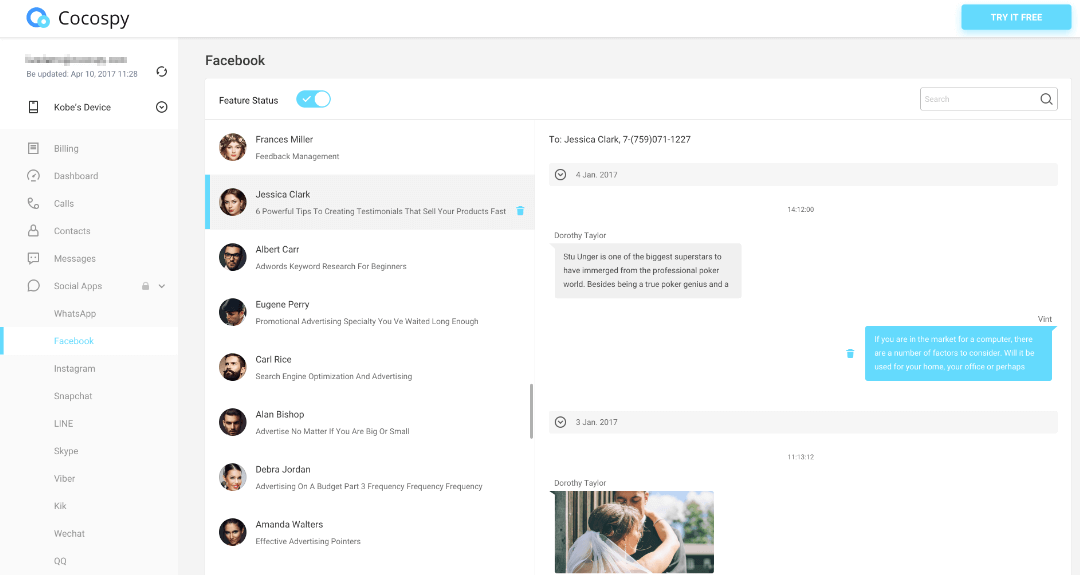 You can learn more about how Cocospy works by using the live demo on its website. The demo shows details on how well Cocospy works and how messages and keystrokes are displayed.
Don't Miss: How to Read Someone's Facebook Messages Without Knowing Their Password
Part 2: How to View Someone Else's Facebook Messages
mSpy is the second of the apps you can use to view someone's Facebook messages. The Facebook tracker on mSpy reviews messages and usage history. GPS details on where a person was located when sending a message can be reviewed on the mSpy app alongside data on one's browsing history and keystrokes being entered.
2.1 How to see someone's private messages on Facebook
You can use mSpy for finding Facebook messages by using these steps:
Purchase an account with the mSpy app.
Read the email that you get after signing up. This lists information on how to install the app onto a target device. This works on Android 4.0 or greater or iOS 7-8.4 or 9.0-9.1.
Log onto your account after you are finished with the installation process. Go to the Control Panel and select the device that you are monitoring.
mSpy also has a live demo on its website. You can review the demo to see how well the app works for your Facebook monitoring needs.
Part 3: How to Read Facebook Messages Without Being Seen via Hoverwatch
Hoverwatch is the third app you can use for monitoring people on Facebook. The messenger spy app organizes the messages you receive by time. Details on each person involved in a conversation are included on the app's listing.
Hoverwatch also allows you to save conversation threads in the WhatsApp messenger. The keylogger feature helps you see what someone enters into the Facebook app even when you have not rooted the device.
3.1 How to view someone's Facebook inbox messages
You can get Hoverwatch to work for you by using these steps:
Sign up with an email address and password to get your free account.
Download and install the tracking app onto the target device.
Log onto your online account and review the data on the target phone.
Do You Need to Root or Jailbreak a Device?
It is recommended that you root or jailbreak your target device regardless of what app you use for monitoring messages. Facebook is interpreted by the Android and iOS systems as a non-default application. Although you can review many default app details without rooting or jailbreaking the device, you must go through the process to use a spy app to spy on Facebook inbox messages. All spy monitoring apps require you to root or jailbreak a device before you can analyze Facebook texts, but you can still review what someone enters into a device without rooting or jailbreaking.
You can use the keylogger feature on any of these three apps without rooting or jailbreaking your device. The keylogger lets you look at the messages or responses that a person enters into Facebook. However, the app does not allow you to review the messages that one receives. You would have to root or jailbreak the target device to see those messages.
Conclusion
Cocospy, mSpy, and Hoverwatch are all valuable apps that you can utilize when reviewing someone's Facebook account. You can read someone's Facebook inbox messages without being spotted no matter which app you use. Each app ensures you can get all the details on what someone is doing while on Facebook.
This post is also available in: Русский (Russian) Português (Portuguese (Brazil)) 日本語 (Japanese) Español (Spanish)