The online world can pose a lot of advantages for kids. But it can also be a very dangerous place. These days, studies show that kids are very likely to suffer from cyber bullying, catfishing, sexting, and other forms of damaging online experiences.
Furthermore, when children go through these forms of experiences, they don't confide in their parents. So how can you protect your child if they don't even speak to you?
The only real way to protect them is to know what they are up to on their phones. A lot of people say that spying on your kids is unethical. However, there's nothing unethical about doing your duty as a parent and keeping them safe by any means necessary.
If you have access to your child's phone, you know where they are at all times, who they are texting with, what they are posting on social media, and anything else you need to know about them.
In this article, we'll give you an overview of the 10 best parental monitoring apps to monitor a child's phone. These mobile monitoring apps will help you keep your kids safe.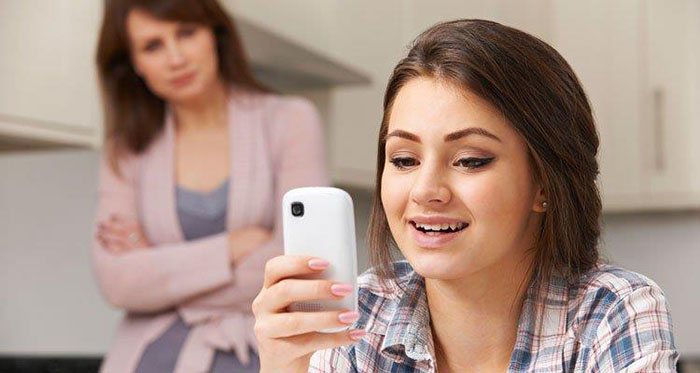 Part 1: #1 Best Parental Monitoring App – Cocospy
Cocospy is the No.1 cell phone monitoring app in  the world. It is an extremely reliable app used by millions of people around the world.
You can use it to monitor your child's phone activities without them finding out. If you know your kid's iCloud credentials, you can use that to monitor their iPhone without jailbreaking it or accessing it.
However, if your child uses an Android phone or if you don't have the iCloud credentials, you'll have to install the app on the target phone physically. You can also delete the icon later.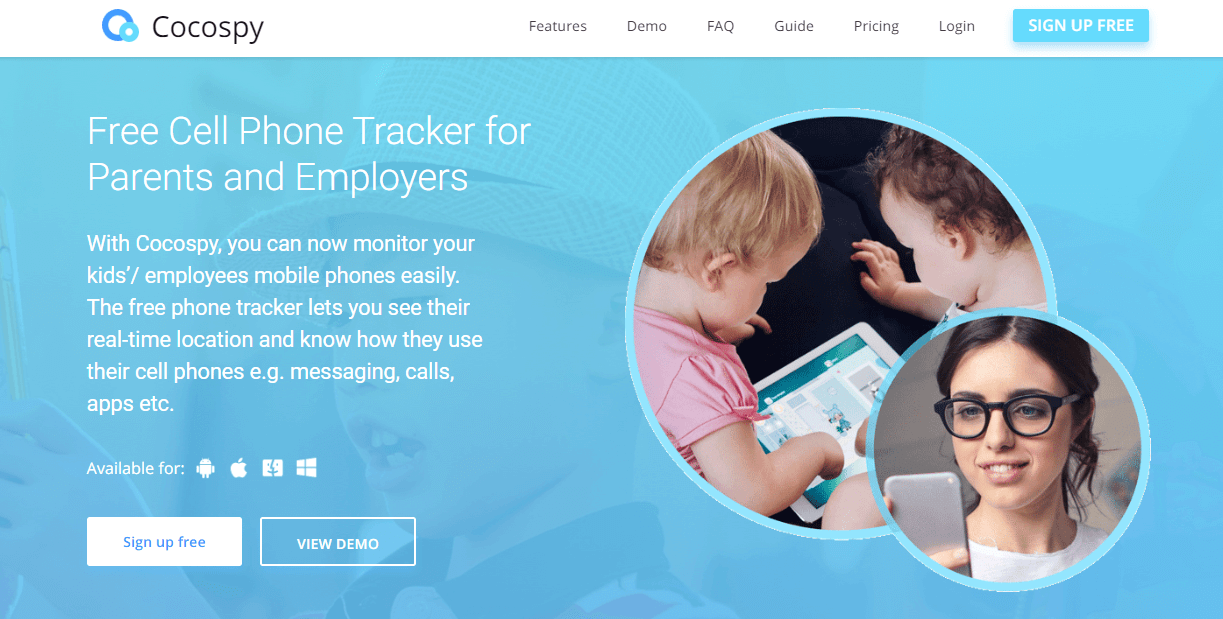 Cocospy's cool and powerful features:
Manage Calls: You can view all incoming and outgoing calls along with a date and time stamp. You can even block certain numbers from reaching your kid's phone.
Text Message Logging: Read all messages sent, received, or deleted from the phone, along with its date and time stamp and contact info.
Social Media Monitoring: These days, most kids lead their lives vicariously through social media. As such, all of their communications, public posts, etc are available in these platforms. Cocospy allows you to monitor social media and instant messaging apps such as Skype, WhatsApp, Snapchat, Facebook, Viber, LINE, Telegram, Tinder, and various others. You can read all the messages exchanged in these platforms, check out their posts, etc.
Track GPS: You can get real-time updates on where your kids are at all times. If they're sneaking around or coming back from school late, you'll find out why.
GeoFencing: You can set up a physical parameter around certain GPS locations. As such, if your kids cross that parameter, you'll get a notification.
View Multimedia Files and Gallery: You can check out all the video and multimedia messages your kids are getting and also access their phone galleries.
Check Browser History: You can see what your kids are doing on the internet.
These are some of the most essential features available in Cocospy. However, there are many more other features as well such as reading emails, tracking calendars and notes, etc. And ALL these features doesn't require you to jailbreak or root the your child's phone.
Sign up for Cocospy for free or check the live demo here >>
Part 2: #2 Best Parental Monitoring App – mSpy
mSpy is one of the world's most reliable and trustworthy mobile monitoring apps for parents to use. It has millions of loyal followers online and it's completely discreet so you can monitor your kids without them finding out. mSpy also comes with a live demo so you can try it out before actually buying it.
How to monitor child's phone with mSpy?
Purchase mSpy for your phone or computer. There are three mSpy packages available – Basic, Advanced, and Family. Basic package gives you access to simple features such as call and text message logging, features which are accessible without jailbreaking the phone. The Advanced package gives you access to advanced features like Geofencing. The Family package allows you to monitor up to 3 children's phones simultaneously. You have to decide which one you need. 
You'll get a link to your control panel. Select which device you want to monitor, and if you want to jailbreak or root it.
If you don't want to jailbreak, enter the iPhone's iCloud credentials. If you want to jailbreak or root it, then access the phone and install the app into it.
Now you can go to the Control Panel and access any feature you want.
Part 3: #3 Best Parental Monitoring App – FamilyTime
FamilyTime is considered to be one of the world's best and most effortless mobile monitoring apps. It has also been sponsored by reputed outlets like Yahoo, CBSNews, HuffPost, DailyMail, and various others.
With this app, you can access the following features:
You can limit the time your kids spend on the phone. You can limit access to certain functions of the phone for certain hours.
It is easy to engage BedTime mode to prevent your kids from using the phone after lights out.
The HomeWork Time feature allows you to lock their phone remotely whenever it's time for them to do their homework.
You can also track all their social media activities such as Facebook, YouTube, Twitter, WhatsApp, Instagram, etc.
The Location Tracking and Geo-Fencing features allow you to track your child's every movement.
This is an extremely reputable and effective phone monitoring app. But it's not discreet like mSpy. Your kids will know you're monitoring them and controlling their phones.
Part 4: #4 Best Parental Monitoring App – Qustodio
Qustodio is another one of the best parental control software in the market.
You can download it for iOS or Android devices and then remotely control your children's phone from anywhere at all.
You can use Qustodio to access the following features:
Use the real-time internet filter to block pornographic website, even when the child is using private mode.
Monitor the time they spend on social media platforms such as Facebook, Twitter, Instagram, etc. You can limit the time spent on these platforms and also access their activities online.
Set a time schedule for the internet or restrict access during certain hours of the day.
Set time limits on games and apps, or block certain games altogether.
Track SMS and phone calls and get a complete log.
Track your child's every movement with the GPS tracker. Your child can also use the Panic Button to alert you in case of emergencies.
Like FamilyTime, this monitoring app is also not discreet.
Part 5: #5 Best Mobile Monitoring App – Minspy Global
Minspy Global is a parental monitoring app with which you can control your child's engagement with the online world. You can see what they are seeing or playing on their phones, share their screen, or block access to certain web design in Dubai or apps.
You can even restrict access to certain functions of their phones during certain time periods and track their GPS location to keep them safe. ESET is only available for Android phones.
Part 6: #6 Best Mobile Monitoring App – Norton Family Premier
Norton Family Premier is an extremely reliable phone monitoring app because it has been developed by Norton, a company known for its anti-virus solutions.
This monitoring app allows you to limit the time your kids spend online, block certain websites, gain statistical insights on how much time your kids are spending on the internet, social media, video games, etc. This tool is available for both iOS devices and Android phones.
Part 7: #7 Best Cell Phone Monitoring App – Net Nanny
Net Nanny is an extremely well reputed and established parental monitoring app that has been used by millions of parents since 1996.
With this monitoring tool, you can block certain websites and apps, restrict pornographic content, set time limits and restrictions, blur out or mask profanities, monitor social media accounts, and access the entire phone remotely. This app is available for iPhones and Android phones.
Part 8: #8 Best Text Monitoring App – Kaspersky Safe Kids
Kaspersky Safe Kids is a phone monitor that can make the digital space a much safer space for kids of all ages. It helps you manage their devices remotely so that you can control the kind of content they access, when they use the phone, etc.
You can also keep track of their GPS location so that you know where they are at all times. This monitoring app is currently being used by over 400 million users around the world. It's available only for Android devices.
Part 9: #9 Best Phone Monitoring App – Fonemonitor
Fonemonitor is yet another efficient parental monitoring app that lets you know what your kids are doing on their smartphones or computers. You have to install the software in your computer and you can use the online web browser to get access to all their phone activities.
Fonemonitor helps you monitor their website activities, track time spent on different apps and social media platforms, record their keystrokes so you can decipher their passwords, take screenshots of their phone, monitor messages, etc.
Part 10: #10 Best Spy App Monitoring App – iKeyMonitor
iKeyMonitor is an extremely versatile and discreet parental control app. It gives you access to a lot of impressive features such as call recording so you find out what your kids are talking about, SMS and iMessage logging, checking keystrokes to decipher their passwords, WhatsApp logging, GPS tracking, etc.
It gives you complete access to social media and instant messaging apps such as WeChat, Facebook, Skype, LINE, KiK, Viber, Hangouts, QQ, IMO, Instagram, Tinder, Snapchat, BBM, and Hike. iKeyMonitor also comes with a 3-days trial version.
This post is also available in: Русский (Russian) Português (Portuguese (Brazil)) 日本語 (Japanese) Español (Spanish)