Protecting and caring for their kids is a parent's number one role. The dimensions of this aspect have however changed with the impact mobile phones have had in our society.
Kids now have access to mobile phones at a very young age, and they are targets of cyberbullying and catfishing. Children can chat their way into trouble, and there's where you come in a responsible parent.
If you want to know what they chat about and who they chat with, then you need a child monitoring app. This is an app that lets you spy on their cell phones and monitor every single text that your child sends or receives.
Good news is that you can install an app to monitor kid's phone free, and you won't even need to root or jailbreak their device.
Part 1: How Can I Monitor My Childs Text Messages on iPhone Without Jailbreak
So you are asking, "how can I monitor my child's text messages for free?" Well, I have a solution for you. The answer is with Cocospy.
Cocospy is one of the best parental monitoring app for iPhone and Android that lets you track your child's text message engagements (including iMessages).
What's more, you don't even need to jailbreak your child's iPhone just to monitor kid's phone. Cocospy can be installed on an iPhone that has not been jailbroken, and still allow you access to all the messages that are sent or received.
All messages will be displayed with their timestamps and details of the contact person. You can even know the messages that have been deleted!
You can also check Cocospy Live Demo for Free here >>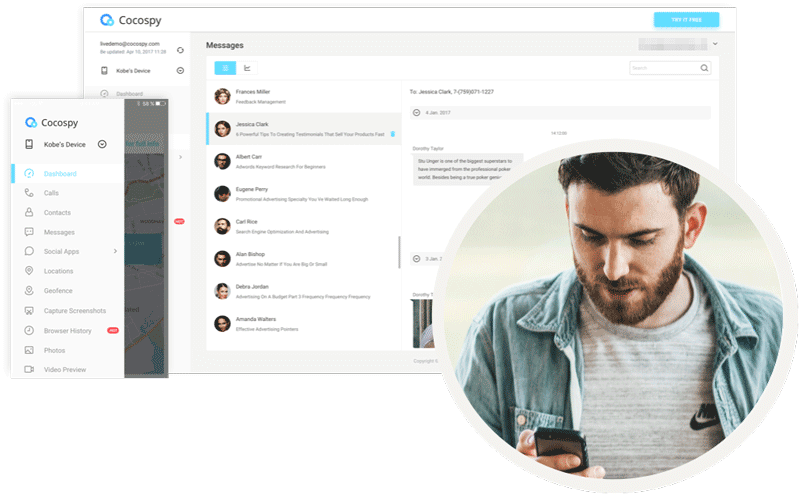 Part 2: How Can I Monitor My Child's Text Messages Without Them Knowing (Android)
Cocospy doesn't limit you to tracking iPhone users, but you can also install it on Android. Both phones can also be managed from your single dashboard.
To install Cocospy Android child monitoring, you don't need to root the device either. The app can be installed without any complications, and all you need to do is enable the installation of third-party apps. This can be done under 'Settings.'
After that, you can then install Cocospy. Here's how to:
1. Sign up Free
Visit the official Cocospy website and sign up. Remember, signing up is free, and all you need is your email and a password.
2. Download & Install the App
Cocospy free child monitoring app can be downloaded as an apk, or you can even send a link to the target device. Use the target phone to download the app, advisably in private window. Install the app, and then delete it from the phone.
3. Start Monitoring
Cocospy starts tracking immediately, and it will even start with older messages. You can sign in your account from any browser and start monitoring your child's messages.
Can't Miss: 10 Best Parental Monitoring Apps to Monitor Child's Phone
Part 3: What else can Cocospy provide?
Cocospy is a complete phone monitoring, and not just a text monitoring app. With Cocospy you will also:
Monitor Phone Calls
Track all phone calls with their details. This includes incoming and outgoing calls with the contact details and duration of the call. You can also check the frequency to know who they are always in contact with.
Monitor App Messages
Social media apps have become the way to go, and Cocospy gives you access to all the commonly used chatting apps. This includes WhatsApp, FB Messenger, Snapchat, Instagram and Viber. All chatting logs include contact details of the other party, and you can even see all the media that has been sent or received.
Track Location
You can track the user's location in real-time. Cocospy makes this possible through the use of GPS and WiFi signals. Not only can you see where they are at any given time, but you can also see all places they have visited as history.
Geo-fence Alert
Cocospy lets you set locations that you have prohibited your child from visiting. You can even set a boundary where they should not go beyond, and when they do, you will instantly get a notification.
Track Website History
You can also know the websites that your child visits using Cocospy phone monitoring app. You will even get an analysis in terms of time and frequency.
For all its functionalities, efficiency and reliability, Cocospy is the best app to monitor kid's phone free. As a responsible parent, you should take the initiative to know whenever your child is chatting their way into potential trouble. Get all the information you require using Cocospy, and take back control of your child's phone usage.
References:
This post is also available in: Русский (Russian) Português (Portuguese (Brazil)) 日本語 (Japanese) Español (Spanish)