'Whose number is this calling me?' is a question that every one of us asks on a daily basis. Everyone who has a cellphone often gets calls from anonymous numbers.
This can not only be annoying but at times it often leads to users being harassed if they are called at odd times repeatedly by the same unknown number.
However, what can one do? The number is anonymous so no one has any idea who is calling them.
What if I told you there was a way through which you can know who is calling you? That too within a matter of just a few minutes. And to top it off, completely free!
Yes, that's true. Technology has progressed so far that you can know any person just by knowing their phone number. Not only can you know their name, but there is so much other information about them that you will find helpful.
Therefore, in this guide, I will tell you about two of these solutions which will reveal to you everything about a person. All you will need is their phone number.
Phone Number Lookup can come in handy in a variety of scenarios, including:
Dating: If you met someone in a cafe or online and you just have their number, it can be helpful to do a reverse phone number lookup and know more about the person. You will know if their name is actually theirs. It might even tell you if it is safe to date them.
Identifying Missed Calls: Everyone gets missed calls from unknown numbers. Reverse phone lookup can tell you whose number is this calling you. This can make sure you don't miss any important calls.
Safety: Reverse phone number lookup is very essential for safety. At times, it can help you avoid danger. For example, if a neighbour offers to drive your daughter home from sports practice, reverse phone number lookup can reveal if the person is actually trustworthy.
Therefore, these ways to check whose number is this are always going to be handy. So here it goes, let us start with the first one…
Part 1: TruthFinder: The Phone Directory Of The Internet (With So Much More)
TruthFinder is my go-to hub when I want to look for accurate information just by a phone number.
It is an easy to use tool that is equipped with high end features. Not only can you find out a person's name by their phone numbers, but there is so much more that you can do.
Not only can you search through their databases through their website, but they provide other options as well. They even have their apps out for smartphones
They facilitate over a million searches every month. Therefore, I wouldn't worry about their authenticity.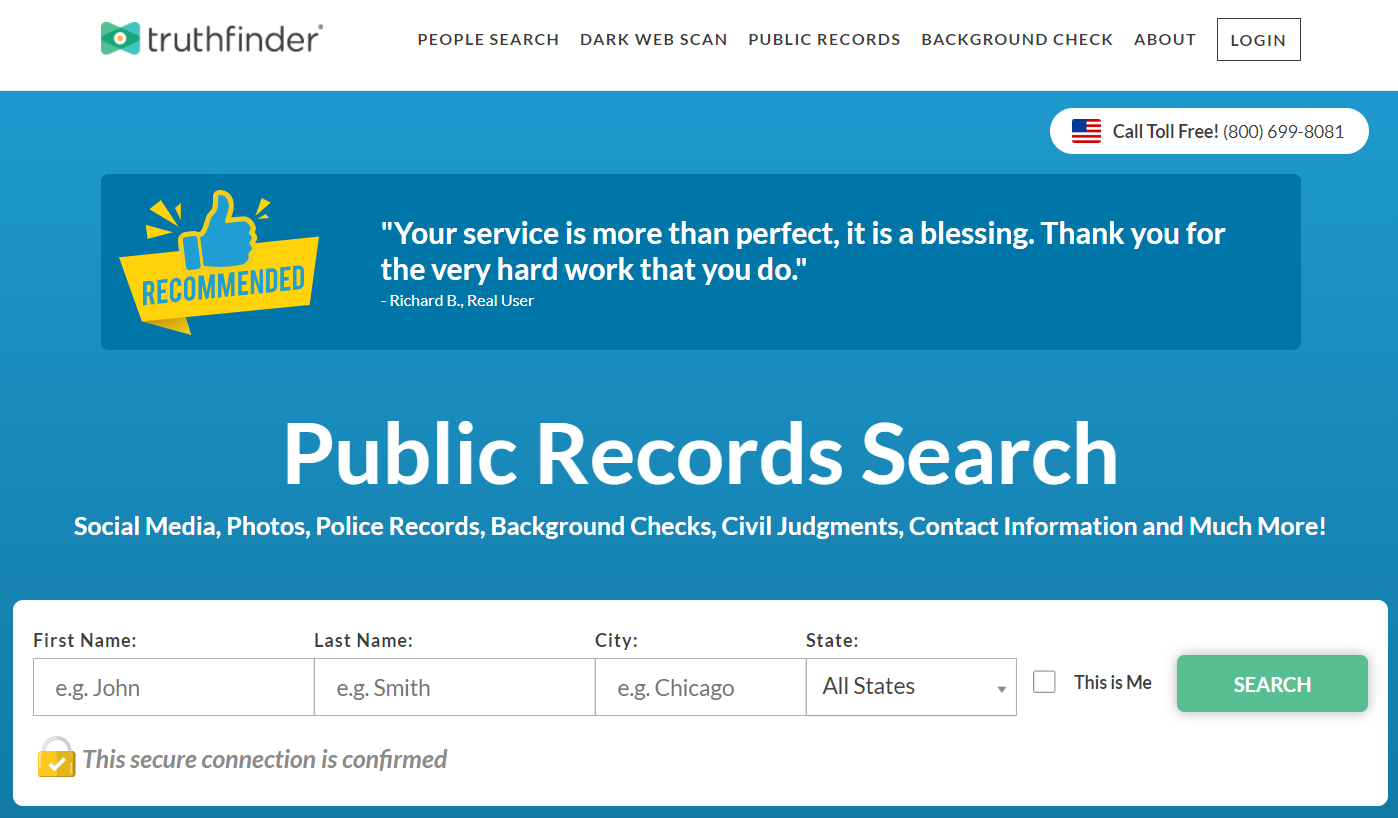 1.1 Types Of Searches
TruthFinder allows you to search for someone's identity through a variety of ways. These include:
People Search:
People search provides you with the identities of people by searching for them through their first name, last name, and their city of residence. You can even narrow it down by their state.
Phone Lookup
This is one of its most helpful features I find. With phone lookup, you will get the identity of a person who owns a certain number. If you are getting calls from unknown numbers, this is the way to check.
Address Lookup
As the name suggests, address lookup lets you find someone by searching for them through their addresses. This address can be present address or the last known address.
Email Lookup
Email lookup allows you to search for anyone's identity with their emails. This is particularly helpful if you are getting suspicious emails or harassing emails from someone and you want to know who they are.
People Directory
TruthFinder has a people's directory that is a database of all the people it could find organised by their name.
If you are willing enough, it will take a couple of minutes to search for the person of your choice here. However, since it is a directory, you will have to manually browse through it.
It isn't as hard as it sounds. The names are organised in an alphabetical manner. Therefore, you can use it to get to the name of your choice.
Yeah, I know it sounds very convenient and flexible. You will find it even more so when you are using it. I use it for like ten times a day already.
Here are all the scenarios where you might find TruthFinder very useful (like most people do):
1.2 Use Cases of TruthFinder
Background Check:
TruthFinder can be a great friend if you want to do a background check on anyone. It can for a variety of purposes. It gives you the entire criminal history of a person.
For example, if you are living in a neighbourhood to a suspicious person, it would be nice to dig into their past to know a bit about them. After all, it never hurts to be alert. Might save you some day.
TruthFinder gets you to accept a declaration saying that you won't use its criminal records database for the purpose of employment or similar scenarios. Therefore, you should make sure that you don't use it there.
Relatives and Connections:
TruthFinder gives you all the known connections of the person. For example, if you are looking up for someone by their phone number, you will not only know who that person is but you will also know their known associates.
This can be very helpful in your search. If you don't really know the person by the name, you might get an idea of who they can be just through the known associates. They could be a friend of a friend.
Social Media Information
This gives you all the social media accounts of the person who you are searching. I find it very helpful all the time.
For example, if you met someone recently and are dating them, you might want to know their social media accounts. TruthFinder gives you access to that.
Having someone's social accounts can tell you more about the person than anything else. It will show you their likes, dislikes, the people they hang out with, and what they are in real life.
Address History
Maybe you had an old friend in school who used to live somewhere you know. However, we all know how time passes. People move from one place to another and valuable relationships can fade in time due to that.
However, TruthFinder tries to keep everything alive. If you want to connect with someone from your past, all you have to do is enter their last known address. TruthFinder will tell you everything else about the person.
This includes their recent address, phone number, and so much more. How can someone not like that?
1.3 What I like about TruthFinder
There are many things about TruthFinder which I find admirable. These include:
Simple Interface:
TruthFinder has a simple interface. Its search engine does most of the work by itself. All you have to do is enter the credentials that you know about them.
You don't need any technical knowledge to operate TruthFinder. All you will need is a web browser with a working internet connection.
Availability of Apps:
TruthFinder not only has a web based interface, but there are other options as well. You can even choose to download their apps on your Android or iPhone.
This can be helpful for people who might be doing a lot of searches every day or even a few searches now and then. Having it on your phone feels convenient as you can access it easily.
Different Search Criteria:
It not only offers you reverse phone lookup, but there are also so many other ways through which you can search for someone.
This is very helpful since you might not have a phone number available with you for everyone you wish to know. Also, perhaps you knew the person a long time ago and you don't remember their phone number anymore.
Accurate Information:
TruthFinder is linked with many government records and criminal records. Therefore, it is sure to provide you with accurate information and not just any made up gibberish.
Further, since it is linked to so many records, its database is huge. Not only that, but you might learn a lot of things about a single person.
Time Saving:
TruthFinder saves you a lot of time by providing you search results through its online platform. If you had to do it the traditional way, it might take hours to go to local courthouses and get details about someone.
If you are searching for someone in a city of millions, you know how hectic that can be. This is why TruthFinder is a time saver.
Now that you know TruthFinder, you will realize that it is the perfect tool to give you searches on anything you need. However, it also has a few shortcomings that you should keep in mind. These include:
Shortcomings of TruthFinder
Paid Service:
TruthFinder is not a free service. You have to pay it to use it, and I wouldn't call the charges cheap.
I understand that it does a lot of hard work and it can take a lot of resources to provide the features that it provides. However, for a normal user who doesn't ask much of it and is not doing countless searches everyday, the pricing can be a negative factor.
Not to mention that there are many other services who offer reverse phone lookup for free. Therefore, if reverse phone lookup is all that one needs, they wouldn't need TruthFinder.
However, it is also important to note that TruthFinder gives a lot more information than someone's name who operates the number (as those free services will give you).
Therefore, if you need in depth information about people and you might need them every now and then, its pricing wouldn't hurt you.
Time Taken To Compile Results:
While it does save you the time as compared to going to a courthouse, it still takes a lot of time compiling results from its databases.
I understand that there are billions of entries to go through and it can take time. However, if someone needs only some quick information, they wouldn't really be happy with the time it takes to get those results.
There are a lot of other steps which seem like a total waste of time and which TruthFinder should have avoided.
Besides that, there is nothing else I found unsatisfactory about TruthFinder. If these two shortcomings don't matter to you, you would find TruthFinder to your delight.
Part 2. Spokeo
Spokeo is another reverse phone lookup engine similar to TruthFinder.
If you want to check any number, you can enter it in it's phone lookup search and the service will get you the results in no time.
Its searches are organised by Name, Address, Phone Number, and email ID same as in the last case.
While on the working front its features are similar to TruthFinder, its data is sometimes not accurate.
Also, this is a paid service as well. It requires you to pay them a monthly subscription fee in order to view their results.
While their subscription fee is less than TruthFinder, so is their accuracy. Therefore, I suggest you use it at your own discretion.
Takeaway
While there are a lot of ways to know whose number is this calling you, there are not many reliable ones that you can trust.
Further, since you are already looking for someone's identity, it is only helpful to have more information like their social media info, addresses, and so on.
Hence, services like TruthFinder can really be a rescue in these cases. I suggest you give them a try.