'Who called me?' is a question that each one of us asks ourselves on a daily basis. Everyone who uses a phone gets a lot of missed calls. As such, it can be important to find out who is the mysterious caller.
You don't have to worry about it anymore. In this guide, we will tell you how to find out any unknown caller's identity within a matter of seconds. And I will give you so many ways to do it!
At the end of the guide, I will even give you a way through which you can deal with scam callers. This way is a legit method of raising a complaint against these people who try to cheat you.
What Could Be The Possible Identity Of A Missed Caller?
When you are wondering 'who is the missed caller who keeps calling me?', there could be many possible answers. Some answers require you to call them back while others do not.
Some of the possible explanations could be:
A relative or a friend who got a new phone number
An automated caller calling you for advertisement purposes
An ex boyfriend or girlfriend who might be trying to harass you emotionally
A person whose original number you have blocked
A doctor about a missed appointment or a test result
Your child's babysitter or someone from their school
A very old friend with whom you haven't been in touch lately
The possibilities are endless. However, as you can see, some cases require you to call the other person immediately. In the other cases, you need to avoid calling them at all.
Therefore, it is important to know the caller's identity to differentiate between the two scenarios.
Here are the different ways to find out who called you. With these ways, you can get so much information about the caller.
Part 1: TruthFinder – Find Identity of Unknown Caller Within Seconds
TruthFinder is an awesome service that gives you complete information about a caller just with the help of their phone number.
In fact, it is not just limited to the phone number. You can search for anyone's identity through a variety of criteria.
These include searching for people by their name, address, or phone number. The information that TruthFinder provides is extensive.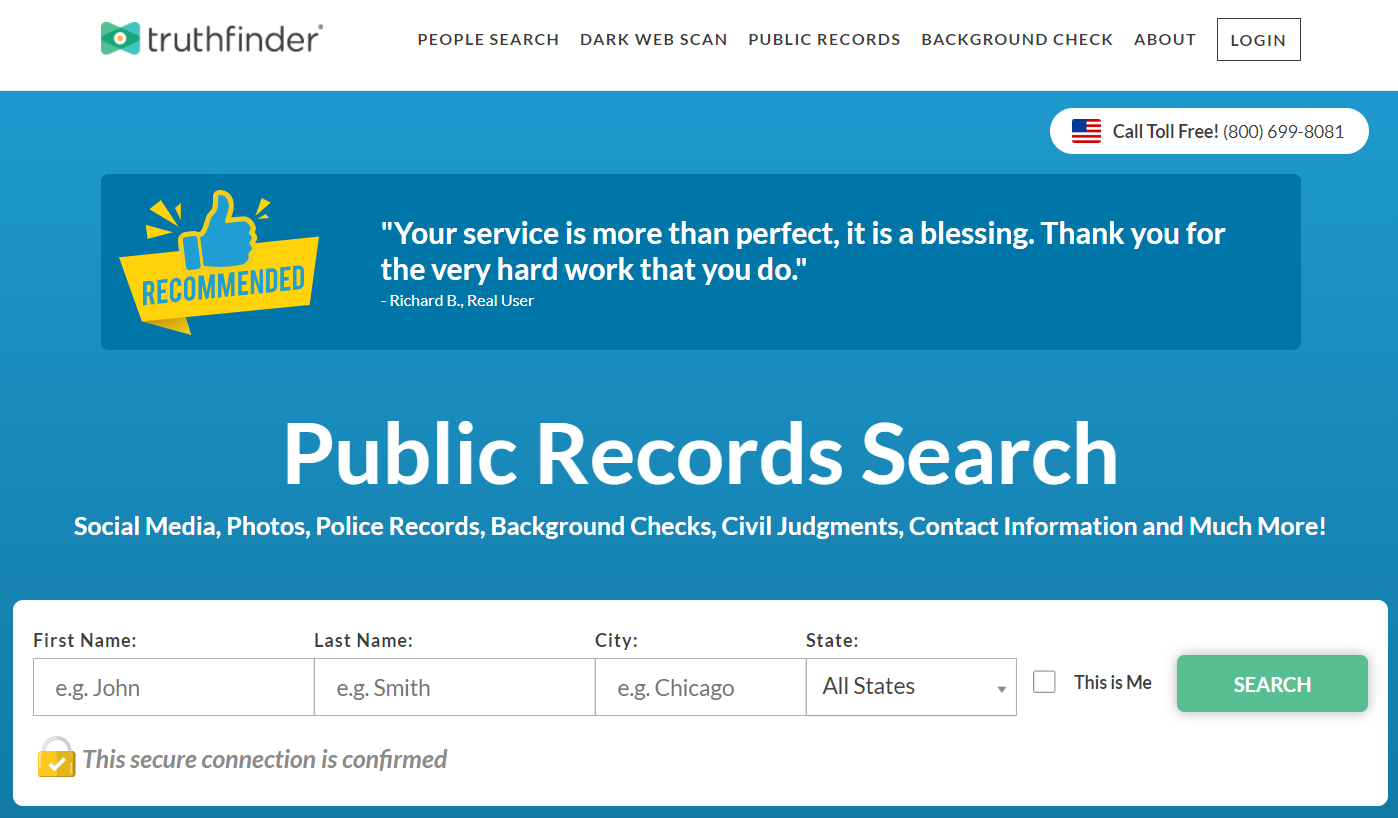 It will give you information about all the people that match your search criteria. If you are using a phone number to search for someone, there would probably be a single search result (unless someone has used that number in the past).
It will tell you everything about the person, including their name, age, known phone numbers, known addresses, past addresses, and their workplace. You can even ask the service to do a background check on the person.
The background check covers extensive information and can even tell you about the criminal records of the person. This gives you more insight into the type of person they could be.
Now that you know what it can do, here is how to use it to find out who called you:
Finding Out Caller Identity Through TruthFinder
Follow these easy steps to know someone's identity with TruthFinder:
Step 1: Go to TruthFinder's website and click on the 'Phone Lookup' tab.
Step 2: Enter the unknown phone number whose identity you wish to search.
Step 3: Hit on 'Search'. TruthFinder will take around a minute to get the results.
All the results will be displayed on your screen. While some details are free to access, you might have to unlock the others by getting a subscription plan.
Further, it can also show you the social media handles of the user and their photos too. At times it can be hard to remember someone by their name. However, you will never forget someone's face!
Sounds good? You can even check out what information they have on you.
Part 2: Truepeoplesearch
Truepeoplesearch is another good way through which you can know anyone's identity just by their phone number. It works in a similar fashion as TruthFinder.
Besides the phone number, you can also search for anyone through their name or address. The service gives you all the basic details about the possible identities that fulfil the criteria. These details are completely free of cost!
Further, you can also ask for more detailed information like any possible bankruptcies, criminal records, loans, background information, and other facts about the person. You will have to pay to do such a background check.
Therefore, just from the phone number, you can know someone more than their family members know them. This is the power of the internet and Truepeoplesearch.
Similar to TruthFinder, it is also connected with public records that provide genuine information with complete accuracy.
Now that you know how simple it is, why don't you go ahead and try Truepeoplesearch for free?
How To Respond To Unknown Callers?
Once you know the identity of the caller through TruthFinder or Truepeoplesearch, there are a variety of ways through which you can act. This depends on who the person is.
1. If you know the person and are in good terms with them:
If the caller was a friend, someone you know, or your relatives, you should return the call. You should also let them know that you didn't realize it was their number.
2. If you know the person and are on bad terms with them:
If the person is a past relationship or someone else who harasses you, you should completely avoid their calls. Make sure that you are not tempted to call them back. You should even add their number to the blocked list so you don't pick up the phone by mistake later.
3. Automated Calls or Scam Calls:
If the caller is an automated service like an insurance provider, it is a good idea to ignore their calls in the future as well.
Chances are that scam callers will use different numbers to call you. In that case, you should file a complaint against a scam caller. You can do it online and it takes seconds.
How to Report Scam Phone Numbers
The government has set up a specialized link through which you can report a scam number.
To do this, all you have to do is visit this link. You will be provided with some options and you can choose the ones which best describe the type scam caller.
The system will give you some instructions which you need to follow on your screen. Your complaint will be registered!
The Final Note
Now you know how you can find out 'who called me?' within a matter of minutes. Follow the steps that I mentioned in Part 1 and Part 2 to check the identity of any mysterious caller.
Also, once you know the identity of the person, be a vigilant citizen. If the person is a scam caller, always report them to the link I mentioned. This will save countless other people from getting scammed!