Are you getting phone calls from unidentified callers that have been bothering you? Or perhaps you call the details of your partner or child printed out, and there are some suspicious entries?
In either case, it helps if you know the identity of the caller. There was a time when phone directories were used for the purpose. However, now phone directories are useless (you'll probably find them only in antique shops).
This is why you need something modern, something that can match today's technology. And of course, if you get a few additional features, that would be like a cherry on top of the cake.
Here is the answer to all your problems- Reverse Phone Lookup. You probably haven't heard much about it, but it is going to help you more than a friend could.
Here are our top four recommendations:
What is Reverse Phone Lookup
Reverse phone lookup involves searching for the identity of a person by using their phone number.
While it has been around since ages, the ways to do reverse phone lookup has improved significantly with the internet.
Earlier, people used to flick the pages of phone directories. It could take a long time and there was a very probability that you would end up with no result at all.
And now you might be surprised at how the system works today. There are many places which offer you reverse phone lookup through their internet platforms.
All you have to do is visit their page and enter their numbers and viola, the owner's name will be right there!
What Can You Do With A Reverse Phone Lookup
You might be thinking that the reverse phone lookup is only limited to knowing someone's identity through their phone number. However, the reality is that it can do so much more. Some of the reverse phone lookup services can open the person's entire life in front of you.
Some of the things that a reverse phone lookup service can do for you are:
Missed Caller Identity:
You might use reverse phone lookup just to check the identity of someone who called you. Their phone might not be available anymore and reverse phone lookup will give you ways to contact them. At times, you can know the identity of callers who are bothering you.
Background Checks:
Through some of these reverse phone lookup services, you can get a complete background check of the person. You will know their criminal record and any other interesting revelations. This is particularly helpful in cases like where you wish to employ someone for your company.
Public Records:
Reverse phone lookups can even give you the public records of a person. You will know the properties they are holding and any other assets that might interest you.
Address Finder:
You can use reverse phone lookup services to find the address of a person. Once you know their identity, some of these services can find the addresses linked to that identity.
Social Media Information:
You can even get complete social media information about the person like their various social media accounts on different platforms. All this just through using their number to search for them.
Since there are many such services available, it can be confusing to decide which one to use. This is why I have created a list of top 5 reverse phone lookup engines that work completely free!
Feel free to go through these and choose anyone that you like based upon my review. I have taken time to research and examine each of these.
So here it goes…
Top 5 Free Reverse Phone Lookup Services
1. NumLooker:
NumLooker is a phone number lookup service that works in a variety of ways.Through NumLooker, you can search for someone's identity through a variety of ways. Primarily, it is very efficient by finding out someone's name and other information just by their phone number.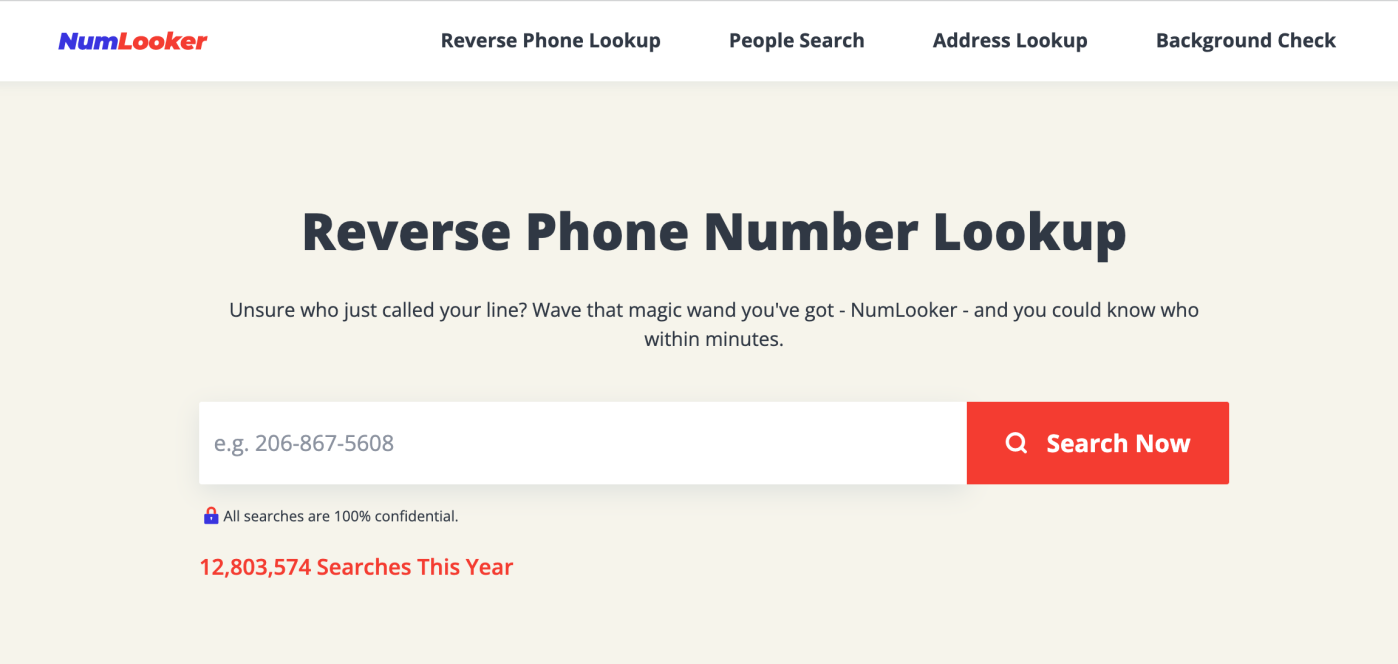 If you don't have their phone number, you can search them based on their address as well. Not only that, there is even a third option to look up for a person through their email address. Additionally, you can even browse for people by using their first name, last name and city.
NumLooker has most of the important features that you might require. This includes background checks, caller identity, address lookup, and so much more.They even have a people's directory on their website that claims to have a database of almost all the population. How cool is that?While their web interface can open in any browser, they offer user's more comfort than that. They also provide the option to download their app on any phone, be it Android or iOS.
I like that they are providing all these features for free. They aptly deserve the first place on this list.
Go to NumLooker Official Website here >>
2. CocoFinder:
CocoFinder is my favorite reverse phone lookup service on this list. It has so much to offer in a simple and beautiful interface. As their website claims, it is a sneaky, legal, and free way to get access to anyone's identity and personal information.
It can give you reverse phone lookup services for landlines, VoIP, and even landlines. Their database is extensive and covers almost all the phone numbers.
Besides phone number, it can also view other information as well just like NumLooker. It can search for people's identity not only by their phone numbers but also by their addresses or names. Not only that, it supports reverse email lookup too.
It even has the feature to remove your own information from their database. Pretty ethical, I'd say.
Therefore, if you have a number to search, why don't you enter it in their search and find out who has been spamming you with calls all night long.
3. TruePeopleSearch:
While TruePeopleSearch might seem to have a minimalistic interface at first which can make it seem like a scam site, it is not.
Once you verify that you are a human by clicking on the verification checkbox, the full face of the website opens up. And believe me, it is beautiful.
It offers to search for people by their name, phone number, or addresses (Sorry if you wanted to search them by their emails).
Like other reverse phone lookup apps on this list, this one is completely free as well. Yet, it doesn't make any concessions on providing good service.
Besides the person's identity, you will also get other relevant information as well. For example, you get to access the background history and criminal records of the person. It even provides the known associates of any given person.
They also have a people's database on their website. It has a record of over a billion people, so good luck finding yours.
All good things aside, their repeated human verification can be a bit annoying at times.Other than that, their service is as good as cookies.
4. Zabasearch:
Zabasearch is an extensive reverse phone lookup service. They have a lot of features, a big database, and even many other data and analytical figures.
The search criteria include the white pages, reverse phone lookup, advance people search, free search menu, and top 25 name searches.
It has all of the features that I mentioned in the previous apps so far. Additionally, it also has a provision of area code search. This search will give you all the data about the area and phone number exchanges in it, just by the area code.
One of the unique and helpful features I like in Zabasearch is the IP Adress search. This lets you search for a person's identity just by their IP Address. It can be very helpful in this internet age.
While most of their services are free, some required a premium subscription. The services belonging to the latter part include background checks, reverse phone searches, and people search through Intelius.
5. RevealName:
Last but not least, RevealName is another cool reverse phone lookup service that is totally free.
First of all, its website interface really caught my eye. While it is creative, it can be a bit harder to use.
RevealName can only search for people with their phone number. There is no reverse address lookup. Also, there is no option to look for someone by their name.
However, this doesn't mean that it leaves you high and dry in terms of features, There are few other interesting features that you might like to use.
It has a module that lets you send SMS to any mobile number through their web interface. And this is completely free. Though it can take a minute to send the SMS, I still call it a valuable feature.
Besides that, they also have the option to make calls through their web interface. However, to make a call, you will need their calling credits. Credits can be obtained by sharing their app.
While all this is well and good, they lack the features that are needed for reverse lookups, other than searching by phone number. Also, there is no provision of a people's directory.
This gives RevealName the last spot on our list.
Concluding Thoughts
Now that you know our top five pickups for totally free reverse cell phone lookup with name, why don't you go ahead and try these out?
All of them are completely free apps. Therefore, you wouldn't need a subscription to try any of them.
I suggest you make use of all of them and share your thoughts about the same. Let's check which do you find the best for yourself.