Everyone gets calls from numbers they don't recognize. A reverse phone lookup service helps you figure out the unknown caller's identity and location. This is valuable information. It's why reverse phone lookup services are in such high demand.
Reverse phone lookup services are useful in a variety of scenarios:
Find an unknown caller's name and address.
Figure out if the unknown number belongs to an old friend or an annoying cold caller.
Check if your children aren't in with the wrong crowd.
Determine whether your partner is having an affair.
Protect yourself from phone scams.
Unfortunately, not all reverse phone lookup services work as advertised. Some give you inaccurate information, while others don't work at all.
In the interest of saving you valuable money and time, we've come up with a list of the 10 best, user-vetted reverse phone lookup services out there at the moment:
#1 TruthFinder – Lightning-Quick Reverse Phone Lookup
TruthFinder is one of the most popular reverse phone lookup services on the planet at the moment. The company is based out of New York and has been in business for over a decade.
It was founded with the aim to provide you with access to data in an easy, convenient, and affordable way. This is the data that was previously only available to people with deep pockets or large corporations.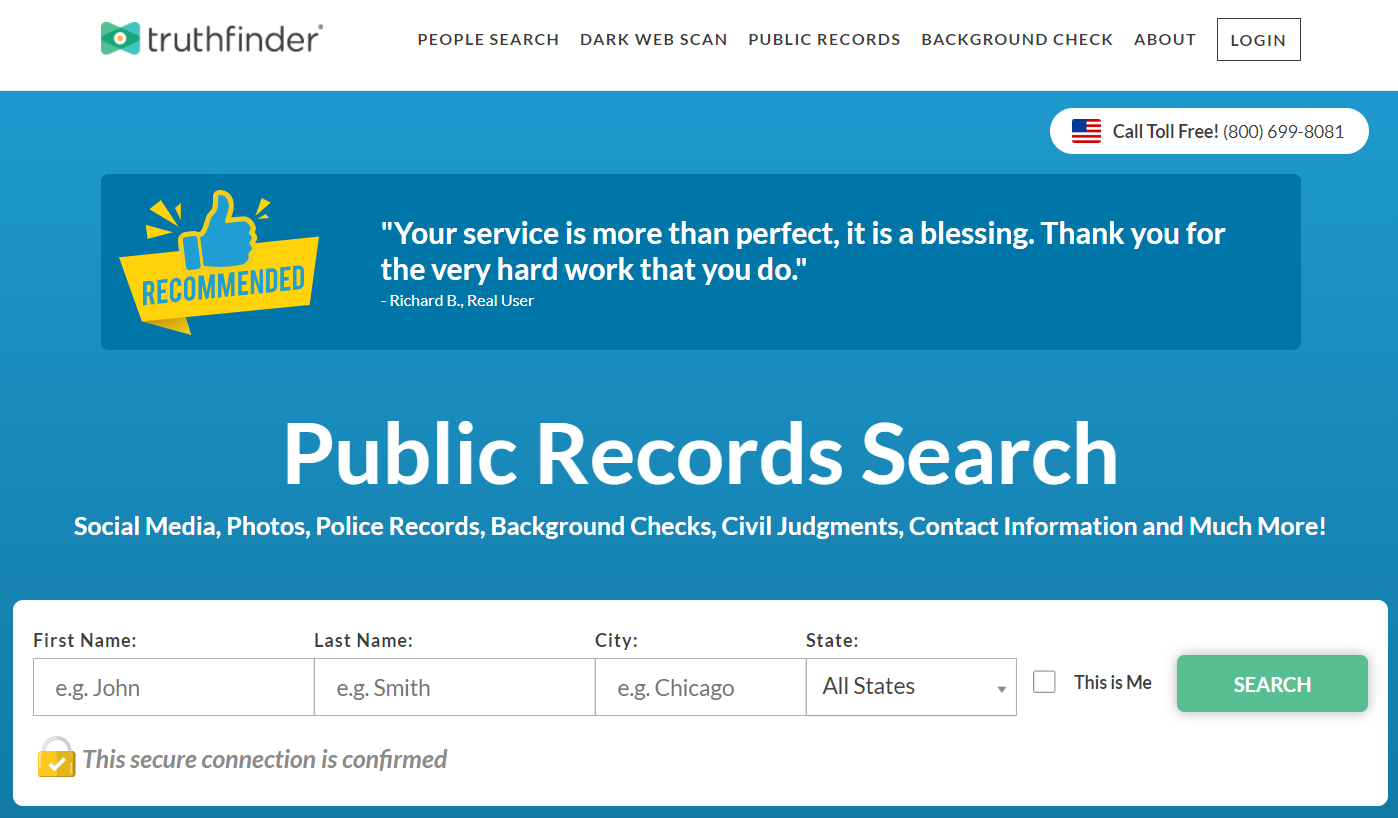 1.3 TruthFinder's reverse phone lookup offers a ton of data
You get a lot of value data from a TruthFinder phone lookup search. All you need to do is enter the unknown phone number and click on the "Start Search" option.
Here's an overview of the information the service turns up for you:
Personal details: You'll get the caller's personal details, including their first name, last name, age, and all known aliases.
Social media profiles: Is the unknown caller on social media? You get links to their Facebook account, LinkedIn, Twitter, Instagram, and more.
Contact details: Does the person have alternate phone numbers? What about email addresses? TruthFinder can dig up all listed contact details.
Possible relatives: Finally, does the person have any listed relatives? You'll get their names and contact details too. It gives you an idea of the caller's social circle.
1.2 You have access to in-depth background reports too
Once you have access to the data turned up by the reverse phone lookup service, you can generate in-depth background reports with it. These reports cost more but they provide worthwhile info:
People Search
The People Search tool is a free people lookup service. It give you the target's marital status, phone numbers, birthdate, family members, roommates, driving records, and related information. You have to manually lookup the person's name.
Criminal Records
The criminal records report tells you whether the caller was ever arrested. You also get access to court records and driving offenses. If the caller was ever charged for fraud, sexual offenses, and other felonies, you'll know.
Public Records
The Public Records tool gives you access to all the information publically available about the caller. This includes property records, assets, business associations, tax records, licenses, professional licenses, and political party affiliation.
1.3 TruthFinder is affordable
Compared to other reverse phone lookup services, TruthFinder is extremely affordable. While you usually have to pay $30+ for a single report elsewhere, TruthFinder offers an unlimited number of reports for a flat monthly fee:
Moderate user: You pay $19.62 per month for an unlimited number of reports.
3 month: A 3-month plan costs $44.62.
Power Users: A 6-month plan is enormously cheap at $59.62.
#2 Instant Checkmate – The Best Free Reverse Phone Lookup Service!
Instant Checkmate is a 100% free, completely legit reverse phone lookup service. It's been around for several years and has built up quite a reputation. The service has been featured on prominent media like NBC, Fox News, Men's Journal, and Wiki How.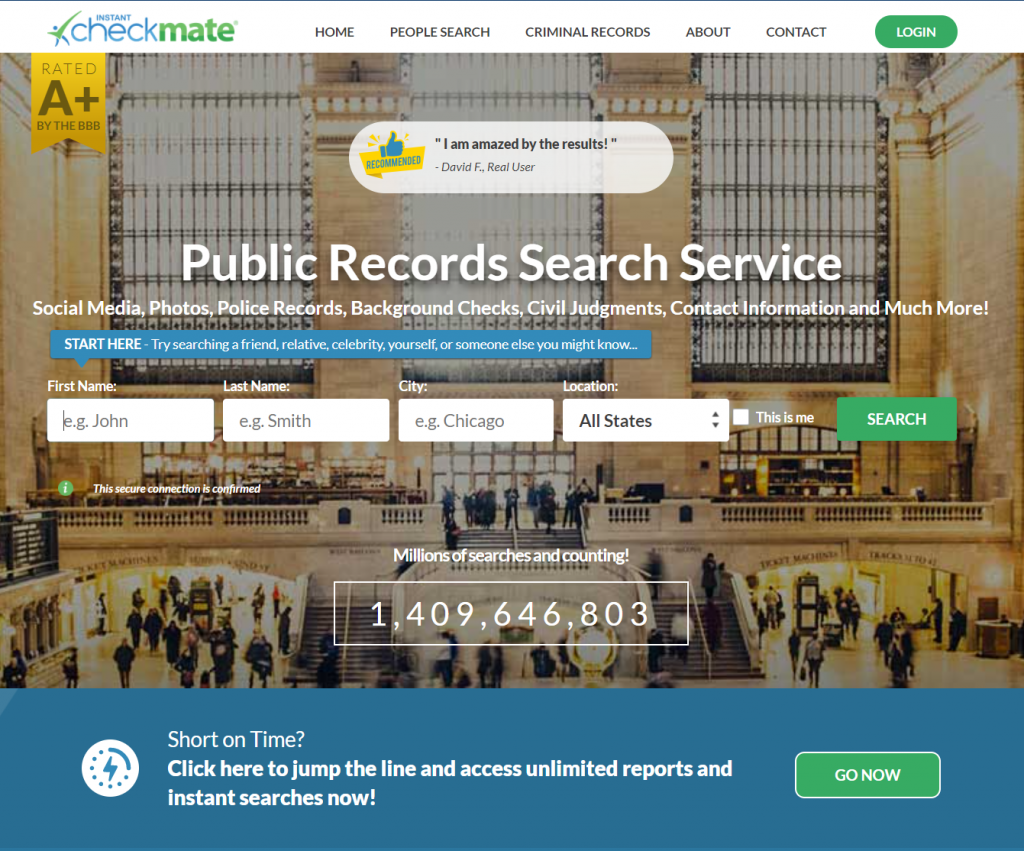 The service was founded by Griffin W, a licensed private investigator and published author. Instant Checkmate was Griffin's attempt at making publically listed data easily accessible to everyone.
2.1 Instant Checkmate offers 10 free phone number searches a day
It doesn't get better than free! You can reverse look up 10 phone numbers a day, without signing up or subscribing to a monthly plan. You'll get a report containing the following information:
See personal details: You get the person's full name and known aliases, if available.
View display picture: You'll get the latest available display picture. If you can't figure out who the caller is by the name alone, this might help jog your memory.
Listen to outgoing voicemail: Finally, if the number has an outgoing voicemail message, Instant Checkmate will play it for you.
2.2 You can sign up for 3 additional services
Did you find out the unknown caller's name? You can run an additional People Search using the name you just found out. Alternatively, you can try out one the other two services: Address and Email.
People Search
With People Search, you'll get access to all the public records listed about the person. This includes marital status, financial information, court records, tax records, and much more. It's an in-depth report.
Address
With Address Lookup, you get all listed information about the person's current and past housing, including listed cohabitants. Usually, this is information only available to lenders and organizations like real estate agencies.
Email
With the Email lookup service, you'll get names and phone numbers associated with the email. Other personal details like age, birth date, and social media profiles may also be given.
2.3 Trade your address book for additional data
As you know, you don't have to pay any money to use Instant Checkmate's phone lookup service. However, you do need to pay to do an in-depth people search. How much? That depends.
You can trade your current address book for free data. Your existing contacts will be uploaded to Instant Checkmate's servers. You'll then be given 100 free "Spy Dials". This information isn't used for marketing or spam purposes.
If you don't want to trade your address book, you can sign up for a monthly plan that's affiliated with TruthFinder. You can generate unlimited reports for approximately $20 per month.
Click here to begin using Instant Checkmate for free!
#3 Intelius – The Most Reputable Phone Lookup Business
Intelius has been in the information lookup industry for over 13 years. The company is based in Pasadena, California and has a sterling reputation. The BBB gives Intelius the best-possible A+ rating, which is hard to come by.
Trusting people is hard if you don't know them, their backgrounds and associations. The Intelius service was founded with the aim of bringing more transparency into our lives.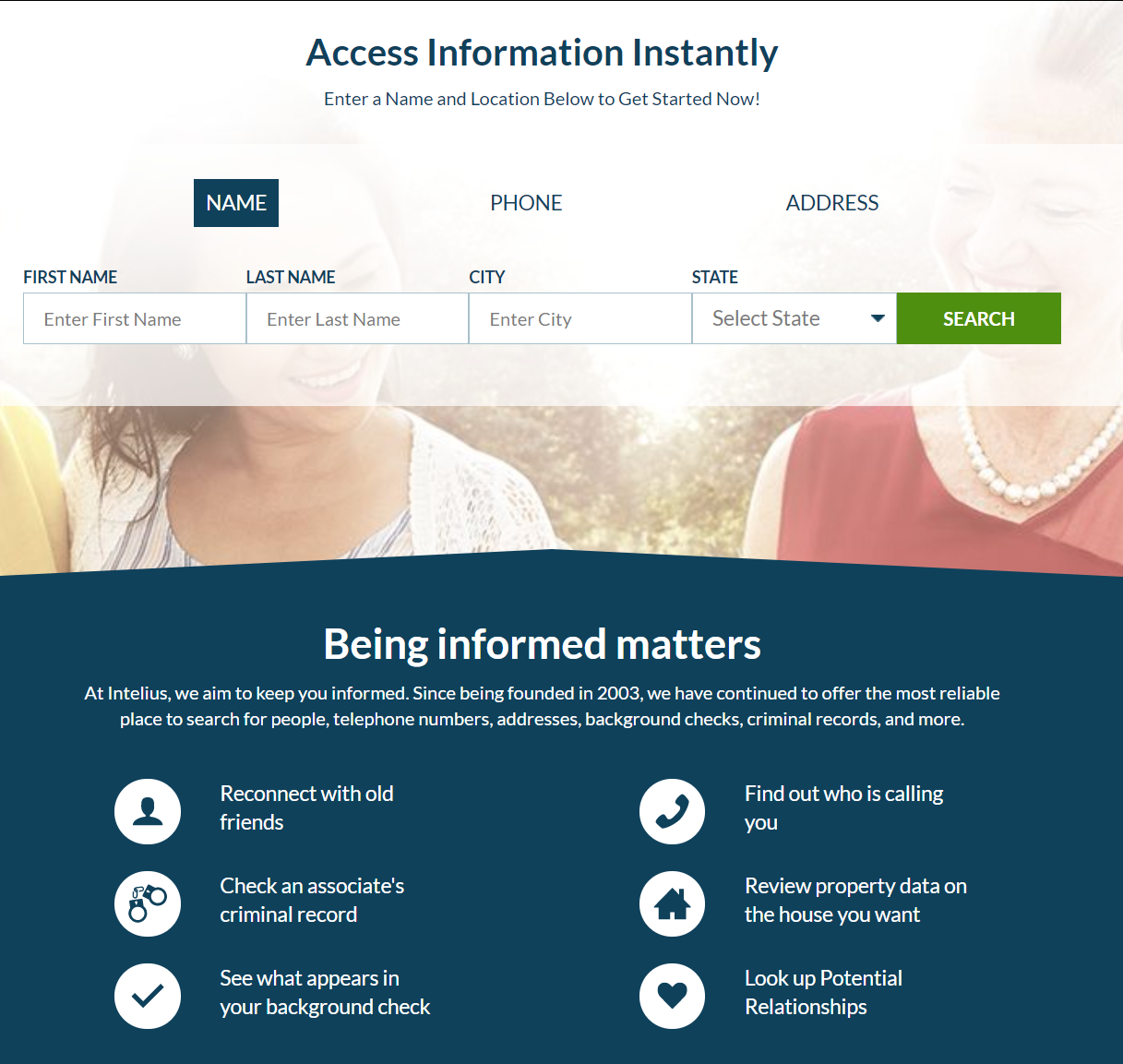 3.1 Intelius gives you well-organized reports
With Intelius's phone lookup service, you can find out the target's personal details. These personal details can be used to generate several additional reports like a historical records report, public information report, and criminal history reports.
Here's an overview of what Intelius can do for you:
Personal information: You can find out the caller's name, general location, age, display picture, and associated phone numbers.
Address records: Who's the caller living with? Is it a rental agreement or does the caller own their house? These are some of the details Intelius can dig up. The caller's previous address history will also be given to you.
Public records: Is the caller married or single? What assets do they own? The public records report gives you detailed information about the caller.
Criminal history: Finally, you can find out if the caller was ever arrested or charged for minor offenses like drunken driving.
3.2 You have access to a unique, in-depth internet search
Unlike many other people lookup services which only scan public records, Intelius scans a major section of the internet for information about the target.
Internet footprint: Intelius will look through over 100 of the most popular websites for information about the person. You'll get the caller's posting history, comments made, and much more.
Social media activity: Is the caller active on social media? You'll get links to or information about their Facebook, Twitter, Instagram, and other popular social media profiles.
3.3 You may receive a free trial
How much does Intelius cost? Sometimes it's $3 or less per report when they're offering trials. The usual rate for 100 searches per month is $13.95. If you don't want to sign up for a monthly plan, individual reports cost $49.95. It's smarter to subscribe.
#4 ZabaSearch
ZabaSearch has been on the scene since 2005. The company used to offer a free phone lookup service previously, but they've recently changed it to premium. ZabaSearch is based in Salinas, California. It doesn't have a BBB rating as of now.
ZabaSearch offers a free Reverse Phone Lookup Service
ZabaSearch allows you to look up any 10-digit US number for free.
It offers other free services like free people search, area code search, zip code search, and IP address search.
ZabaSearch has serious flaws
ZabaSearch links to Intelius for premium services, which doesn't have a good reputation.
Looking up 10-digit cell phone numbers is a premium service, so you'll almost always end up paying if you use ZabaSearch.
If you're looking for in-depth premium background reports, a service like Intelius is a better choice. For free searches on landline numbers, ZabaSearch is adequate.
#5 White Pages
White Pages has been around since 1997. Over 35 million people use the service every month. You don't get a more reliable service than this. White Pages has a B BBB rating.
White Pages offers great services
You get a large array of reports like Contact Details, Mobile Numbers, Bankruptcy History, and Criminal Records.
They have a unique TenantCheck service to screen applicants.
White Pages is expensive
White Pages costs upwards of $29 a month.
Additional inquiries cost $18.95 each.
User reviews about White Pages aren't always the most positive. Also, the service is rather expensive. We can recommend them for the TenantCheck, but only conditionally. You get almost the same information from a background check report.
#6 TruePeopleSearch
TruePeopleSearch is a very new reverse phone lookup service. The company is based in California and has been around only for about a year.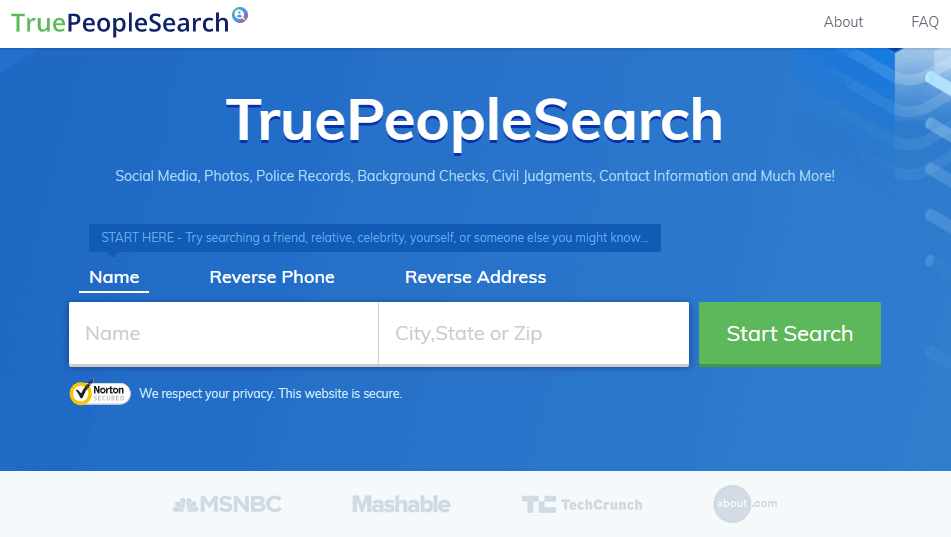 TruePeopleSearch is Free
You can lookup phone numbers an unlimited number of times.
You can also search by names and addresses.
TruePeopleSearch isn't the most accurate
The quality of the reports generated by TruePeopleSearch isn't the best.
You often get misleading information.
If you're short on cash, TruePeopleSearch will do in a pinch. However, it's not very accurate. It's also new and you don't exactly get good customer service from them. Instant Checkmate is the better 100% free option.
#7 ZLOOKUP
ZLOOKUP is a newly founded company based in San Jose. Their goal is to make the world a more connected place. ZLOOKUP doesn't have much of an online presence, but they're worth mentioning because they offer a free phone lookup service.

ZLOOKUP is free
ZLOOKUP allows you to reverse lookup phone numbers for free.
You can also make free calls and send free SMS.
ZLOOKUP doesn't always work
ZLOOKUP doesn't always work.
The user interface isn't the best.
You may get mixed results with ZLOOKUP. It's not a dependable service. It's better to invest a little money and get reliable results from a service like TruthFinder.
#8 Spytox
Spytox is a bare bones reverse phone search engine. You can look up people as well as phone numbers for free with Spytox. The developers of the wish to remain anonymous, but they claim to want to build "the world's most extensive people search engine".
Spytox gives useful features
You can look up people and phone numbers for free.
Spytox also allows you make free calls and send free SMS.
Spytox isn't a full people search engine
Options like full background check are absent.
The search engine doesn't always work.
While Spytox claims to be a completely free people lookup service, they aren't the most transparent business around. Crucial information like the company location is absent. The service itself isn't reliable, but you can't complain if it's free, right?
#9 RevealName
The makers of RevealName built the site after years of looking for free reverse phone lookup services that actually worked, but finding none. With RevealName, you can look up any phone number for free.
RevealName is free
RevealName lets you reverse lookup numbers for free.
You can also send SMS or call numbers for free, though the service works best in the US.
RevealName isn't reliable
You won't get a lot of information from the site.
The engine doesn't always work.
RevealName is a nice endeavor, but the makers have failed to provide something of true value. You can try your luck with this service, but there are better ones out there.
#10 ReversePhoneLookup.com
The ReversePhoneLookup.com directory was launched in 2010. Since then, it's helped thousands of people save millions of dollars by providing free reverse phone lookup services.
ReversePhoneLookup.com is a genuine service
You can search phone numbers free.
You get the person's name, address, and the network the phone belongs to.
You get a limited amount of information
You don't get background reports, social media info, display pictures, and other info.
The makers of ReversePhoneLookup.com freely admit they can only provide a limited amount of information. The website works, but it's little more than a digital directory.
To Finish: Choose Between TruthFinder, Instant Checkmate, and Intelius
All the options on our list of "Top 10 Best Reverse Phone Lookup Services" work. However, TruthFinder, Instant Checkmate, and Intelius are more reliable than the rest.
Choose Instant Checkmate if you want to reverse lookup numbers for free. TruthFinder and Intelius offer more information for an economical price.