Phone Location Tracker App
Find the GPS-based location of your target.
Check current and past locations with Cocospy:
View GPS and Wi-Fi-based locations.

See location entry and exit times.

Read addresses and geographical coordinates.
3 Simple Steps to Track Cell Phone Location Online

Sign Up Now
Use your email ID to sign up for Cocospy.
Hassle-Free Installation
Get Cocospy working with the target device in less than 3 minutes.

Track cell phone location
Get Wi-Fi or GPS data in real time off of a device.
Create an account now
By signing up, I hereby agree to the Privacy Policy
Check Live Demo Here >>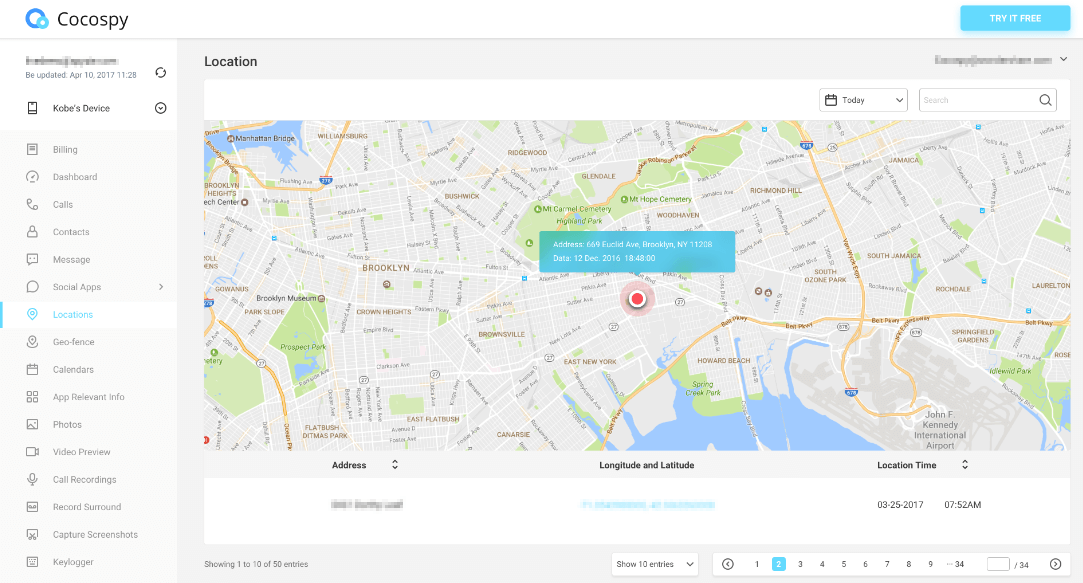 Why track someone's location?
There are multiple scenarios where you might need to track someone. You might want to protect the target, keep tabs on their activities, or simple look after your personal interests. With Cocospy, you can do it remotely and discreetly.
Parents can keep their kids safe with location tracking. Sometimes kids wander to places where they shouldn't. Occasionally, they may even skip school and play truant. By keeping tabs on their location, you can look out for them.
If you're an employer, you could monitor your employee's locations via their work phones. If someone takes an off day claiming to be sick but their phone tracker shows they're at a nearby beach, you know they lied to you!

You can also use Cocospy's Location Tracker as a missing phone finder. There are multiple other legitimate uses for location tracking like setting up Geofence alerts.
How to use Cocospy's Location Tracker feature
You'll need a Cocospy account and a subscription to make use of the Location Tracker. Once you have Cocospy set up to work with the target device, log in to your account and find the Location option in the selection panel on the left.
The Location windows shows you a map with the targets recent movements pinned on it. You can click on individual pins for location-related information. Alternatively, you can look at the locations log just below the map.
You can view details like Address, Longitude & Latitude, and Location-Time in the location log. Cocospy can be set to update the location at regular intervals, the smallest being 6 minutes.
Track locations without jailbreak or root
The Location Tracker works with stock versions of iOS and Android. Our developers worked hard to make this happen.
Monitor secretly
Cocospy was made to be discreet. The Android version of Cocospy is 100% hidden. It works in the background, using a negligible amount of system resources and battery. The iOS version is web-based and impossible to detect.

Start tracking your target's location remotely, discreetly, and without jailbreaking or rooting today!