Geofence Alert
Create a virtual Geofence. Receive alerts on breach.
Set up virtual zones on the map with Cocospy's Geofence Marker. Receive alerts when the zone is breached.
Mark a zone as watched or forbidden on the map.

Receive alerts when a target enters the zone or leaves it.

Track real-time locations and past location history.
3 Simple Steps For Using the Geofence Tracker

Sign Up Now
Create an account with Cocospy. It's free and takes less than a minute. Use your existing email ID.
Install Cocospy
Install Cocospy on the device you wish to track.

Set Up a Geofence
Create a virtual marked perimeter for the target device.
Create an account now
By signing up, I hereby agree to the Privacy Policy
Check Live Demo Here >>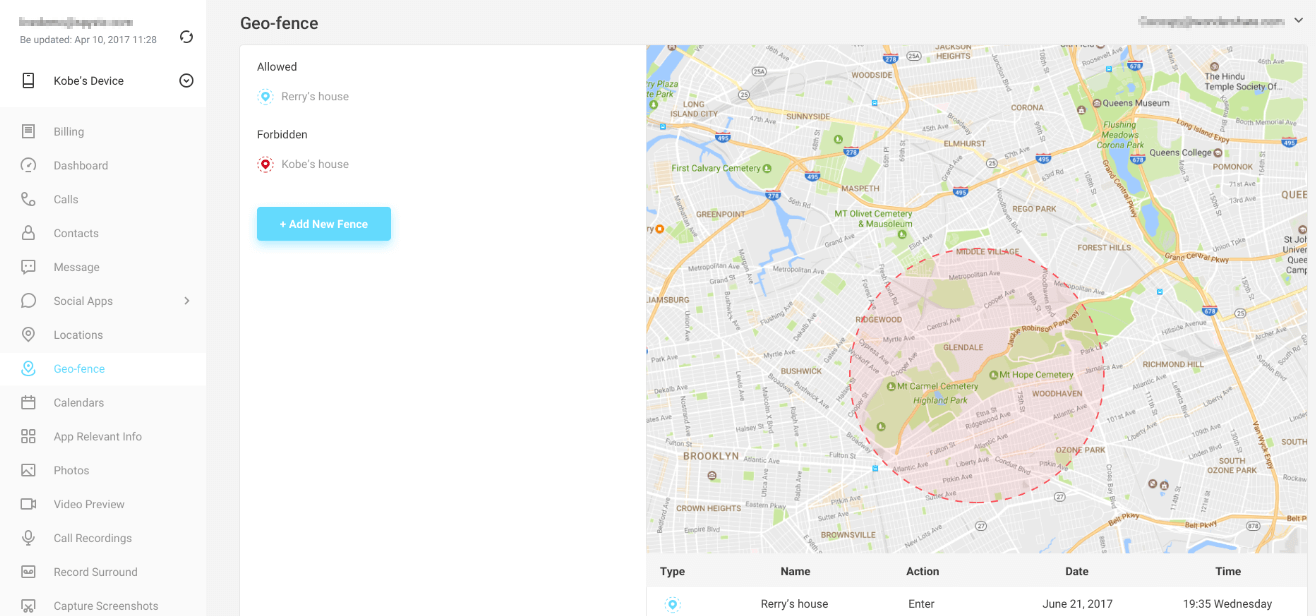 What can you do with Geofence Alerts?
A geofence is a geographical boundary set up on a virtual map. When this boundary is breached – when a target enters it or leaves – you'll know. Geofence alerts have a variety of real-world uses. They can help you keep tabs on your family members, for example. You'll be notified when they leave home or reach home safely.
As a parent, you can set up a series of restricted zones for your children. When the child enters one of these forbidden places — like downtown or a outside the suburb — you'll receive an alert. You can then track them down in a jiffy and prevent them from wandering where they shouldn't.
Geofence permiters are also useful in the workplace. For example, if you're a manager, you can create a marked zone around your premises. You'll get notifications when your employees enter or leave. You can ensure everyone arrives and leaves work on time. And you'll know if an employee leaves the campus during work hours.
How to use the Geofence Alert feature
First, sign up for a Cocospy account and get the app set up on the target device. Once that's done, log in to the Cocospy dashboard. Here, you'll see the Geofence option in the selection panel on the left side of the screen.
Load up the Geofence window. The window contains a map with your target's previous locations pinned on it. You can set up geofence zones here. You also have the option to configure alerts.
The Geofence section also keeps track of how often someone enters or leaves a target area. Every entry or exit is accompanied by a timestamp, so you'll know exactly when it happened.
Does the target phone have to be rooted or jailbroken?
For Android target device, you don't need to root. Cocospy's iOS solution doesn't support this feature. But it can track iPhone location without jailbreak.
Monitor discreetly
Cocospy is a hidden utility. It program runs in the background, invisible to the user. It's not resource-intensive, so it won't drain much battery or slow the phone down. You can set up Geofence zones without the targets knowing.