Website History Tracker
Unfettered access to the browser history.
View recently visited pages Cocospy's Web History Tracker:
View a list of most-visited websites.

Read brief site descriptions.

Access timestamps and bookmarks.
3 Easy Steps For Spying on One's Website History

Sign Up For Cocospy
To use Cocospy, you need an account. Use your email ID.
Download the Tracking App
Get the app set up on the target Android device. The iOS version is web-based.

Access the Browser History
Log in to your Cocospy account and start viewing the target's browser history.
Create an account now
By signing up, I hereby agree to the Privacy Policy
Check Live Demo Here >>
The browser history is a goldmine of info
The browser history can be a treasure trove of information. You know what your target is up to. You can learn more about their likes, dislikes, and their general personality. The information you gather can be used to protect them. Or you could find out if they're backstabbing you.
What do we mean by protection? You may be a parent. If so, you're probably aware the interent is a dangerous place for children. There are scammers, bullies, sexual predators, and toxic people aplenty. And let's not forget the inappropriate websites. By tracking a child's browser history, you can keep them safe.
If you're an employer, your employees could be surfing the internet instead of working. They could be in touch with competitors or looking for new jobs while at work. With Cocospy, you can monitor their website history and protect your business interests.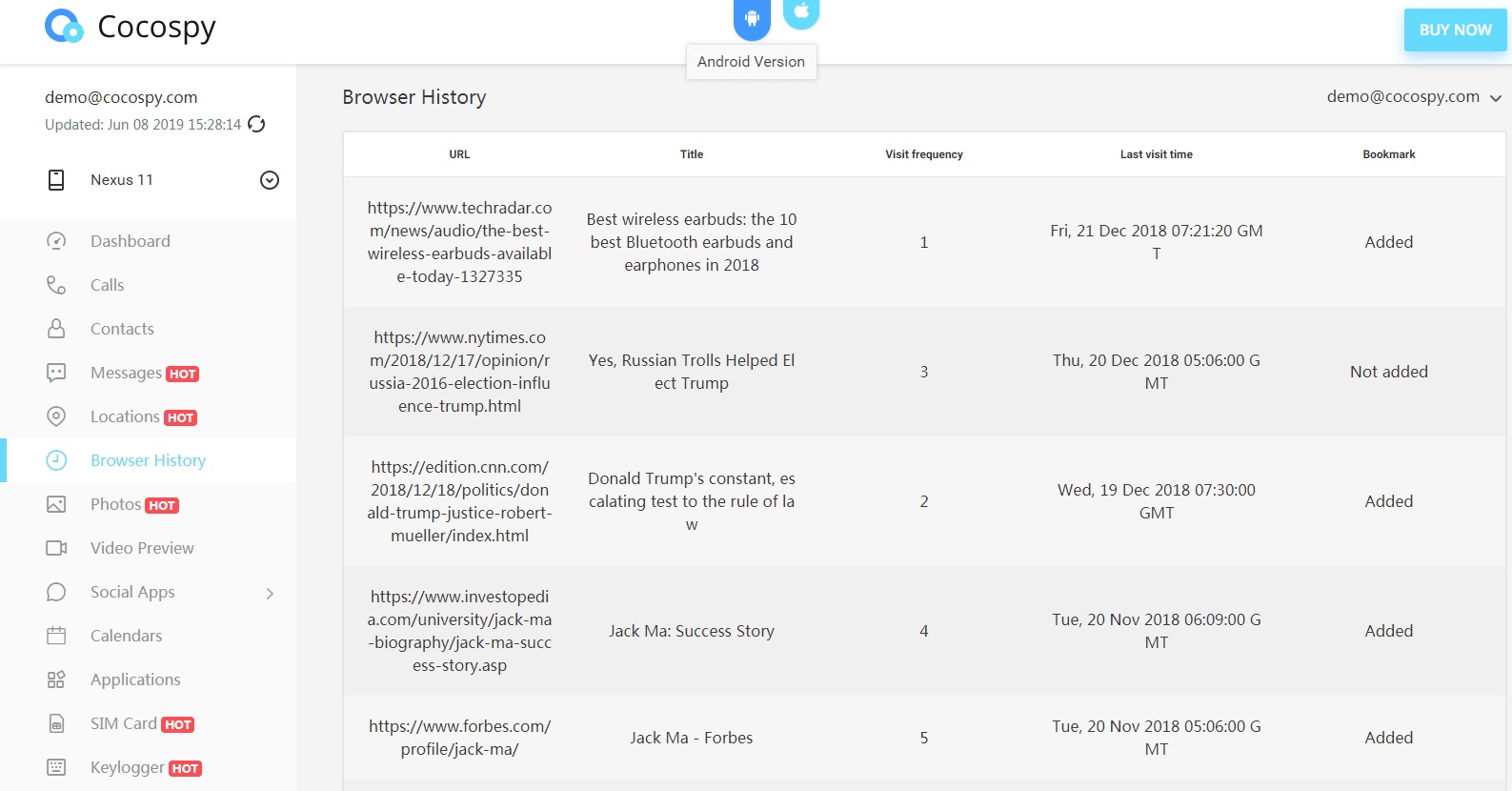 How to use the Browser History Tracker
To check someone's browser history, you'll need to get Cocospy installed on their device. First, sign up for a Cocospy account and then follow the installation prompts to get Cocospy working with the target's Android or iOS device. Afterward, log in to Cocospy and access the control panel.
You'll find the Browser History option on the selection panel to the left of the control panel/dashboard. Click on it and wait for the Browser History window to load up. Here, you get to see the target's recent web history. You can refresh the window to update the history in real-time.
You get specifics like the website URL, the website's title/description, visit frequency, bookmarks, and timestamps. You can print this information out for quick access later.
Access browser history without root or jailbreak
Cocospy's Internet History Tracker works on any Android device, rooted and non-rooted. The same goes for iOS devices.
Track Browser History discreetly
Cocospy is a true hidden spy app. After you install it, you can hide it. Thereafter, it runs in the background. It's non-resource-intensive and virtually undetectable. The iOS version is impossible to detect, seeing as it's fully web-based.