Spy on Snapchat
Keep tabs on your target's Snapchat activity.
Monitor Snapchat without being found out with Cocospy.
Read all exchanged messages.

Check contact details.

Track conversation timestamps.
Spy on Snapchat With 3 Simple Steps

Sign Up Now
Sign up for a Cocospy account with your email ID.
Install Cocospy
Download and install Cocospy onto the target device.

Monitor Snapchat Activity
Look over your target's Snapchat from the Cocospy control panel.
Create an account now
By signing up, I hereby agree to the Privacy Policy
Check Live Demo Here >>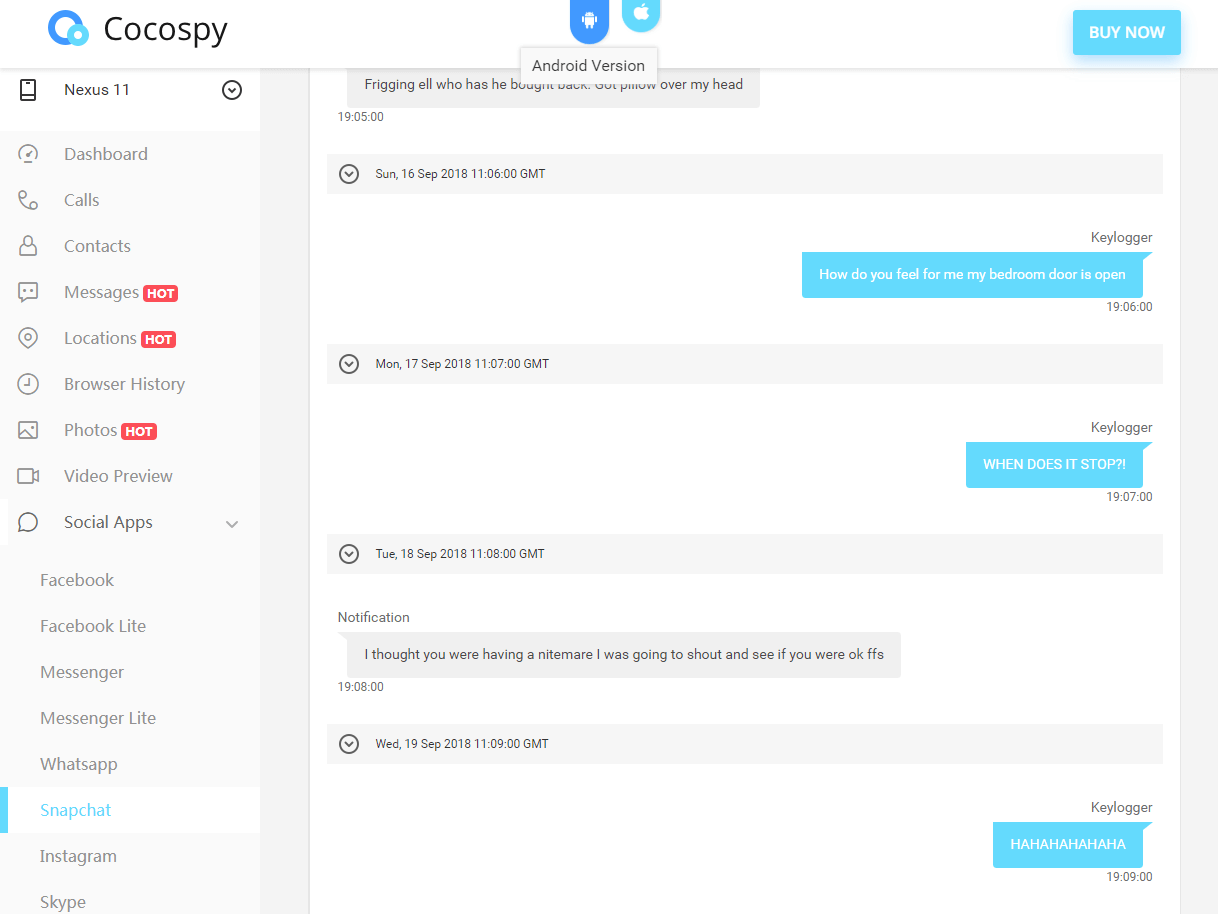 Why do you need Snapchat monitoring?
Several scenarios exist where you might want to spy on someone's Snapchat activity. The most common one are if you want to monitor your children or employees. Occasionally, you may want to monitor a spouse – provided it's legal in your country.
Snapchat is rife with perverts, scammers, and bullies. Children may fall prey to abuse from shady characters like that on Snapchat. They may be lured into sharing nudes by a stranger. If you're a parent, it might be best to keep an eye on your child's Snapchat activity.
You may be an employer who's handed out company phones to employees. Are they working when they should be or are they wasting time on Snapchat? You may need to monitor them to find out.
How to use the Snapchat Spy Feature
To use the Snapchat Spy feature, you'll need to get a Cocospy account and a subscription first. Then, get Cocospy working with the target device. The process is simple and takes only a handful of minutes. After that's over, log in to your Cocospy homescreen.
You'll find the Social Apps>Snapchat option in the selection panel to the left. Click it to open the Snapchat window. Here, you'll get an in-depth view of the target's Snapchat activity. The most recent messages will be displayed on the first page.
Every message is accompanied by a timestamp. Cocospy syncs messages as soon as they're sent out. That means if a user deletes a message later, you'll still be able to see it on your account.
Access Snapchat without root
Cocospy allows you to monitor Snpachat without root. Note, though, Cocospy can't access Snapchat on non-jailbroken iOS devices.
Operates stealthily
Cocospy works invisibly, so you won't be found out by the target. Once installed, it works hidden in the background. It uses a negligible amount of system resources and is virtually impossible to detect.

Cocospy is one of the rare few apps that can monitor Snapchat without root. Try Cocospy now!