Text Message Spy
Read all SMS and iMessages.
Look through exchanged messages with Cocospy's Text Spy:
Read incoming and outgoing messages.

Access deleted messages.

View attached timestamps.

Browse MMS media files.
3 Simple Steps to Spy on Text Messages

Sign Up
Register for an account with an existing email ID.
Set Up Cocospy
Download Cocospy onto the target Android device. For iOS devices, you need the iCloud credentials.

Read SMS
Start reading texts by logging in to your Cocospy account.
Create an account now
By signing up, I hereby agree to the Privacy Policy
Check Live Demo Here >>
What can you learn by reading texts?
Texts are a font of info. They tell you a lot about the target. They also give you clues if you need to be worried about them. This could be to protect them, you, or the both of you together!

It's not uncommon for children to be in touch with strangers these days. Unfortunately, not all strangers have good intentions. They could be scammers, bullies, or perverts. To protect your kids, you may have to keep an eye on their texts.

Employees are important. You need to keep an eye on them to ensure high productivity. Occasionally, an employee pay pass on company secrets to a competitor. By monitoring texts, you can prevent both scenarios from occuring.

Are you children in touch with the right sort of people? Are your employees associating with the competition? You can vet contacts by reading texts.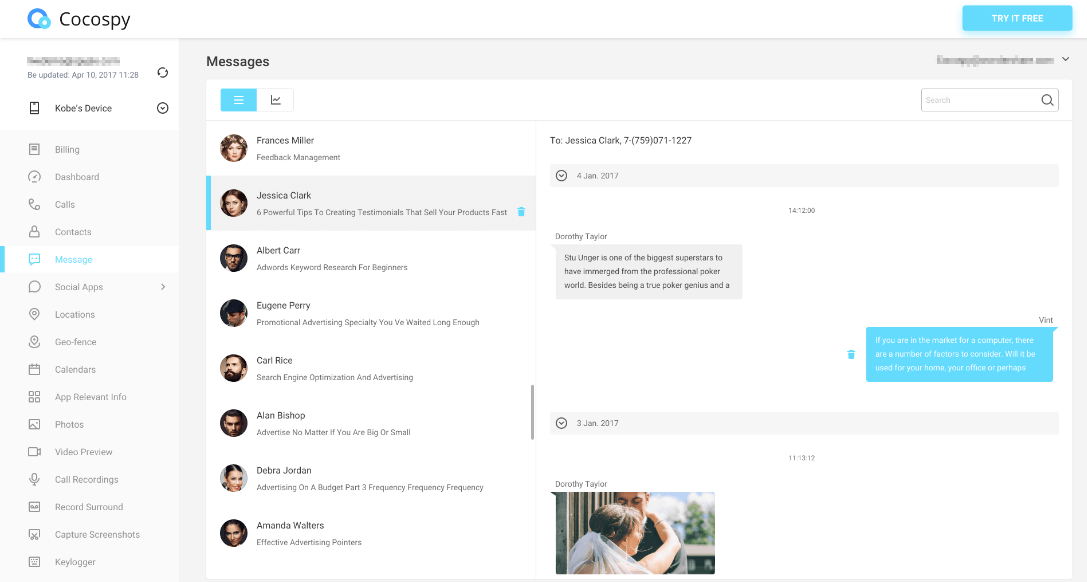 Access texts without root and jailbreak
Cocospy allows you to read texts without you needing to jailbreak or root the target device. Cocospy can be set up in minutes.
Use in Stealth Mode
Cocospy is a hidden surveillance utility. It's 100% discreet. Your target will never know they're being spied on.