WhatsApp Spy App Feature
Monitor WhatsApp remotely.
Spy on WhatsApp without being detected with Cocospy:
Read private and group chats.

Check timestamps accompanying chats.

View contacts and phone numbers.

Browse photos, videos, and media files.
3 Steps to Help You Spy on WhatsApp

Sign Up Free
Use your existing email ID to sign up for a free account.
Set Up Cocospy
Download Cocospy onto a target Android device. For target iOS devices, enter the iCloud credentials.

Read WhatsApp Chats
Log in to your Cocospy account to start reading WhatsApp messages.
Create an account for free
By signing up, I hereby agree to the Privacy Policy
Check Live Demo Here >>
How to use the WhatsApp Spy feature
You'll need a Cocospy account and a subscription. Then, get Cocospy set up to work with the target device. Afterward, log in to your Cocospy account. Find the Social Apps>WhatsApp option in the selection panel on the left.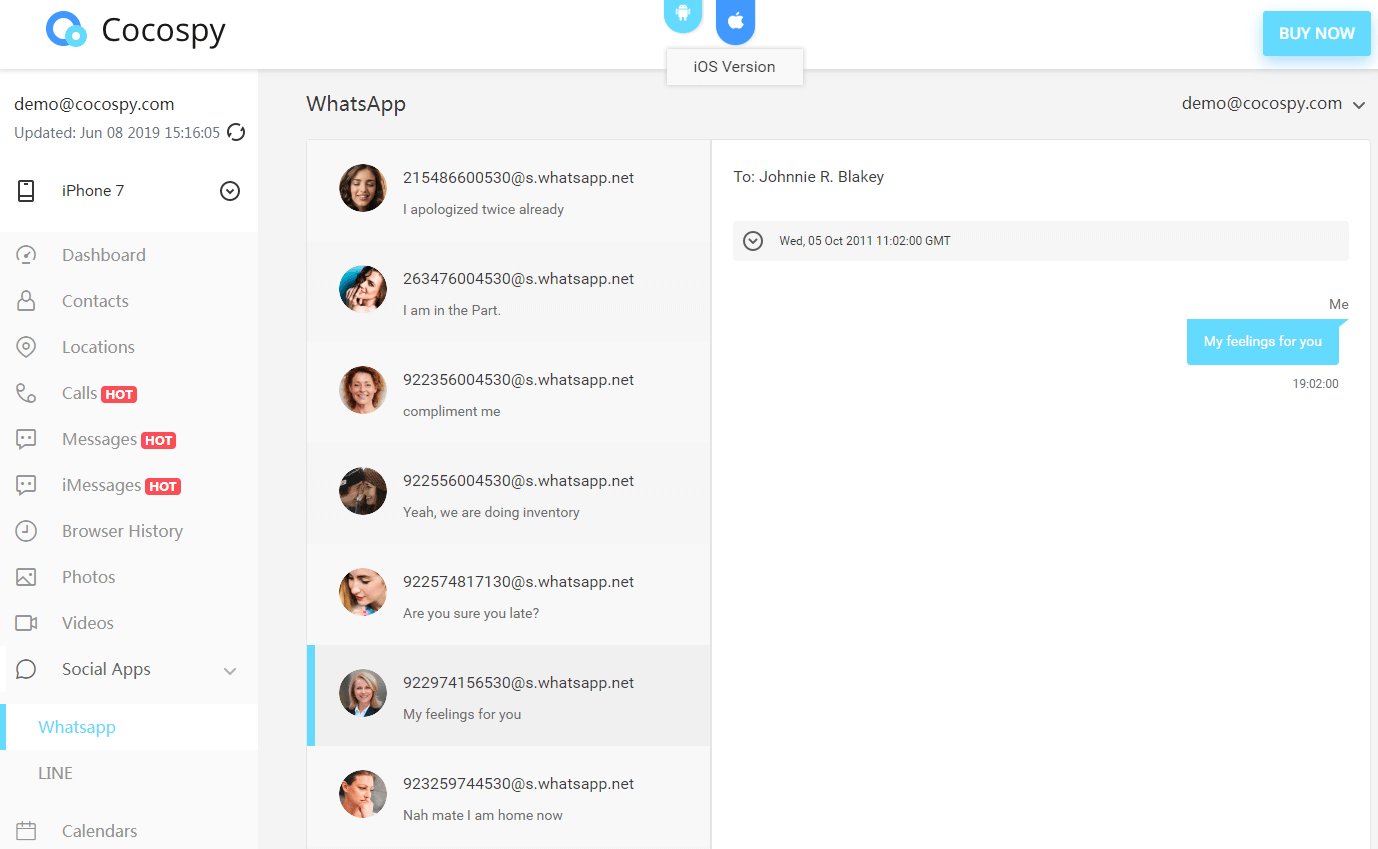 The WhatsApp window has a record of all recent WhatsApp conversations. They're accompanied by timestamps, so you can tell exactly when a chat began or ended. You get other details like contact numbers, picture, and phone numbers.
What happens if a person deletes a WhatsApp conversation? Cocospy periodically saves WhatsApp archives to our servers. You'll always have access to all WhatsApp messaged, including the deleted ones.
$How_Can_You_Use_Cocospy_WhatsApp_Spy_App_p4$
Monitor WhatsaApp without jailbreak or root
Cocospy's WhatsApp Spy feature works on stock versions of Android and iOS. You won't have to go through the hassle of jailbreaking/rooting the target device.
Works in Stealth Mode
Spy on WhatsApp with Cocospy, without root or jailbreak. Give it a go now!
Why Spy on Someone's WhatsApp?
WhatsApp is an extremely popular messaging app. An estimated 1.5 billion people from around the world use it. Chances are your target makes use of it too.
If you're a parent and your target is a child, you can keep tabs on their WhatsApp activity to keep them safe. There are many bullies, sexual predators, and scammers out there.
If you're an employer, you can track your employee's WhatsApp use to ensure they're working when they should be. Also, you may be able to spot disloyal employees who're stealing from you this way.
$Why_Use_a_WhatsApp_Spy_Tool_p4$
You may like: