We're living in the age of nanotechnology. Hidden spy cameras these days are so small that they can be planted anywhere by anyone. They can be installed in the door peephole, in a seemingly innocent pen, and even in the bathrooms!
Are you sure that no one is spying on you? Can you be certain?
The answer is, you can't! Not unless you have a hidden camera detector in your possession.
And that's what brings us to this article. In this day and age, it's crucial that you should purchase a bug detector so you can make sure your home is not being spied on.
There are a number of different methods of finding hidden cameras. You can inspect all the lights and sockets in your house, look for hidden wires, etc. However, all of that requires backbreaking work and you can still never be sure.
The only way to be certain is to install a spy camera detector.
In this article, we'll give you an overview of the 10 best hidden camera detectors in the market. We have personally examined all of these bug detectors, did lots of research and compared their features to offer you the best selection.
Table of Best Hidden Camera Detectors
Hidden Camera Detectors Reviews
The Sleauthgear Law-Grade Counter Surveillance PRO Sweep is the Editor's Pick for the best hidden camera detector because it's hands-down the best in the industry. It's a handheld bug detector you can use to sweep your entire house and find any surveillance device that might have been planted there.
It has all the bug detector features you could possibly ask for, has the highest range of frequencies known to spy camera detectors, AND it can be handled by a 2 year old! Literally!
All you have to do is press the button and start sweeping the premises. A red light will flash away from you, that's completely normal. You have to look through the View Finder Circle. If you notice a red light flashing back at you, that just means you've found a hidden bug!
I can't recommend this product highly enough. I once swept a hotel room with it and found TWO hidden bugs! The management got an earful from me.
Keep in Mind
The Sleauthgear Law-Grade Counter Surveillance PRO bug detector find surveillance equipment by sweeping for frequencies. As such, you should turn off all electronic equipments when you're sweeping, including the WiFi and router. These devices would otherwise interfere with the signals and you'll get a distorted reading.
Feature
This portable hidden camera detector has one main objective – to find any surveillance bug. It can locate all electronic RF signals and it can locate all possible GPS tracking units. This dual function helps you prevent people from listening to your conversations or tracking your location.
It has a frequency of 10GHZ. This is the widest frequency amongst all the bug detectors in the market. This Sleauthgear camera detector can pick up frequencies ranging from 10MHZ-10GHZ whereas other similar detectors can't go any beyond 6GHZ. As such, this device can detect even the most modern hidden cameras.
It can detect ALL surveillance equipment including spy cameras, wiretaps, GPS trackers, telephone transmitters, hidden microphones, etc.
It's extremely portable. As such, you can carry it to hotels, restaurants, and on meetings. If there's any unwanted surveillance taking place, you'll know. How do you know a surveillance is illegal or unwanted? If it's hidden (and not disclosed to the public), it's illegal.
It's extremely easy to operate and understand, there's no complicated set of instructions or buttons. Just press the button and sweep it around the premises to find out if there's a hidden spy camera anywhere.
The battery lasts for an extremely long period of time.
Tech support is available for life.
Why it's my #1 Choice
Okay, I've got to be honest, I'm not too keen on gadgets that come with super long instruction manuals that can only be handled by tech experts. All electronic devices should be user-friendly, above all else.
And that's EXACTLY why this is my #1 choice.
Pro
Has the highest frequency range amongst all hidden camera detectors.
In addition to hidden cameras, it can also detect microphones, GPS trackers, etc.
Highly portable.
Easy to operate.
Cons
Some customers suggested that it would have been better if this device beeped in warning instead of just flashing a light.
Gets scrambled by power outlets. So you have to make sure ALL electronic outlets are turned off.
2. Spy-MAX Security Products Professional Digital RF Detector – Most Advanced Hidden Camera Detector
The Spy-MAX Security Products Professional Digital RF Detector is the perfect hidden camera detector as it has the ability to detect all modern hidden bugs that use Bluetooth or Wi-Fi protocols.
It's currently one of the most advanced (and expensive) bug detectors, and should only be used by people who need serious anti-surveillance gadgets.
Wait! Expensive? Let's see…
What makes it stand out
Feature
This is the perfect device with which to search digital and analogue transmitters.
It can function in four different modes – silent, sound, vibration, and mixed. As such, you can set it up to warn you of spy cameras in any means you find appropriate.
The operator can detect all wireless sources because it's sensitive to bluetooth and Wi-Fi signals. Bluetooth bugs are nearly impossible to detect because of their low transmitted power. However, this Digital RF Detector uses a separate channel with a high 2.44GHz to detect both Bluetooth and Wi-Fi signals of a higher frequency.
Can detect wireless sources at a distance up to 2 meters.
It can detect a variety of signals including GSM, Bluetooth, Wi-Fi and RF 16-segment bar graph indicator, thus covering all the range of spy cameras.
When a spy camera is detected, it lets off a beep from the microphone transmitter, while the demodulation display
The microprocessor includes an extra antenna so that the surrounding broadcasting towers don't interfere with the signals.
Can function for up to 20 hours with 2xAAA battery.
It comes with three eBooks on how to prevent surveillance – Prevent Spying on your Business, Stop Spying on Me and Stop Wire Tapping.
Final Thoughts
This is definitely the MOST advanced and powerful bug detector in the market. It's advanced, comes with great features, and can detect a range of different signals. This is the kind of product that's used by professionals in corporate settings and in other areas wherein the chance of high-end surveillance is more likely. However, it's really expensive and difficult to operate, so I wouldn't recommend it to the regular Jo.
Pro
Can function in various work modes.
Has a long 2 meter range for detection.
Can detect both bluetooth and Wi-Fi signals.
Can block interference.
Long battery life.
You get complementary eBooks that are pretty educational.
Cons
Extremely expensive.
Not meant for regular individuals.
Difficult to operate.
3. Dooreemee Super Anti-Spy Camera Detector – Budget Pick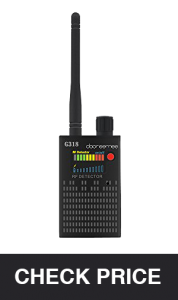 The Dooreemee Super Anti-Spy Camera Detector is our Budget Pick for the best hidden camera detectors in the market because it packs a wide range of features while still being easy on the pockets.
Its cheap price and user-friendliness are the reasons why this is one of the most popular bug detectors out there.
Keep in Mind:
This is solely a radio wave detection instrument. As such, it cannot do some of the things that the other bug detectors can do. For example, it can't detect either video or audio recording devices because the voice recorders and DV can't pass the signal. However, it works perfectly on hidden spy cameras.
Feature
This is a highly sensitive spy bug detector and it can locate GPS trackers, wireless cameras, and various other surveillance devices.
When a spy camera is detected, it sets off an alarm via a beeping sound and a Ninelevel LED
It has a receive frequency range of 1MHz-8000MHz and a Dynamic Detection Range of over 73Db.
A 2.4GHz wireless camera can be detected from a distance of 32.8ft. A 1.2GHz wireless camera can be detected from 49.2ft. And a 2G/3G/4G phone signal can also be detected up to 49.2ft.
Its powered by a built-in lithium battery 3.7V 1500mAH and thus it can run for a period of 15 to 25 hours.
The wireless detector can also locale any potential electromagnetic radiation leaks from household appliances. As such, easily detection of the leak can potentially prevent a health hazard.
It's extremely easy. You just have to trigger the power switch and then use the sensitivity knob to filter out interference. A sound and light alarm will alert you to possible surveillance gadgets. The LED goes up to 10 levels, so the closer you get the higher it rises.
Final Thoughts
If you're a regular person concerned about your privacy being invaded, you can use this hidden camera detector. It's not the most powerful device in the market. But it can easily detect cameras, and it has a graphic LED display that shows you how far you are from the spy gadget. Plus, it's incredibly cheap!
Pro
LED display with various levels.
Sets off an alarm and a visual aid.
Long battery life.
User-friendly.
Cons
Limited range in terms of the devices it can detect.
Signals can get interfered by laptops, phones, etc.
4. Spy-Hawk Security Products Pro-10G – User-Friendly Law-Grade Secret Camera Detector
The Spy-Hawk Security Products Pro-10G is one of the most popular law-grade counter-surveillance bug detector in the market.
It has recently been upgraded with advanced features and the ability to detect modern spy cameras.
Furthermore, it's highly reliable because it's used by law enforcement agents from around the world.
Oh? That seems interesting.
What makes it reliable?
Feature
It has a frequency range from 10MHz up to 10GHz. This is the widest frequency range in the market. As such, this device can trace all forms of transmitting devices, including bluetooth and Wi-Fi spy cameras.
The White Noise Generator can create a scrambling sound in the atmosphere at a 40-50db range. So you can speak without being picked up by bugs in the vicinity.
It can be used to prevent your phone calls from being tapped.
This bug detector comes with a pair of headphones you can use to detect the hidden cameras. When it starts beeping loudly, you'll know you're close.
The device also comes with a 10 Level LED display. It will fluctuate from green to red depending on how close you are to the bug.
You simply need to press a single button to use it. Extremely easy to operate.
All of these features render this device into the ideal device for law-enforcement agencies. However, you have to be mindful about one thing. The wide frequency range can be both a blessing and a curse.
On the one hand, it can pick up signals from even the most discreet spy cameras. However, because of the wide frequency, it also picks up interference from flashing lights, electronic gadgets, etc.
As such, you need to turn off all the electronic devices in the vicinity for it to function properly.
Pro
Has an extremely wide frequency range.
Can produce white noise.
Comes with both a headset beeping alert and an LED display.
Easy to operate.
Cons
Can pick up interference.
Not ideal for individuals living in large households or apartment complexes with a wide range of electronic disturbances around.
5. KJB DD2020 – Best RF Bug Detector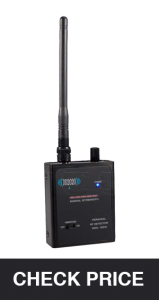 The KJB DD2020 is the best RF bug detector in the market. It's an extremely small device that you can easily hide in your pocket, yet it's powerful enough to pick up on all RF bugs and hidden cameras.
What makes it special
This bug detector works in complete silence. It does not beep or produce any noise that might warn the listeners that you're on to them. Instead, you can determine where the bug lies based on the flashing of the light.
In addition to the light, it also comes with a vibration motor and an earphone. As such, the gadget starts shaking as it comes close to the bug, and you can hear the beeping in your earphones.
It can detect analog signals and has a frequency range of 1 MHz – 6 GHz.
Pro
Consumes less energy.
Can detect analog and RF signals.
Small size.
Noiseless.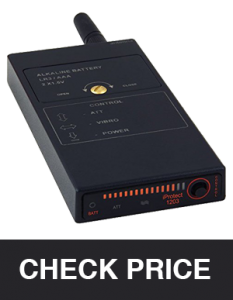 The Spytec iProtect 12031 High-Frequency Portable Bug Detector can detect a range of different radio transmitting equipment.
It informs the user of the presence of bugs either through vibrations or through a bar graph indicator. It's completely silent.
Features:
It has a frequency range of 30 to 6000 MHz.
It can visualize the strength of the signals in a 10 Level indicator.
Can detect both analog and digital transmissions.
The sensitivity of the device can be adjusted.
It can also detect harmful emissions from GSM-jammers or mini recorder suppressors.
This device can keep you safe by identifying radioactive emissions from home appliances such as refrigerators, microwave, etc.
Pro
Has a strong frequency range.
Works silently through visuals and vibrations.
Can detect harmful emissions.
Cons
Can't produce white noise.
The frequency isn't high enough to catch several modern spy camera devices.
7. Micro Alert 2 – Micro-Sized Basic Bug Detector
The best aspect of the Micro Alert 2 bug detector is that it's pocket-sized and extremely reasonable.
It can't be used for advanced counter-surveillance purposes, but it's good enough for home use.
Features
This pocket-sized RF detector can trace microwave and radio signals from hidden sources.
You can select the frequency of the radio waves you want to detect.
The presence of the hidden devices are indicated with a loud beep that gets more frequent as you get closer to the source.
Pro
Pocket-sized.
Ideal for home use.
Can set up the minimum frequency to be detected.
Cheap.
Cons
Doesn't work silently.
Extremely basic in its features.
 8. KJB DD1206 Professional Detector Hunter Sweeper
The KJB DD1206 Professional Detector Hunter Sweeper can detect bluetooth, Wi-Fi, DECT, GSM, and RF devices.
It comes with two antennae.
The first has a frequency range of 40MHz to 4 GHz, and the second has a 2.44 GHz frequency.
As such, it can differentiate between different types of signals and devices, lowering the possibility of interference.
It works on 2xAAA batteries and has a lifespan of 20 hours.
9. JMDHKK Anti Spy for Hidden Camera
The JMDHKK Anti Spy for Hidden Camera can detect a wide range of devices and signals – radio waves, magnetic fields, wireless cameras, GPS trackers, SIM card bugs, etc.
It comes with both sound and light indicators based on which you can determine how close you are to the surveillance equipment.
Finally, the LDE laser technology can also spot hidden cameras in their standby state.
As such, even if they are currently inactive, you can still find them.
10. Spy Finder – Best Hidden Camera Detector

The Spy Finder is an expensive and powerful device that can locate the source of hidden cameras, both wired and wireless.
Unlike the other devices in this list which can be used for a range of functions, this Spy Finder can ONLY be used as a camera detector.
Conclusion
So now you know all about the 10 best hidden camera detectors that can help you find hidden spy cameras.
For this article, we've given you with a range of options. Some of these bug detectors are professionally used by law-enforcement, and some are just meant for home use. Some are difficult to operate, and some can be used by 2-year-olds. It finally comes down on what your needs are and who you believe is spying on you.
If you have any questions regarding the type of hidden camera detector that you should use, feel free to mention it down in the comments section!