As you search through the spy camera market, you will come across various brands. Now, for those who thought that looking for the best hidden spy camera would be a smooth ride, throw away that thought for a minute.
We are not here to criticize any brand; that is not our job.
Before you pick any camera, you have to realize the use of that specific item. Manufacturers typically come up with various technologies with the user in mind. Thus, we will review the AOBO Mini Spy Camera.
If you are tech savvy and you want to know about the gadget, this one should be one of those devices that you should never miss among your security detail.
Here is a comprehensive review of the camera.
What Makes It A Top Spy Camera?
Spies love to keep things discrete. They would like to get into an environment, get as much information or evidence as possible, and get away without anyone noticing it.
Now, the mini spy camera is a sturdy camera with all the features that any spy would appreciate: Talk of its size, its functionality, the various options that it gives, among many other qualities.
Unique Design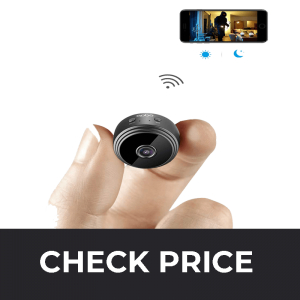 When buying house items, you probably would love something aesthetic. Small cameras such as this would skip on that because that is not their primary role.
However, its size comes with various perks that you would love. Some of the highlights include:
A magnetic side to stick on a wall

Magnetic attachment, which is also unnoticeable

Six infrared LEDs

Rechargeable batteries that you can charge as you record
The Lens
Above all other things, I could not ignore the strength featured in the lens. It is superb, first, by the video quality it produces whether with light or not.
1080p is a high definition quality, which means, you can zoom into the video as close as possible without losing the quality.
You will also love the camera range of about 150 degrees. That means, your house is fully secure as long as you place it in a favorable location.
Lens options available include taking both photos and videos.
The Recording Function
AOBO Mini Spy Camera comes with an excellent recording function. Primarily, the user has two options. You can select either the live streaming option or the playback function.
If you are keeping an eye on the pet while away, then that is possible. You need to download the app, and using WI-FI the user can view from a distance.
Most people complain that spy cameras provide low quality video when the WI-FI frequency is low. Nonetheless, that should not bother you. It will operate at a rate of 2.4 GHz without lowering the quality.
For the playback function, you will have to slot in an SD memory card at the back before recording. Then you can check it after you come back.
By the way, thanks to the app, you can switch the camera off, take photos, and get notifications via email in case the camera detects motion into the room.
Where should you use the camera?
According to the manufacturer, the spy camera is best for securing a room. You will have to fix it on to a wall. However, some people also use it in their cars, walk around with it in their pockets or bags, fix it on their fence, garden, simply everywhere.
Do not confine yourself to using it indoors, if a need arises, move it to any location of your preference as long as you set it in a disclosed position.
If you fear that it will not detect anything in a dim or dark room, then you are wrong. Its LED features, which functions without detection, will assist the camera in the recording.
Pros
No problem installing and using it

Easy to carry around

Records while charging

Comes with night vision

Can be set on any location

Wide camera range is broad to cover an entire room
Cons
You have to purchase an SD card separately
You want to see a visual on this spy camera, ensure that you check this video. Link: https://www.youtube.com/watch?v=8_ma4h3DPlU
Conclusion
The AOBO Mini Spy Camera is a device that one can place anywhere. Due to its small size, I mean, you could stick it on any wall, hold it on your body without any detection.
It might be the best option for detective or investigative personalities; Additionally, people who want to protect property or keep an eye on a pet or a nanny while they away, then this would be the right gadget to purchase.