Applications Tracker
Check and manage installed apps.
View and control apps with Cocospy's Installed Apps Tracker
Review all installed apps.

Check new installation activity.

Block inappropriate apps.
Monitor Installed Apps with 3 Simple Steps

Get An Account
Sign up with an email address and password.
Set Up Cocospy
Download Cocospy onto the target Android device. For iOS devices, you need the iCloud credentials.

Check Installed Apps
Find information on how well certain apps are being used at a given time.
Create an account now
By signing up, I hereby agree to the Privacy Policy
Check Live Demo Here >>
Why do you need to keep track of installed apps?
As you're aware, the are a multitude of malicious apps out there. They will steal your personal informatiom, clog your phone up with ads, or attempt to steal your money. That's not to mention all the age-inappropriate apps.
If you have kids, they be at risk from such apps. An innocent child may end up installing a malicious app accidentally. Sometimes, a too-curious child will willingly download an age-inappropriate app. By screening their installed apps regularly, you can keep them safe.
Another scenario where you may need to check installed apps is if you're an employer who's given employees work phones. Are the phones actually being used for work as intended are have they been turned into personal enteratinment devices? The installed apps list will tell you.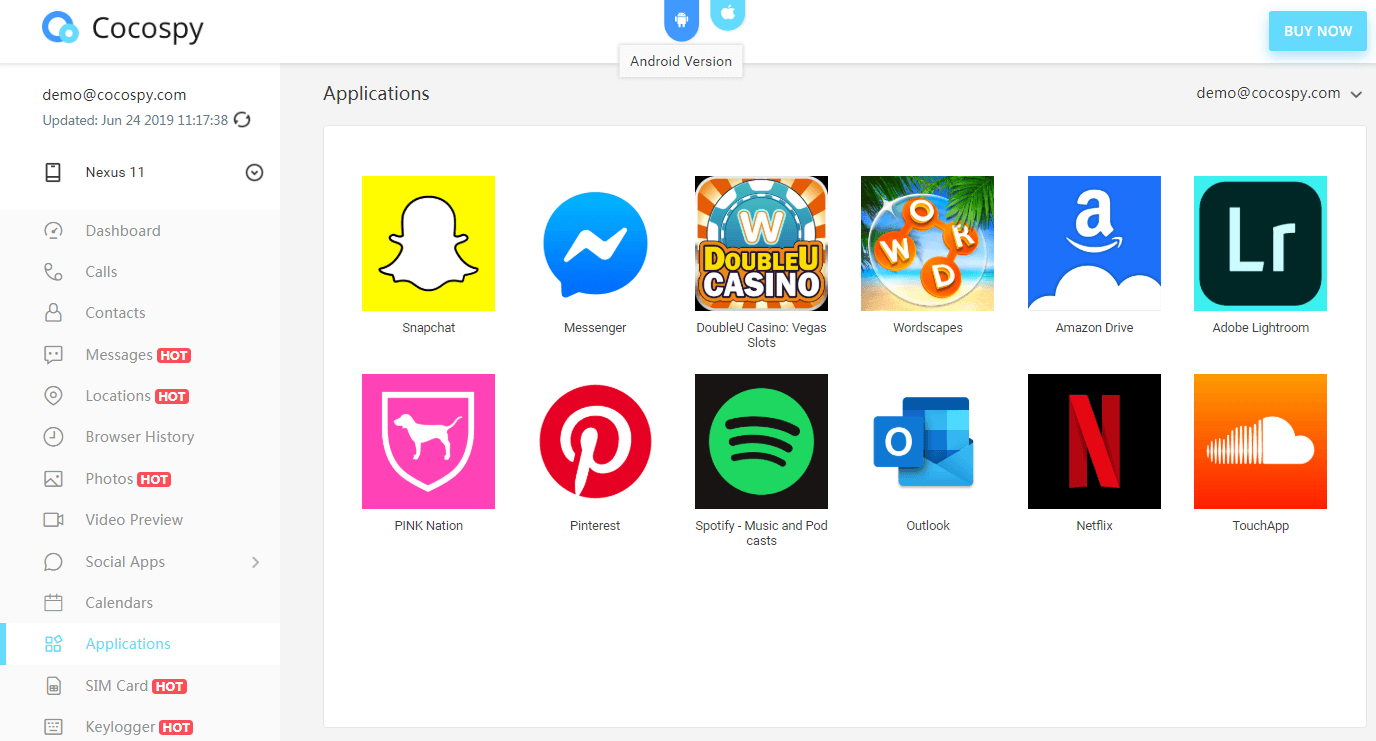 How to use the Installed Apps Tracker feature
Sign up for a Cocospy account. Then, set up Cocospy to work with the target device. You don't need to jailbreak or root. Finally, once Cocospy is good to go, you'll find the Applications option in the selection panel to the left.
On the applications screen, you'll see 12 apps listed by default on the first page. You can browse through them to get an idea of the kind of apps your target uses. You can also search for inappropriate apps.
Every app entry is accompanied by a timestamp. You'll know when an app was installed or last used. Finally, if you find an inappropriate app, you have the option to block it.
Check installed apps without root or jailbreak
You don't have to root or jailbreak the target device for the Applications feature. Just get Cocospy linked with or set up on the target device. To use Cocospy's iOS solution, you don't even need to download an app, since it is cloud-based. You can remotely check data of the target phone in a browser.
Remain invisible
Cocospy was made to be stealthy. The Android version, once installed on the target device, turns invisible. It runs in the background without slowing the phone down or using much battery. The iOS version is fully web-based, making it undetectable.

Monitor installed apps hassle-free with Cocospy. Do it remotely and anonymously. Try Cocospy now!