Want to look someone up? You could Google them. Sometimes, though, this approach doesn't work. Google either turns up a minuscule amount of information or you find a stranger who has the same name as your target.
At times like these, people recruit the services of a people-search company like SpyFly. For a fee, these companies will dig up publicly-available information about anyone. The information retrieved can be quite comprehensive.
Wondering if you should purchase a report from SpyFly or sign up for a full membership? We do a full review of the company to help you decide if they're worth your time and hard-earned money.
SpyFly – An Introduction
SpyFly, according to their website, has been in business since 2017. They operate out of Goleta, California, and they have team members all over the U.S. Unlike other similar businesses, they don't outsource customer care.
Upon doing a little digging, we found that SpyFly has actually been in business since 2012. It was registered with the BBB since 2013. SpyFly has a respectable BBB rating of "A", which makes it legit business in our books.
SpyFly describes itself as a company specializing in background checks. They claim to provide you with the most updated "quality" data, which they find by aggregating billions of public records. They also offer other services.
SpyFly.com – Services Offered
So what sort of services does SpyFly offer? And how do they shape up when compared to services offered by other information-retrieval businesses? Let's find out:
1. Contact Information
SpyFly creates unlimited full-fledged contact information report for members. Contact information is usually what most people are after – like when they're trying to find long-lost friends, loves, relatives, and acquaintances.
What kind of contact information can SpyFly dig up? You get a person's full name, residential history, email addresses, phone numbers, and possible current location. Information about anyone nationwide can be retrieved.
2. Financial History
Want to peg someone current net worth? Or are you wondering if that financial seller or buyer is above board? The financial history report is exactly what you need. It provides an in-depth look at someone's financial activities.
What does the financial history report cover? You get information about bankruptcies, judgments, UCC filings, liens, and more. Note that this information can't legally be used to screen a tenant or an employee.
3. Legal & Lifestyle Data
The third category of report SpyFly can generate is legal & lifestyle-related. You may be able to determine an individual's character and respectability with this report. You can then determine if you want to get to know them.
Exactly what does "legal and lifestyle" entail? It includes warrants, arrests, sexual offender status, occupation, occupational history, licenses, permits, and more. The information provided is enough to profile a person accurately.
4. Proactive Monitoring and Email Alerts
Public records change constantly. The information you have today may become obsolete tomorrow. The person you're interested in, for example, could end up changing apartments or join a different company for work.
SpyFly offers proactive monitoring and email alert service to keep you updated on changes in public records. You can select up to 4 people to monitor. If their public records are updated, you'll know about it.
5. Emergency Response Profile (ERP)
If you're forward thinking and like being prepared, you'll love SpyFly's emergency response profile feature. They allow you to create profiles of your family members for use during emergencies – like someone going missing.
These profiles can be stored in an encrypted location on SpyFly's server. They will contain critical information about your loved ones, including their snapshots. If an emergency arises, you can send law enforcement the ERP.
5. Nationwide Sex Offender Information
You can never be too careful these days, especially if you have children. There may be sexual predators in your neighboring, even if you live in the good part of town. You might want to consult the nationwide sex offender database.
With the database, SpyFly members can check for registered sex offenders. To initiate the search, you just need a first/last name or a ZIP code. Searches are unlimited, so you can screen your whole neighborhood if you have to.
6. Sex Offender Monitoring and Email Alerts
As we said before, you can never be too careful – a viewpoint SpyFly seems to endorse. There may not be a sexual offender in your neighborhood at the moment, but one could move in tomorrow when you're not looking.
SpyFly allows you to set up a sex offender monitoring zone of sorts as protection. If a sex offender moves into the monitored area, you will receive an email notification. It's a nifty feature.
In our experience, SpyFly's information retrieval services are par for the course. However, their protective monitoring, emergency response profile, and notifications are uncommon. We think they're a nice touch.
SpyFly – Pricing
Is SpyFly affordable? Do they give you enough bang for the buck? Or do they do their very best to wrangle every last nickel and dime from you that they can?
SpyFly allows you to use their services in one of two ways: by signing up for a 7-day trial or purchasing a full monthly membership. The 7-day free trial is the most popular option. After the trial period, you're automatically signed up for a monthly membership.
They have four membership options: monthly, quarterly, semi-annual, and annual. Here's how much each plan costs:
Monthly: $29.97
Quarterly: $39.97
Semi-Annual: $49.97
Annual: $59.98
Both the trial and the monthly membership allow you to print an unlimited number of reports. That means you can run contact information, legal, financial, and sexual offender checks for everyone you know for cheap.
The 7-day trial costs $1 to $2, depending on the promotion SpyFly is running currently. Be aware that after the trial period ends, you're automatically billed for a monthly membership.
SpyFly doesn't offer individual reports on sale as most other background-check companies do. But you won't miss the feature. Their trial and membership plans allow you to generate unlimited reports and are priced affordably.
From our research, SpyFly is one of the cheapest background-check businesses around. Other companies often charge $50 for a single background report. SpyFly, on the other hand, charges $60 for unlimited reports for a whole year!
Canceling a SpyFly Membership
You need to call SpyFly to cancel a membership. You'll have to give the rep your account information. The contact number is 1-800-831-9235. You may also be able to email a cancelation request at support[@]spyfly.com.
Note that you can't get a refund for your SpyFly membership. They state that very clearly in their terms of use. However, in some cases, they may issue a refund if information about a person isn't found. When in doubt, call them.
SpyFly – Data Accuracy
We know that SpyFly offers a good amount of background-check-related services. We also know their services are affordably priced. But none of that matters if the information retrieved isn't accurate.
So exactly how accurate is the information retrieved by SpyFly? After combing through multiple customer reviews, we can confidently say that SpyFly manages to retrieve accurate information 7 times out of 10.
One user complains about reports riddled with inaccuracies for her, her boyfriend, and a convicted acquaintance. The couple's job info, current address, and financial info were wrong. And the acquaintance had no criminal history!
Another user, on the other hand, says that she's happy with the reports she received. They weren't always fully accurate, but they were acceptable. And she claims it's a steal for $2, which we agree with.
Isn't an estimated 70% report accuracy low? You can't expect more from a background-check business that charges just $30 a month. There are businesses that provide much more accurate info, but they charge a fortune in comparison.
SpyFly – Customer Service
SpyFly prides itself on being a customer-centric business. They go to great lengths, according to them, to make their customers happy. They're available 363 days a year. You can reach them via phone, email, or postal mail.
They have a staff member always on-call during normal office hours; which is Monday to Sunday, 5 am to 9 pm PT. Their contact numbers are 1-800-831-9235, 1-800-301-5816, and 1-800-349-9058. Their email ID is support[@]spyfly.com.
How good is their customer service? We found it to be generally responsive and friendly. There were some complaints about rude, non-responsive customer care, but we believe them to be isolated incidents.
How to Use SpyFly
Interested in trying out SpyFly? You can start searching for someone directly. All you have to do is enter their first name, last name, and state. However, before you can view the report, you'll be asked to sign up for a trail.
The other way to use SpyFly is to sign up for a SpyFly account from the very beginning. After you sign up for an account, you will get a confirmation email. The email will contain your Customer ID and login credentials.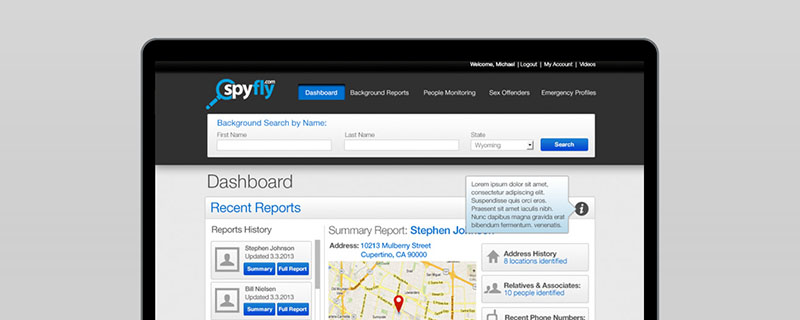 You'll be charged $1 to $2 for the trial period. After you pay and sign in with your credentials, you can begin searching for records. The server takes a few minutes to retrieve the relevant info, which will get compiled into a report.
How SpyFly Works
How does SpyFly work? Their server accesses public records available in the National, State, and Municipal Database. They use a proprietary algorithm to check for and retrieve the data. It then gets placed in a report.
SpyFly cannot access reports that aren't digitized. They also don't have a court runner service, which some businesses offer. If you need reports like say county records, you will have to turn to another business.
SpyFly Breakdown – The Good, the Bad, the Average
We took a detailed look at SpyFly. We'll break the information down into pros and cons to help you better asses SpyFly:
1. The Good
7-day trial: The $1 or $2 7-day trial offered by SpyFly is a steal. You can generate an unlimited number of reports on anyone you know within 7 days. You may never need a full-fledged monthly membership.
Cheap: SpyFly is very affordable compared to the majority of background-check businesses. Others charge you ~$50 for a single report. But SpyFly gives you an unlimited number of reports for a whole year for that price.
Transparent: On the whole, SpyFly is a transparent business. They don't have shady pricing practices. Their website lists their terms and conditions clearly. You know exactly what you're getting into.
2. The Bad
Report accuracy: SpyFly doesn't always generate accurate information. Their accuracy varies from as low as 40% to as high as 90%. You will have to do some independent fact-checking later.
Call to cancel: Want to cancel a SpyFly membership? You will have to call their customer care number during PT office hours. They don't have a convenient opt-out option on their website.
3. The Average
Customer service: The SpyFly customer service, despite their claims of being very customer-oriented, is mediocre. They aren't available 24/7. They also don't offer a 24/7 chatbot or live chat support.
Our Verdict – Worth Checking Out
SpyFly won't blow your socks off. Their reports are comprehensive but not always accurate. You will have to spend a lot of time fact-checking. They also don't allow you to check for a person's internet or social media activities.
Having said all that, SpyFly is dirt cheap. You get unlimited reports for a week for $2 or less. For $60, you get an unlimited number of background reports for an entire year. For us, the SpyFly pros outweigh the cons.