Wondering how to do a background check on anyone? Well, there are many services that can offer this feature.
However, not all services are at the same level. Some are good, but most of the others are just a waste of your time (and your money).
This is why you need to make sure that the background check app you use is the best that suits your needs. However, it can be tiresome to check out all the available apps. Further, it might also be confusing if you don't know much about them.
Therefore, I have reviewed the best available background check apps. You can read about them and select the one you think is ideal for you.
I will give you my opinion on each as well as the pros and cons of each background check service.
Best Background Check Services
Here are the best background check apps that you can use to find information on any person. I have ranked them from the best to the worst.
#1 TruthFinder
TruthFinder is a search database of all the people in the country. It can give you in depth information about any person, including their name, phone number, past and present addresses, criminal history, employment history, financial standing, and so much more.
The service is linked to countless public records all around the country. So when you search for any person, TruthFinder looks for them through the billions of entries in its knowledge and compiles all the information.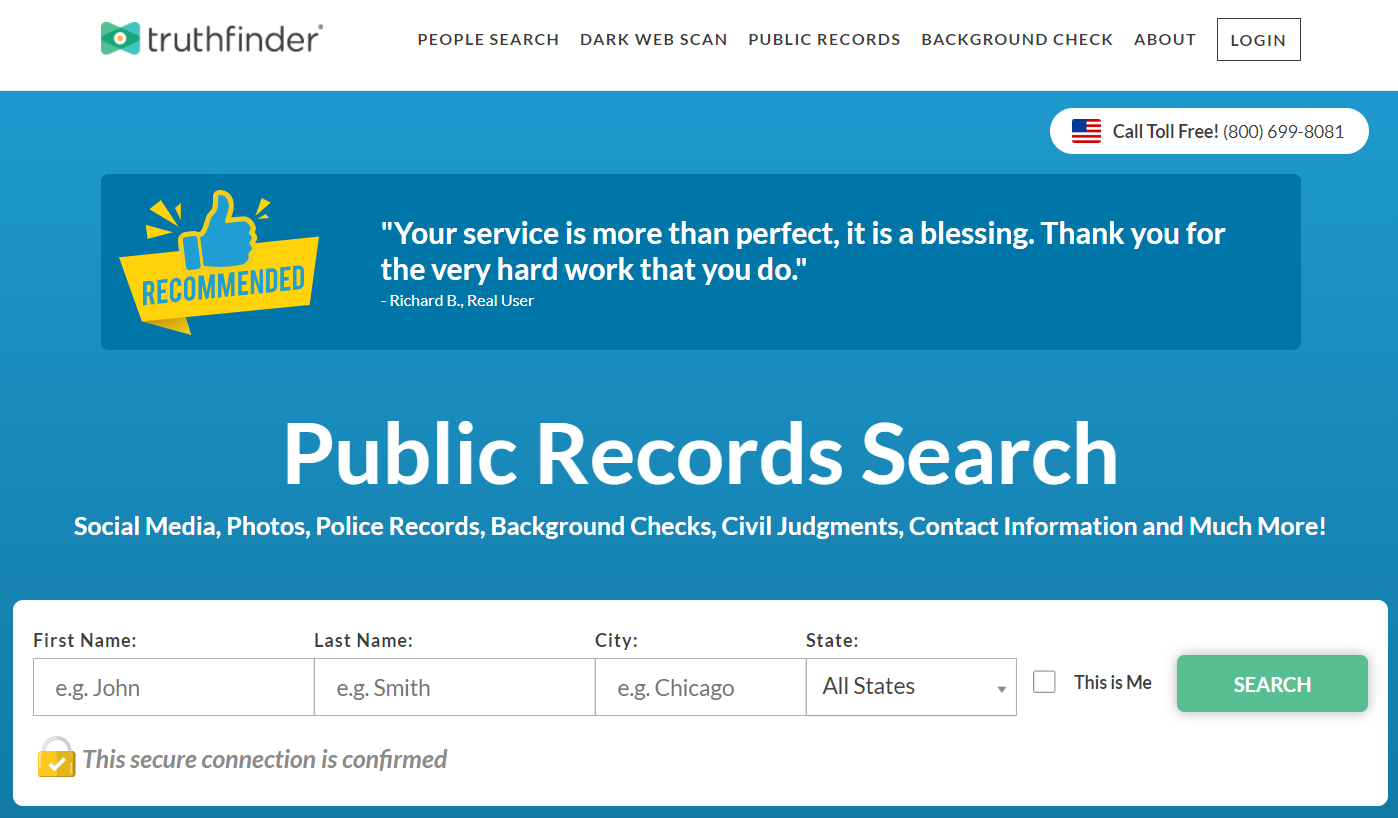 You can search on the service through a variety of criteria, including:
Search by Name:
TruthFinder's name search allows you to look for any person through their first name and last name. This is the most commonly used feature.
Search by Phone Number:
The reverse phone lookup feature allows you to find the identity of a missed caller through their phone number. If you feel harassed by countless missed calls, this is the feature for you.
Search by Address:
If you feel your new neighbors are up to something fishy, you can enter their address in this tab and find all the information you need about them. If they are past felons, you will know about them here.
Search by email:
You can know about the online life of a person through this feature. You will learn everything about their social media accounts as well as the things they post online.
The best thing about TruthFinder is that the information found is very accurate. Since it is linked to the official public records, the information you find is the same information that is available on the online databases.
Further, its monthly subscriptions plans are very affordable. You can do as many searches as you wish in this plan.
#2 Spokeo
Spokeo is a people's search engine similar to TruthFinder. You can search for any person with criteria like name, phone number, address, or email ID.
Based on the search term, it will give you the results that fulfil the criteria. It searches for white pages, social media, as well as public records for the information.
Although, the data you find here might not be as accurate as TruthFinder. Other than that, it is a fairly good service and you will love using it.
#3 GoodHire
GoodHirer is a decent background check service. It has a minimalistic interface and you can use it to find details on anyone.
However, unlike TruthFinder or Spokeo, GoodHire offers you only limited search options. Basically, you get to search for someone by their first name and last name. You can narrow the search results by the state and city.
It does not give you the option to check for someone's identity through their phone number or email address. This is a huge let down and it makes GoodHire lag a little behind in the race.
Further, the results are nowhere as accurate as GoodHire.
#4 Zabasearch
Zabasearch can help you get the police records, background check, photos, social media records, and other information about a person. It is a very popular background check service.
When using Zabasearch, you get to search for someone using their name (first name and last name), phone number, or address. It takes a while to jot down the results.
Once the results are compiled, you get to see some basic information about each identity that fulfils the criteria. You can select the person based on this information.
When you have selected the identity, you can request Zabasearch to do a background check for them. The results rarely come up with a dud.
Its accuracy is appreciable and it also has good customer service. Further, there is an alphabetical directory of all the people that are present in its database. You can look for anyone manually through this directory.
#5 TruePeopleSearch
TruePeopleSearch, as the name suggests, is aimed at searching for the real identity of any person and doing background checks on them.
On the interface front, it is very similar to Zabasearch. It allows you to look for anyone through their name, address, or phone number.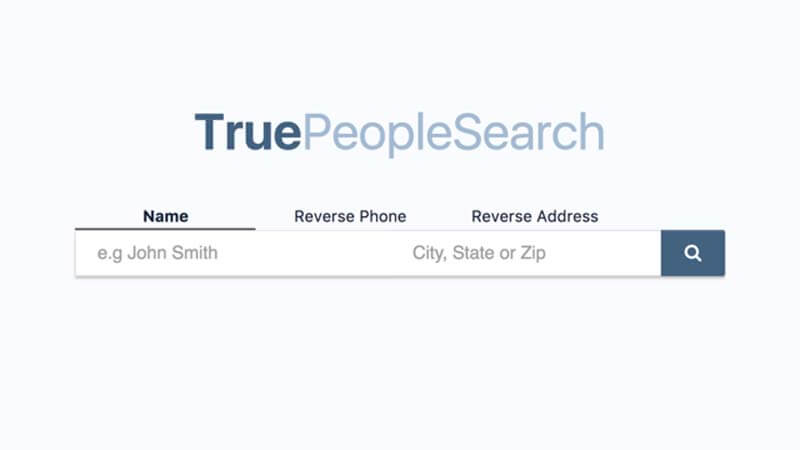 However, it is a step behind Zabasearch in terms of service. Although, it still won't do a bad job for you.
It also has a directory of all the people on the bottom of the page. You can search them alphabetically if you wish to follow the long process.
#6 Spydialer
Spydialer is a cool background checker that gives you freedom as well as convenience. It has a simple yet efficient interface that can do the job for you.
You get the option to search for a person through their name, address, phone number, or email address. Therefore, the search criteria offered are comparable to the best apps on the list.
My favourite thing about Spydialer is that it will give you a lot of information for free. If all you want is some basic information of a person, like the name of a missed caller, this app is the one you should choose.
However, for in depth background checks, it is not as good as our top picks for the list. This is why it scores a lower position as compared to them.
#7 RevealName
RevealName wouldn't provide you a detailed background of a person. However, it can do a few simple things and you can use it if those are what you want.
For starters, it is designed to find the identity of any person just by their phone number. On the side, you can also send text messages to any phone number using this service (which is a strange feature for an identity checker service).
I wouldn't call it very good, or even preferable. However, it gets the job done (if the job is finding the identity of a missed caller). You can also request the service to find additional data of the user including a complete background check.
However, most of its features are simply not up to the mark. This gives it such a low place on our list.
#8 Intelius
Intelius goes on its name. It is an intelligent background check services that can give you complete and detailed information about any person.
You can search for anyone using their name, phone number, or address. The feature to search for someone by their email is missing.
Intelius has also partnered with some major background check services to provide information for the end users. This is why you will often see yourself redirected to it when you are using some popular background check platforms.
Intelius is good and affordable on the pricing front as well. Its plans are suitable for every pocket, therefore you will be happy using it.
#9 Pipl
Pipl is an identity verifier and background checker that can give you details about any person. It makes very good claims about itself.
However, it still needs some improvement to be in competition with our top contenders. The thing that disappoints me most about Pipl is that it is a people search service, yet there is no search bar provided on the website homepage.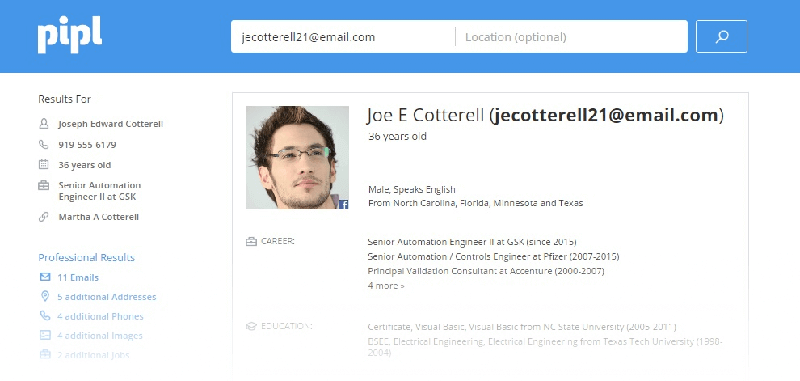 Figuring out how to use Pipl can be like a jigsaw puzzle if you compare it to the ease and convenience that other members on my list provide. Therefore, if the team behind Pipl is reading this, I would suggest them to put more effort in their service.
#10 Instant Checkmate
I wouldn't call Instant Checkmate a popular background search engine. In fact, I had never heard of it before I started reviewing such services for the purpose of this guide.
This is surprising because it seems like a decent background search engine in both looks as well as working. It offers you the feature to search for any person with their first name, last name, and city (optional). There is no feature to search by phone number, address, or email address.
It focuses on providing the identity and criminal records of a person. When the search is processing, it can seem very dull and useless app. In fact, at one point I even thought it was going to scam me.
I think it needs a lot of improvement here and there. But if you feel like you want to check someone's background and the high contenders on my list don't work out for you, you can try Instant checkmate.
Important Points
Remember these points when you are using any background check service in order to gather intel on anyone.
1. Background checks are not cheap or free of cost. It takes time and money to gather data and compile it to you. Even the government charges money if you want to access any record through their databases.
Therefore, never fall for apps that claim to provide background checks for free. These are just scams designed to trick you into downloading fake apps and giving viruses in your system.
2. All genuine background check services work through a web browser. They can search for any person without having to install any app on your phone.
Yet, some good background check services give the added luxury of app installs on phone so you can use their services all the time remotely without using a web browser.
However, if any background check service demands you to install apps on your phone and that is the only way it works, I wouldn't advise you to even consider it once. It is a definite NO.
3. There are many features that background check services can offer. While getting someone's identity information is a given basic, you can explore what more the service is offering.
For example, TruthFinder and some other background check services offer you to search for people based on their phone number in addition to their name. This is a very helpful feature, considering everyone gets tons of missed calls regularly.
Final Verdict
When I take all factors into account, I get inclined towards TruthFinder due to its well balanced nature. It provides a good number of features for an affordable price.
This makes sure that anyone who is a regular or below regular user can use its service to do as many searches per month as they require.
You should select your favourite service and start searching for your own identity as the first step. This will give you a good idea of how each one of them functions.