Are you wondering if someone you know is in jail? Or probably you have met a new person and you are thinking if they have any criminal records on them?
But how can you find if someone is in jail or has been in jail? With the current legal system, even minor transgressions can take one behind bars.
Therefore, if you aren't able to find a loved one for sometime, it is a good idea to check if they have been arrested.
Prison vs Jail – Using Correct Terminology
Most people use prison and jail interchangeably, unaware that there is a considerable difference between the two. Therefore, before we begin, you should make sure what you are exactly looking for.
Here is a quick difference between a jail and a prison:
Jail:
A jail can be seen as a temporary holding facility. If a person is arrested, the first thing that happens is that they are taken to jail. Generally, people in jail are waiting for a trial.
If you think your loved one was arrested quite recently, chances are they might be in a local jail. It is possible to get a person out of jail through ease. Jails can only house a prisoner for a time period of one year.
Prison:
Prison is a place where people serve their sentences after being convicted of the crime by a court. The time period of their stay is usually more than one year. You cannot get a person out of prison until their sentence is over, or they get a parole.
Using Official Inmate Locator to Find Someone in Jail
If you want to find someone locked up in jail, the first thing you will need is enough information about the person. You cannot just go to the law enforcement and mumble up a first name to find someone (technically, you can, but it won't be helpful).
The more information you have, the better it is and the easier it will make for the law enforcement to find the person. For the bare minimum, you should at least have their full name, date of birth, and basic physical outline of the person.
Remember to use the legal name and date of birth of the person, as registered in their government records.
Searching Government Databases
Once you have the details of the person, you are ready to search the government databases for the person.
The national government authority of prison, called the Federal Bureau of Prisons, has an online inmate locator that you can use to find the person. To use this service, you will have to search for any inmate by their name and physical description.
Similarly, most states have their own databases of the state prisons. You can find the online prison database for your state prison and check there to find the inmate.
You should note that this method works for people who have been in prison for some time convicted of a crime.
Finding Recently Arrested Person
It is hard to find someone recently arrested as compared to someone who is in prison. To find recent arrests, you will have to do a little digging.
Some cities like New York make it easier by providing an online search for recent arrests.You can use these to find the status of your loved one.
If your city does not have any such provision, you could always call up the local prison and enquire them personally. You will get any important information you need over the phone.
Also, don't just limit your search in your local jail. You should also call up the nearby jails to check if they have any information you need.
Finding Past Arrest Records and Convictions
Finding the past arrests and convictions of a person is easier than enquiring about their present status. This is because there are many laws that protect the present ongoing investigations and arrests.
However, the criminal record of a person is a public record and can be accessible by you. You only need to know how to do it (which you will in the next section).
TruthFinder's Criminal Record Search
TruthFinder is a search engine that lets you access a complete background check of ANY person throughout the country.
It gives you information about name, age, date of birth, address (past and present, employment history, phone numbers, background check, financial standing, and so much more.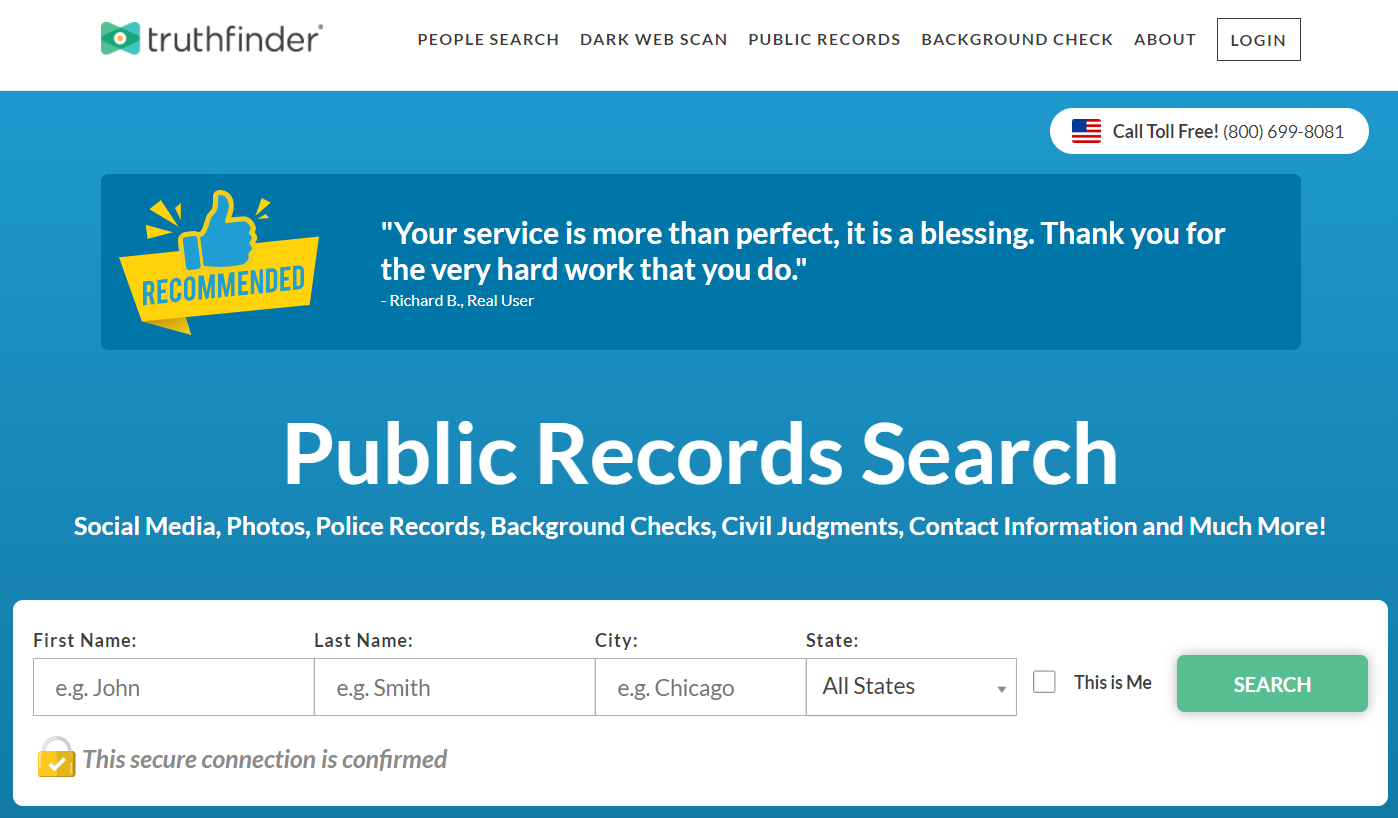 It is linked to countless public records throughout the country. When you search for any entry, TruthFinder runs the query through the billions of entries in its databases to find all the information related to the person.
Therefore, you get nationwide background check of a person just by sitting on your chair looking at your computer (or phone).
The search criteria are not strict and you can use many methods to search for a person. These include:
Name Search:
TruthFinder's name search allows you to search for any person by their first and last name. You can narrow the search results by the city of residence of the person, but it is optional.
Reverse Phone Number Search:
The reverse phone number lookup feature helps in finding the identity of a missed caller or any other unknown number. I use this feature often when someone is troubling me with calls.
Address Search:
You can search for anyone using their address. This could be the present address or even their past address. It is highly useful for learning about new people that move around your neighborhood.
Email Search:
Any person's digital footprints are as important as their contact information in today's world. You can learn all about their social media accounts and any related accounts on the internet through TruthFinder's email search.
Once you search for a person through any of these methods, TruthFinder takes a minute or so to compile the information. Once the information is compiled, you will see basic information about the person.
You can then request for a background check for the person through TruthFinder. TruthFinder gives you complete information about their past.
From this information, you will know if they have been convicted or arrested for any felonies. If you are looking to hire them for a job, this can help you in making an informed decision.
Things to note
Now that you know how to find if someone is in jail or has been in jail, here are a few things to remember:
If you are unable to track someone close to you, it is possible that they could be in jail. In this regard, the official method to find recent arrestees will work well for you. However, it is only available in a few cities like New York.
So a good choice is to call the nearby stations or visit them personally if you can and make enquiries. It can be a cause of worry to have someone missing, so taking the help of authorities is the best way to go.
If you are looking to find the past criminal record of a person, you should be careful about where you use the information. Certain states prohibit using the criminal background information of a person to make hiring decisions in the first few rounds of selection.
Plus, everyone deserves a second chance. Therefore, if the crimes they committed were not major and were long ago in their past, you should give them a chance.
Other than that, TruthFinder will remind you now and then how you can use the information and how you cannot. You will find TruthFinder's search a helpful option.
Takeaway
It is not a difficult thing to know if someone is in jail or has been in jail. Follow this guide closely and you will find out the status of the person within minutes!