Did a strange person recently move to your neighborhood and you are suspicious about their activities? Or perhaps your daughter is seeing a new guy and you want to know what he is up to?
Situations like these can give you nightmares and make you look for desperate measures. However, snooping in someone's windows just to know about their life isn't really what a good person does.
Therefore, you need something different, something better, and something modern. Mhmm… What could it be?
How about you learn how to do a background check? You might have thought of it already but given up on the idea, thinking it is very complicated.
However, through this guide, I will tell you how you can conduct a background check on anyone. And it does not require hiring a private investigator or shuffling through endless documents in the public records office.
With my solutions, you can learn anyone's complete background and criminal history just by sitting on your chair and browsing through the internet.
Keep reading to find out how…
Prerequisites for Background Check
There are certain prerequisites that you need to keep in mind before you conduct a background check on a person. These criteria depend on the reason for conducting a background check.
For example, if you are doing a background check for employment purposes, you should check the legal rules of your state's government. Certain states prohibit or limit the extent to which you can use the information gathered in the background check for a hiring decision.
Take the case of Public Records Law in Massachusetts. This state prohibits asking the candidate about their criminal history on the first job application.
There are even restrictions on other aspects of background checks other than criminal records. For example, certain states like Illinois allow credit history to be a relevant factor in hiring decision only if the company operates in fields like finance and banking.
Therefore, assess the reason for which you want to conduct a background check. See if the state allows you doing so. If it does not, you can not get the background history of the person in a conventional manner.
However, I have smart ways through which you can still conduct a background check on the person and they wouldn't even find out. Read on to find out…
Two Methods to Do A Background Check
There are two commonly employed methods for conducting a background check. They include:
Conducting Background Check Through Traditional Methods
Most states allow for public records like criminal records and credit history made available for general access. That means that everyone, including you and I, can see these documents legally.
However, it is not as simple as it sounds. The records are maintained by different organizations, depending on the type of sector.
For example, in most states like Indiana, the records concerning the birthdate of a person might be handled by the Health and Welfare Department of the State. At the same time, records concerning their criminal records might be handled by the Police department.
The traditional method involves accessing these records one by one, either in person or through the internet. If you want to do it in person, you will have to visit the public records office that is assigned with that particular type of record.
This is not an easy task. Searching for someone in millions of entries is very time consuming. I don't think anyone would prefer this way unless they have a lot of time in their hands.
It is true that searching for these records through the internet will save you a lot of time. However, you still have to go through the trouble of visiting the particular department to view the records.
Further, these records are not always free to access. In certain instances (depending upon the state and type of record you need), you will be asked to pay a fee just to access the record.
If you want to make copies, almost all the departments will charge a fee. Even though it is not much, it can still seem extravagant for something so meagre.
Also, don't forget that these records are restricted by states. You cannot get information about a person's activities in another state by using this method.
Due to these shortcomings, I prefer another way that is way smarter than this traditional method. Through the way that I will discuss in the next section, the entire history of the person's life will be visible on your screen within 3 minutes!
Intelius Background Check Solution
Intelius is probably one of the best things in the market right now (and probably my favourite). This service gives you complete information about the person, from their social media handles to the time they got arrested.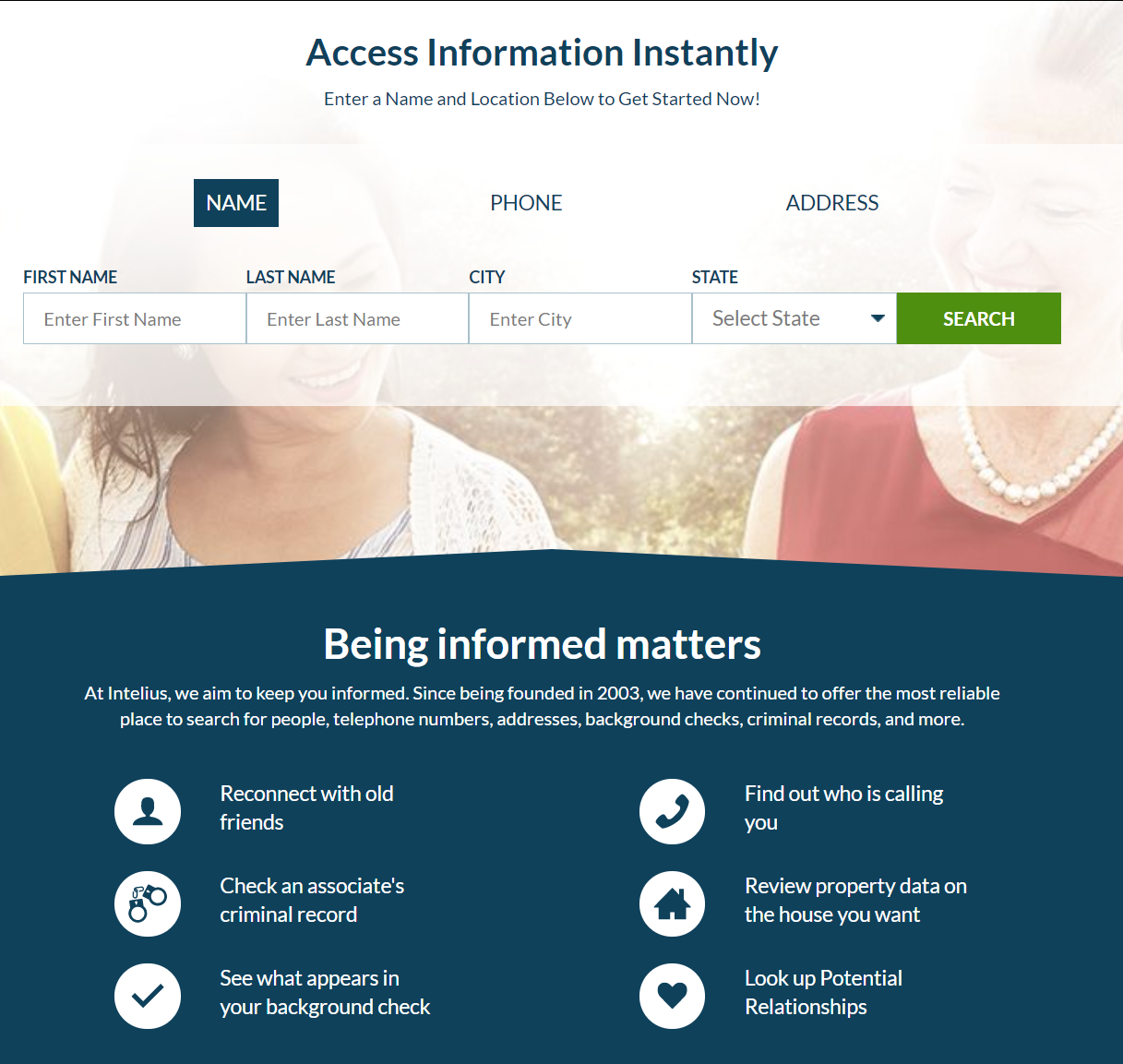 And you don't need to do any hard work at all. It has a simple search box based interface. All that is needed for you is to search about the person and Intelius will find out the rest.
You can search for a person through a variety of ways. These include:
Search by Name:
Name search allows you to search for any person using their first name and last name. You can even add the city if you'd like to narrow the results, though this is not mandatory.
Search by Phone Number:
I find this very helpful when I have to find the identity of a missed caller. Searching for someone by their phone number is also called reverse phone lookup and Intelius is best at this.
Search by Address
If you want to enquire about a neighbor or some person whose address you know, this feature comes in handy. All you have to do is enter the address of the person and Intelius will find the person for you.
Search by Email:
You can even use the email ID of a person if that is all you have. It gives you all their footprints in the digital world. You can even check on their social media handles through this.
It is as good as it sounds and even better. If there is an option between conducting a background check through Intelius or using the conventional means, I will always use Intelius. Here is why:
Why Intelius is best at what it does?
When it comes to background searches, there is nothing better than Intelius. This is because of the following reasons:
1. Convenience:
Intelius is an online platform and you can use it just by opening a web browser on any device. You don't have to visit any office and you don't have to do any manual search. Intelius does all the work for you.
And the interface is so simple that you wouldn't even need any technical knowledge to operate Intelius. It is a simple search box where you just have to enter your query and hit on 'Search'.
2. Huge Database:
Intelius is linked to public records all around the US. There are billions of entries in Intelius. When you are searching for someone, you will get every bit of their past.
If you are using the official website of a state to search for a person, you will get the information of their activities in that state only. However, with Intelius, you will also know their past in other states as well.
3. Accuracy:
As Intelius is linked to public government records, its accuracy is undebatable. It will show you things as it is. Since public records held by the government do not have mistakes, neither does Intelius.
4. Affordable:
Almost all the public records government websites will charge you a fee for doing any search through their platform. This is because of all the cost that occurs when gathering and compiling the information.
Therefore, Intelius is also a paid platform as it has to maintain billions of records. However, its subscription packages are very cheap and will come out to be on the lower end as compared to the fee charged by official sources.
5. One place for all data:
If you are using Intelius, you don't have to go to different websites one by one. It is an all in one platform that gives you all the data you need in a single interface. This saves you a lot of time and trouble.
As you can see, the benefits of Intelius surpass those of its competitors by a huge factor. Therefore, it is the first thing that you should use when you want to do a background check on someone. You won't need any second thing after that.
If you don't believe me, you can search yourself on Intelius here and verify its authenticity. You will be surprised at all the information it has on you.
**Intelius will tell you time and again about how you can use the background check data of the person. It cannot be used for hiring decisions where the state government does not allow so. Therefore, you should know the legal laws of your state to make any such decision through the background check data and criminal records.**
Things to Remember When Doing Background Search
When you are doing a background search for anyone, it is probable that you might not be happy with their past. There could be arrests, convictions, bad credit history, or some other thing.
However, you should always remember that everyone makes mistakes. Just because someone messed up in their past does not mean that they do not deserve a second chance.
Therefore, you shouldn't let minor things become a critical factor if you are assessing the employee for hiring or if you are dating someone new.
In case their past records are habitual and hint on repetitive criminal behavior, that could be a red alarm and cause of concern.
Takeaways
A background check can often be the need of the hour and you should not shy away from it. This is why I have taught you how to do a background check with very easy steps.
However, the actions that you take once the background check has been completed should abide by the law. You should never use the background history of a person for anything that is not legal.