'How far back do background check go?' is a question that most people forget to ask themselves when they are doing a background check.
People assume that since a background check is supposed to cover everything, it will go as far back as the age of the person. However, that is not the correct notion.
There is not a definite number of years that a background check would follow. The time varies and we need to learn many things about it in order to answer the question.
Here are the few types of background checks and how far back they go:
Credit Background Checks
There are many situations that demand a credit background check report. For example, if you are filing for bankruptcy, the authorities would check this report.
Employers might ask this report as well as it shows the credibility of a person. Banks might also do this background check when considering giving a loan.
There is a special type of act that oversees this type of background checks. It is called the Fair Credit Reporting Act (FCRA).
This act says that background checks in these cases can only be done for up to 10 years in the past. Records older than 10 years cannot be used in the background check.
Criminal Records Background Checks
Felonies that are committed by a person stay on their record forever. However, the visibility of these acts on the background checks varies from state to state.
For example,some states prohibit employers to ask a person for their criminal record. On the employment screening. However, this generally holds in the initial stages of the interview process.
In the later stages, employers might enquire about the criminal record of a person. A person is obligated to disclose any such information regarding past felonies.
For minor crimes and small misdemeanours, many states limit their visibility in the background check for up to 7 years. However, that is not applicable in all states.
In general, the time frames for various background checks can be given as:
| | |
| --- | --- |
| Type of Background Check | Time Limit |
| Bankruptcy | 10 years |
| Credit History | 7 years |
| Felonies and Crimes | Lifetime |
| Minor misdemeanours and small infractions | Lifetime or Seven Years (based on the state) |
| Education | Lifetime |
Getting Unrestricted Background Check
Since there are time restrictions in the background check given by official means, it can be important at times to get the background of a person outside these time limits.
There is a way through which it is possible.
TruthFinder Background Check Solution
TruthFinder offers you the option to search for people in the entire country. You can not only search for someone's identity but even request a background search for them.
It is linked to countless public records throughout the country. Whenever you make a search, TruthFinder runs the query through billions of entries in its databases.
It then presents the results to you. Since the source of the results is government databases, the information is very accurate and reliable.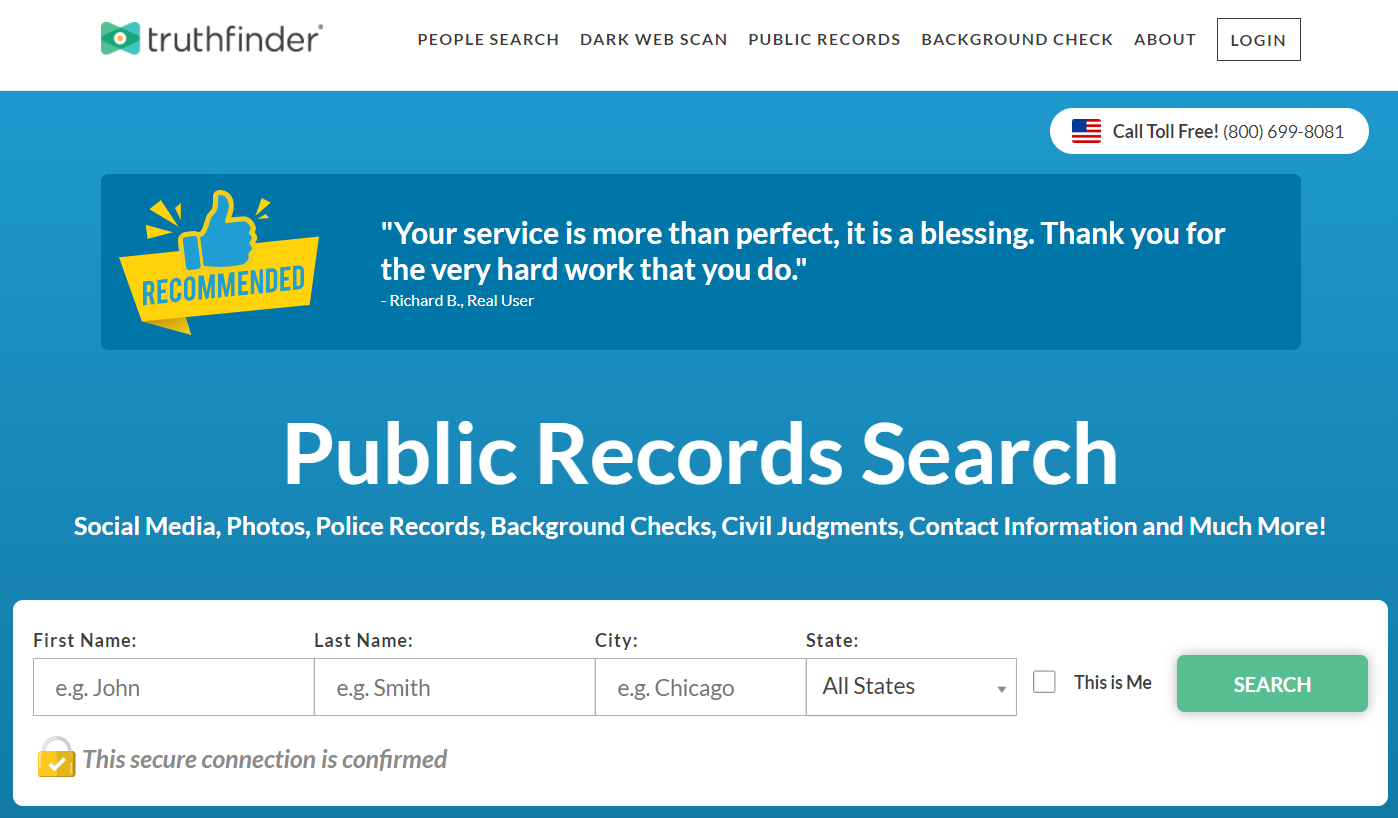 TruthFinder Search
TruthFinder gives you the option to search for someone through a variety of ways. These include:
Name Search:
TruthFinder's Name search allows you to search for any person through a first name and last name. If you want to narrow the search, you can enter their city as well.
Reverse Phone Number Lookup:
The reverse phone number lookup feature lets you get the identity of a person through their phone number. It is especially useful when you are bothered by missed calls from a particular number.
Reverse Address Lookup:
Reverse address lookup lets you find the identity of a person through their address. You can get the most benefit of this feature if you want to find the identity of a new neighbor who moved next door.
Reverse email Lookup:
You can get complete information about the digital footprints of the person through this feature. This includes their social media handles as well. You can know their likes and dislikes through this method.
There are several benefits to use TruthFinder over traditional background search methods like using official websites.
Primarily, TruthFinder provides a nationwide search result. Other official sources will only give you a description of the activities in the particular state. This gives TruthFinder a considerably advantage over the other options.
Further, through TruthFinder, you can get all the results under one platform. You don't have to go to different sources to collect bits and pieces of information.
Takeaways
There are restrictions on every type of background check and the information that it can include. You wouldn't get the life history of a person through a background check, you will get the information that matters.
However, using TruthFinder, you can remove most of these exemptions and find everything there is to know about the person. And there is no gray area. TruthFinder is 100% legal.
Therefore, why not try TruthFinder now and get anyone's background within minutes!