Living in Ohio and a new neighbour moved across the street? Or perhaps your daughter is seeing someone and you feel kind of suspicious about the guy?
With high crime rates in Ohio, your suspicions might be valid. Why not check Ohio Criminal Records and find out about someone's background for sure?
Yes, that's true. Anyone (including you) can check the criminal records of ANY person in Ohio. And you don't have to visit the public records office for that. You can do it just by sitting on your chair and using the internet (from phone or computer).
Read on to find out how.
Part 1: Ohio Public Records Law
Making records available for public disclosure is not a new concept in Ohio. It has been maintaining records for sharing with the public even before the time it became a part of the United States of America.
Providing public access to criminal records was established in 1901. However, it was all very unofficial up until then.
In 1963, the Ohio State passed a law according to which any person can access and analyse any public record in the state of Ohio. The person can create a copy of any record as well to save it for personal keeping.
So if you want to access anyone's criminal records in Ohio, you can do it and it is a completely legal thing. The reason for which you want to access such records isn't even relevant. You can access them regardless of any reason.
Part 2: Ohio Criminal Records, Arrest Records and Background Checks
While the criminal records for people living in Ohio are public, it is a lot of hassle in accessing them.
You can completely forget about visiting the records office and searching for them manually. The only thing it will lead to is wasting precious hours that you will never get back.
While the Ohio government has opened up online portals to access the criminal backgrounds, you need a lot of information about the person to make it work.
So which way to choose when all the ways lead to obstacles? Well, I have some secret solutions for you (100% legal) that will give you anyone's criminal records within two minutes. That too without knowing much about the person.
Instant Checkmate
In simplest of terms, Instant Checkmate can be called a directory of people. It has all the information you could possibly need about anyone. I know that is hard to imagine. Yet, it is true nevertheless.
It has a web based search engine that is very easy to use. It allows you to search for any person through various criteria and it reveals all the information about them.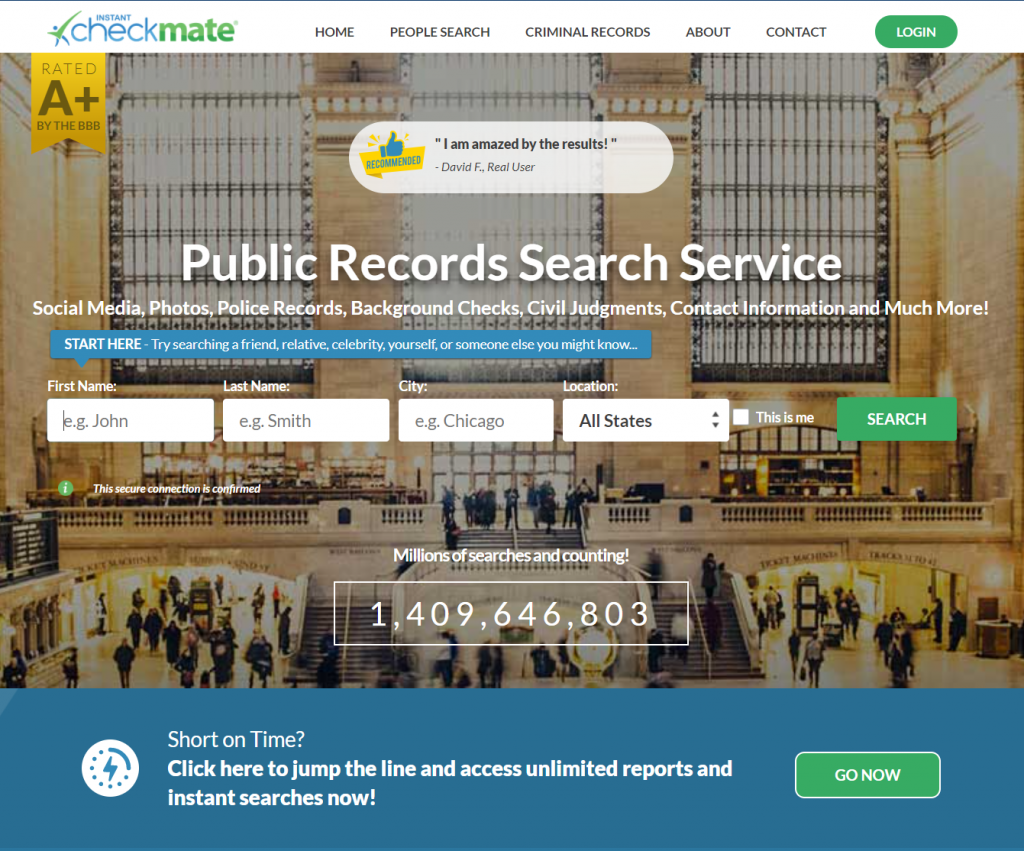 The information Instant Checkmate will tell you includes name, address, phone numbers, background checks, social media handles, criminal records, and so much more.
It can basically give you a summary of anyone's life ever since they took their first breath. You can search for people through their name (first and last name), address, phone number, OR email ID.
My favourite thing about Instant Checkmate is the accuracy of the information it provides. It even told me more about the people I already knew. Further, the time it takes to search for any single database entry among billions is admirable.
For example, I met this girl at a bar and I asked for her number. Later that night, when I looked her up on Instant Checkmate, I was shocked to find out about her past… Well, more on that some other time.
For now, you should try out Instant Checkmate and search for people that make you suspicious. You might end up being shocked as well.
Part 3: Ohio Court Records
If you want to search for someone's criminal records for free, there are other ways as well besides Instant Checkmate and Instant Checkmate.
For example, if you want to find the court records of any person, you can go to the website of Ohio's Supreme Court. The website has an online search engine that facilitates the search of any court case. However, this website will show you the records of the Supreme Court only.
If you want to see the record of any other court, you need to find the website of that court. That can be done easily through the internet.
However, it is not as convenient as using Instant Checkmate since it is a complex process. Further, the information can take some time to show up and you might have to search through a lot of entries. You can also request photocopies of these documents from the clerk of the courthouse.
Part 4: Ohio Vital Records
If you want someone's birth certificate, death certificate, or any such vital record, it can also be done through the internet.
These records are issued and kept by the Vital Statistics Office, Ohio Department of Health. You can obtain such certificates through them in a variety of ways.
You can view someone's birth certificates starting from December 20, 1908. The death certificates are accessible from January 1, 1954, onwards.
To access these records, you can visit the website of the Ohio government here. To get them offline, you can visit any local Vital Statistics Office. You can also order them via mail!
**You can not get marriage and divorce certificates from here. To get such certificates, you have to visit the County Probate Clerk for a marriage certificate and County Clerk of the Courts in the County for divorce certificate. This can only be done in the county where the marriage or divorce occurred.**
Endnotes
As you can see, finding Ohio Criminal Records is easier than never before. Try out solutions like Instant Checkmate and you will save a lot of your time too. Plus, who knows, maybe you find something that you never even expected!