New York has always been notorious in terms of crime since the 20th century. While crime has been decreasing rapidly, you can never be too vigilant.
As such, it can always be important to keep an eye on your neighbors, acquaintances, and even your employees.
But how can one accomplish that? The answer is simple- checking their background and criminal records.
While it is a common perception that this can be invasion or privacy or illegal, this is actually not the case. You can legally access someone's criminal records in New York, and it is suggested that you do in order to be vigilant.
New York Public Records Laws
The access to the public records in the state of New York is governed by the Freedom of Information Law (FOIL).
Under this law, any person can analyse the records and even copy them. There are no boundation on who can access these records.
The governing bodies of the state, municipal board, bureau, commission, division, or authorities level of agencies are included under this law. If any of these agencies process any information, including holding, filing, and production, it is termed as a public record.
However, there are certain exemptions as well which could deny an individual the right to access certain information under these records. For example, it is prohibited to disclose the records of tenders, bids, and contract awards.
Further, you will also be denied access to any information that can hamper an ongoing criminal investigation.
New York Criminal Records, Arrest Records and Background Checks
The Division of Criminal Justice System (DCJS) of New York maintains and distributes the criminal records in New York. However, an individual cannot request the criminal record of somebody else.
Any individual can only make the request for accessing their own record. If this is done, they will either get their criminal record or 'no record' if they have no criminal background.
The only allowance for this is that someone can request another person's record if it is for employment or licensing purposes. However, even for this, the consent of the individual concerned is required.
Background Check in New York Through Instant Checkmate
Due to the limitations of conducting a background check through official channels, it can be helpful to use alternative methods. In this regard, Instant Checkmate is the best way to go.
It is a database about people that can provide you with any information you need on any person. This includes information about their name, address, phone number, date of birth, criminal history, background check, and so much more.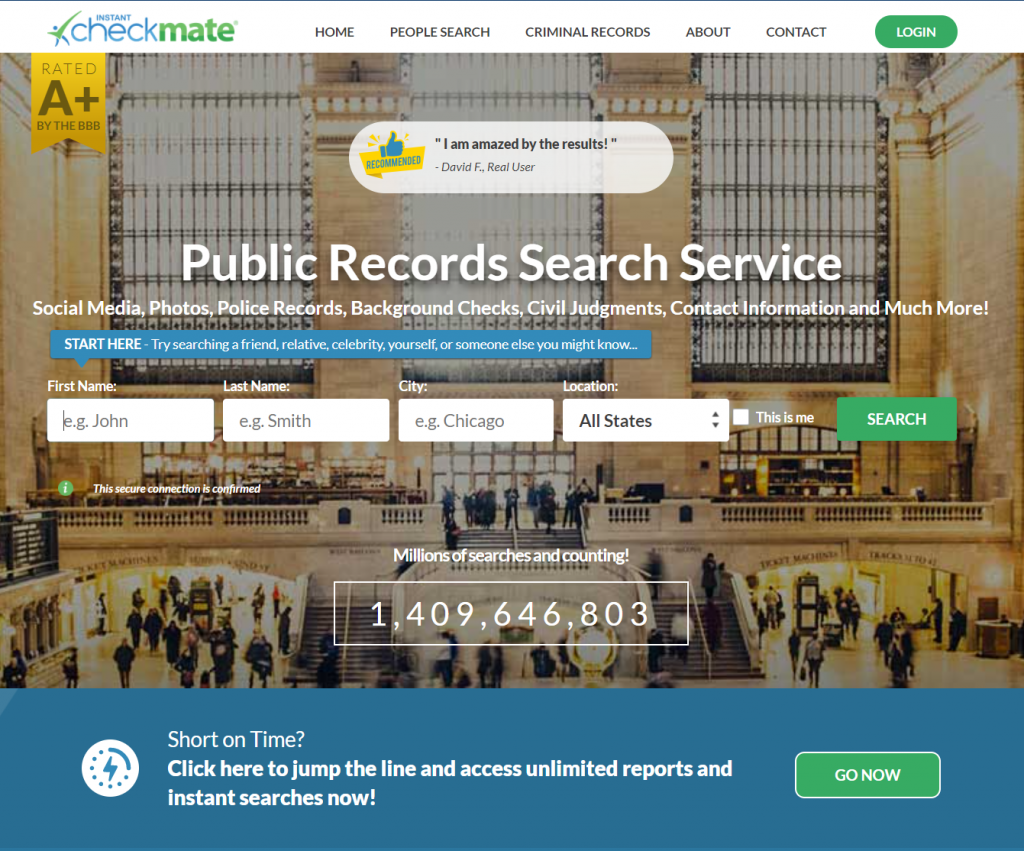 It gives you a variety of ways to search for someone. These include:
Searching by Name:
Instant Checkmate's name search allows you to search for anyone's identity through their first name and last name. You have the option to narrow the search results by the city of residence.
Searching by Phone Number:
Instant Checkmate also gives you the reverse phone lookup feature. It allows you to enter the unknown phone number and it will tell you about the person to whom it belongs.
Searching by Address:
Reverse address feature is useful if you want to spy on someone and the address is the only thing you know about them. For example, you might want to use it against suspicious neighbors.
Searching by Email:
Searching for someone with their email ID can give you an idea about their presence in the online world.
How it Works
Instant Checkmate is linked to several public records throughout the US. When you search for any person, it looks up for the information about the person through billions of entries in these databases. It then presents the findings to you.
This makes its information as official and true as the one that you will get on the official websites of the various departments of the particular state.
All the information that you will get through any of these parameters is very extensive. The best thing about Instant Checkmate is that the results are very accurate.
Further, the results are nationwide and are not limited to any particular state. This makes Instant Checkmate a better option as compared to the official sites.
If you want to search for any individual (or even yourself) on Instant Checkmate, you can head out there and try it out.
New York Court Records
New York has a 'New York State Unified Court System'. This system keeps track of all court cases and records.
Anyone can get access to the court records such as judicial decisions, case files, and any other case information. This is available on the Unified Court System's website.
New York Vital Records
Vital records include certificates of birth, death, marriage, divorce, and fetal death. The New York State Department of Health monitors these records and makes them available to the public.
Birth and death certificates are available for events after 1881. Marriage certificates are available after 1880. Divorce certificates are available after 1963.
Besides the online method of requesting vital records, a person can also submit a request through mail or in person.
Takeaway
New York Criminal and Public records are available to everyone by the New York Law. However, there are different means of gathering different information. Further, many exemptions are also in place for them.
Therefore, Instant Checkmate is a better solution to get all the data you need at a single place. It will give you the entire background check of a person throughout the US.