TruthFinder is an online service that lets you look up the identity of a person through any scrap of information you have about them. Linked to all the right records, it is definitely going to save you a lot of time as you won't be shuffling through records in a public office.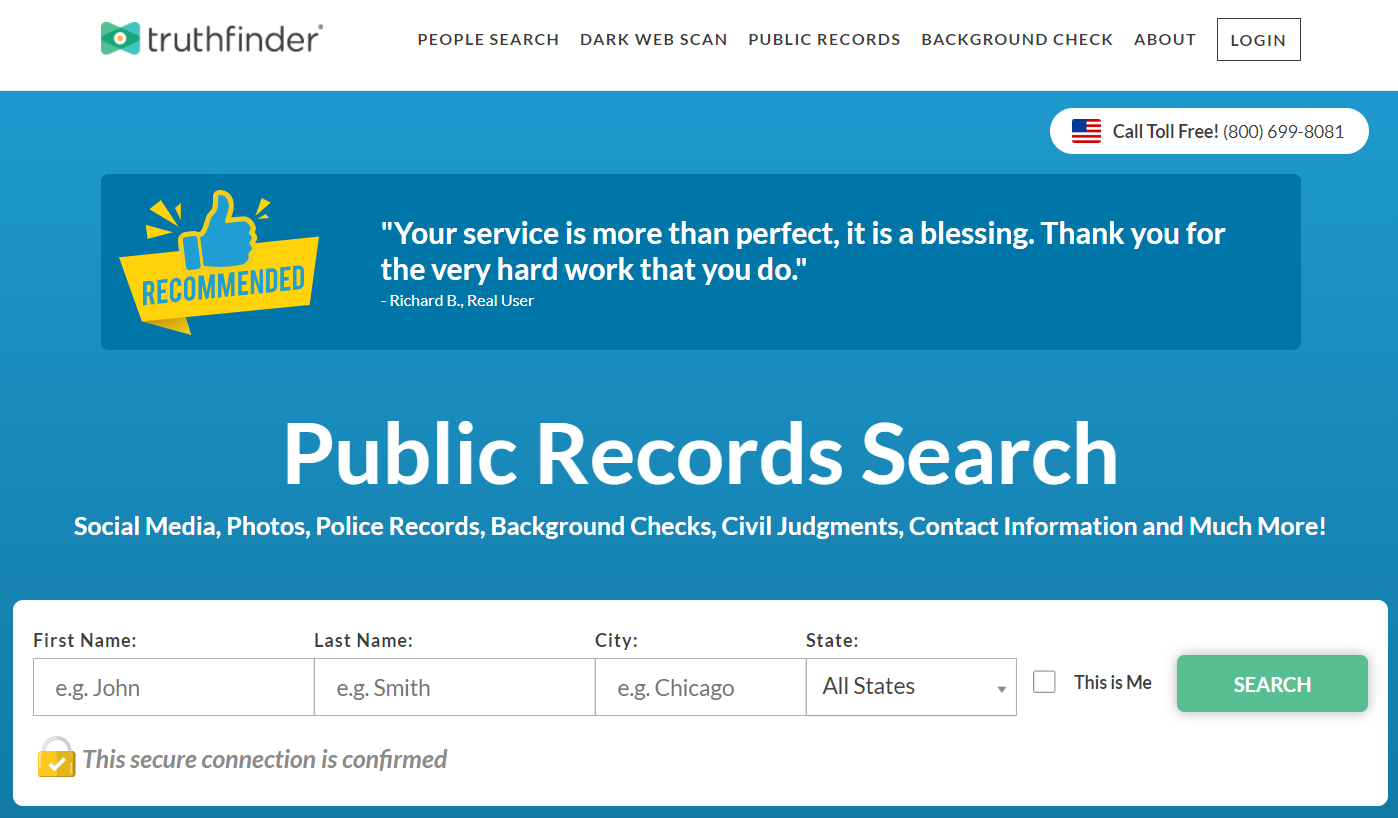 Pros
Highly Accurate Information
TruthFinder reports are found to be very accurate. It is rare (although possible) that you will get a report with inaccurate information.
Flexible Search Options
It gives you variety of options to search for someone. You can search anyone through their name, phone number, email ID, or address. There is no service that offers more search options than these.
Easy to Use Interface
TruthFinder has a simple search interface. It is as easy to use it as Google. You just have to enter your search query and hit on 'Search'. TruthFinder does the rest.
Cons
No Free Information
You have to get a TruthFinder subscription to view even the basc data of the person. There is no information that is given out for free. It charges even for the basic information.
No Results
It is often possible that the person you are searching for might not be present in the list. It is generally the case when the person is not on common public records.
Neutral
Time Taken:
It saves a lot of time as compared to conventional method of searching for someone in public records office. However, the time taken for computing the results is still enormous, considering the whole thing is done by computers.
Price:
TruthFinder's pricing plans are present on a monthly basis. Therefore, even if you have to do one search, you will have to pay for it. Although its plans save a lot of money for regular users, it can be costly for a one time user.
TruthFinder Overview
TruthFinder is an online service that you can use to find out the identity of any person, provided the person is registered in any public records.
It provides a range of information which includes: name, known phone numbers, present address, last known addresses, relatives, email ID, social media handles, employments, etc.
Further, if you want to dig deeper into the person, TruthFinder also has a feature of a deep background check. It can give you details about the past of the person. This even includes any criminal records that they might have.
It gives you the option to search for any person using a variety of parameters. It gives you the list of people that fulfil those parameters.
You can also check this review post of TruthFinder.
How To Use TruthFinder
Using TruthFinder is probably as easy as using Google. It has a simple search engine structure and you don't need any technical knowledge in order to use it.
When you visit their homepage, you will find different options to search for your target person. These include:
Searching by Name:
This is one of the most simple searches. You add the first and last name of a person and the city of their residence (the city is optional). TruthFinder will gather all the people with those names based in that city. You can select the person you have in mind through the other information that TruthFinder Provides.
Searching by Phone Number:
Searching for someone by phone number (also called reverse phone lookup) is the most used feature of TruthFinder. It comes in handy when you want to know the identity of a missed caller.
Searching by Address:
Searching for someone by their address is called reverse address lookup. You can use this feature to look for someone you knew in the past. All you have to do is enter their address. TruthFinder will find out the person even if the address is not used anymore.
Searching by Email Address:
A very good feature indeed. Searching for someone by their email address gives you all the online presence of the person. This even includes their social media accounts as well. You will get to know their username and see their photos.
TruthFinder Pricing Model
If you just want to use TruthFinder for a one time use or so, its pricing model will seem very costly to you. It is affordable (and feasible) for people who are looking for constant searches throughout the month.
You have the option to choose from a monthly plan, a quarterly plan, or a six month plan. The longer you subscribe, the bigger the savings get.
However, at the same time, you should get a longer subscription only if you actually plan to use TruthFinder regularly and for that long.
The per month membership fee of TruthFinder is $26.89. This includes access to unlimited searches with detailed reports. Therefore, for a one time search, it can turn out to be quite a costly affair.
If you are a long term user, the three month membership turns out to be a cheaper option. It is priced at $17.48 per month.
I think it could have been way better if they included per search option or a few different pricing models to suit an array of users.
Cancellations:
If you wish to cancel the TruthFinder subscription, you can do that by contacting their customer care through their phone number (1-855-904-6469) or their email id ([email protected]).
TruthFinder Use Cases
You can use TruthFinder for a variety of purposes. Some of these include:
1. Missed Caller Identity:
TruthFinder helps you in finding the identity of any person who gave you a missed call from an unknown person. This will enable you to know if you have to return their call and whether it is an urgent business. It can also help in preventing harassment through this feature.
2. Employment:
Detailed information like background check along with criminal records can help employes in understanding which employees to hire. This can help in the preliminary selection and knowing if the candidate is hiding anything that is not in the benefit of the company.
3. Meeting Old Friends:
Features like reverse address lookup or name search can help you in meeting with people from your past. You can renew things with them again even if you haven't kept in touch lately. That is pretty helpful, I'd say.
4. Dating New People:
When you are dating someone new, you can never be too safe. You should always verify information about the person before you can trust them completely. TruthFinder can help you in this regard.
5. Checking Your Information:
Many people use search engines to look up how they appear in public records. At times, these records can reveal private, personal, or inappropriate information about you that you wish to hide. You can contact TruthFinder and they can do it for you from their database.
TruthFinder Customer Service
TruthFinder has a working customer support that can help users solve any issue that they might have. It is open daily from 06:00 am to 07:30 pm EST.
Other than customer care, TruthFinder also have self help guides under the 'Help' section that can help users handle common issues themselves. Unless users are facing a major problem, there is no need for customer care (other can cancelling subscription).
Further, to make sure customers don't do anything illegal mistakenly, TruthFinder keeps on reminding them of the Dos and Don'ts. This includes how to use the data that is gathered from TruthFinder.
However, there is no 24×7 customer care. Further, they don't mention anything about giving refunds if the subscription plan is cancelled early on.
TruthFinder Features
As mentioned earlier, TruthFinder allows you to search for someone through their name, phone number, address, or email address. The system processes to find all the identities that fulfil the criteria.
Through these parameters, it can give you a variety of information. This includes:
Contact Information:
Find all the vital information about the person, including their name, date of birth, address, phone number, and even the past addresses. For some people, their employment history is visible as well.
Criminal Records:
With TruthFinder, you can get the complete criminal and arrest records of the person all throughout the country. While the official websites of states have certain limitations on these records, TruthFinder does not.
Social Media Handles:
TruthFinder can give you all the social media accounts of the person. You can get their entire digital footprint through TruthFinder.
Known associates:
This is a helpful feature. It lets you know about people who are linked to the person you are searching for. For example, it can tell you about their colleagues and relatives.
Vital Records:
TruthFinder can be a convenient place to access vital records such as marriage certificates, divorce certificates, birth certificates, etc.
There is a lot of other information that can be available in some cases. However, it is not 100% guaranteed that you will find the person you are looking for. Many times, not all the people are available in the public records.
However, the accuracy of TruthFinder is very high. The results you will find will be correct for the most (if not all) parts.
TruthFinder Team
TruthFinder is a company based in New York. It was founded in 2007. While it started very small, it is growing at a fast pace and has around 50 employees. It claims to have more than 100,000 subscribers with over a million unique website visits every month.
Verdict
TruthFinder does the job it claims to do, and it does it very well. However, the pricing model is a bit of a let down. Therefore, choosing TruthFinder or not depends on your usage.
If you just want to search one or two entries casually then TruthFinder is not the right fit for you. You can check out other similar services that can help you for way less price.
If the search holds considerable value to you and you only want accurate information, then TruthFinder can help you out.
If you want to make a lot of searches regularly (like for employment purposes), then TruthFinder can come to a great help.