"Can someone hack my phone?" is one of the most common questions that's asked these days. The answer is more straightforward than you think! More and more phones are being hacked these days and people are worried they might be next!
However, there are some very simple tricks and tips you can use. The use of these tests will help you ascertain whether your phone's been hacked. In this article, we'll also show you how to stay safe online and prevent your phone from being hacked.
Part 1: Can someone hack my phone and read my texts?
You'll see a lot of people these days worrying, can someone hack my phone and read my texts? Well, the answer is yes, of course! It's becoming increasingly easier for anyone armed with basic tools to hack phones.
There are several malware apps available in the marketplace. Anyone can use an app and gain access to your phone using some simple steps. They can also read your texts this way. This is a breach of privacy and you have every right to keep conversations private.
However, there are ways in which you can stay alert and find out if your phone has been hacked. You can also know if someone is reading your texts.
1.1 Malware apps
The market is flooded with malware hidden amongst legitimate apps. People also often end up downloading malware unknowingly. These apps are often created to mimic the original and trusted apps. As a result, users are tricked into thinking they're real and download them.
Once downloaded, the app will ask for some permissions. Users often don't think twice when granting permissions. They think of these as the usual permissions apps require for use. Unknowingly, they themselves grant the malware access to their phones and entire lives.
Once the malware is active, it will stay active and keep sending your information to the hacker. Can someone hack my phone and read my texts? Yes, absolutely. When you've granted the malware permission to access your phone, there's little you can do about it.
Don't Miss: How to Tell If Your Cell Phone Is Being Tracked Tapped or Monitored by Spy Software
1.2 How to Stay Away From Malware
Users must make it a point to never download any application from an untrusted website. You should only download and update apps from the genuine app stores. This way, you can stay protected from the malicious apps out there.
It is best to stay away from trusted websites as well. Similarly, do not download any attachments from your email whose source is untrusted. Several people end up downloading malware due to a lack of awareness.
Part 2: Can Someone Hack My Phone by Texting Me?
Can someone hack my phone by texting me? Is this possible? Well, we live in a rapidly progressing world where technology makes things happen. However, by merely texting someone, can you hack their phone? Let's discuss this question in more detail.
We all receive scores upon scores of text messages every day. Many of these are spammers who keep sending messages to your phone. It is natural to worry if any of these can cause your phone to be hacked without you knowing.
2.1 Do Not Download From Links In Text Messages
A mere text message won't cause your phone to be hacked. However, spam messages from hackers can carry dangerous links. Quite understandably, these messages will hide their identity from you and try to make you click on the link.
For instance, they can trick you into thinking it's a message about special offers. You might be tempted into clicking on the link to get a direct discount. However, before you click on the link, ask yourself: does the message look authentic?
When in doubt, it is best to directly call up the company that seems to be offering discounts. Who knows, you might be surprised if they refuse having sent any such offer to you! That's a real confirmation that you are being tricked by someone with not the best of intentions.
When you click on any malicious link, you can end up installing malware on your phone. When this malware begins executing, it will send sensitive information to the hacker.
Also Read: How to Stop Someone from Spying on My Cell Phone
Part 3: Can Someone Hack My Phone by Calling Me?
A common thought that worries people often is can someone hack my phone by calling me? Well, this is a hotly debated question online. Many experts believe that a phone cannot be hacked by a mere call.
However, on the other hand, some experts believe that a call can indeed cause a phone to be hacked. There are many differing opinions on this matter.
3.1 Phone Calls and Location Hacking
Modern smartphones are essentially computers which are extremely sophisticated devices. A call can be tracked if it is long enough. The hacker can track your location this way. However, the call needs to be of a certain duration for this to be done.
Many experts believe that unless you divulge sensitive information on a phone call, your phone cannot be hacked.
3.2 Phantom Calls
Phantom calls, also called ghost calls are also a matter of concern. What is a phantom call? A phantom call is one which has no one on the other end of the call. You cannot listen to anyone. Such calls usually come from strange numbers.
If you've been receiving phantom calls repeatedly, alert the authorities right away. It is a prominent sign of a hacker trying to access your network. Some phantom calls use a malicious code called SIP vicious. This program probes the network and hacks into IP phones.
Installing a caller ID is also a great way to know who is calling from an unknown number.
Don't Miss: How to Find Hidden Apps on Your Phone
Part 4: Can Someone Hack My Phone From My Number?
This is indeed a very valid concern. Can someone hack my phone from my number itself? Yes, it's real! It is indeed possible for a hacker to hack your phone without touching it.
Many experts are of the opinion that with access to just your number, it is possible to track your calls and even read your messages.
4.1 Hackers Can Read Your Messages With Your Number
This is a very real risk. The intrinsic weaknesses in the network connections can cause someone to use a number to hack your phone. Experts believe that all that is needed to snoop on your calls and access location is your number.
SS7 (Signalling System No. 7) is a network interchange service, the component that hackers use. SS7 deals with handing off the number translation and other information when networks connect.
Part 5: Can Someone Hack My Phone Without Touching It?
Can someone hack my phone without touching it? If this is possible, it is a major cause of concern. You can keep your phone with you securely but if the hacker can get to it remotely, there's little you can do.
Yes, this is possible! There are apps out there that allow users to hack into your phone remotely. They do not even need access to your phone to hack it.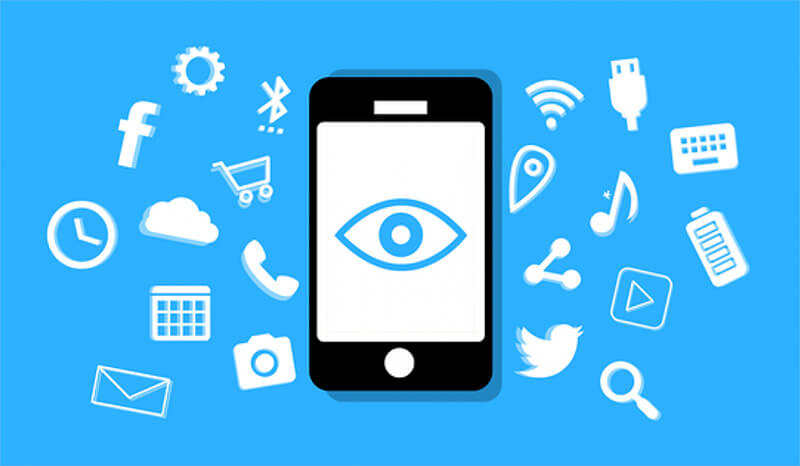 5.1 Phone Monitoring Apps
There are several phone and spy monitoring apps that allow users to hack into a phone remotely. No access to the phone is needed. Such apps are intended for worried parents who wish to track their kids' activities online.
However, if in the wrong hands, they can be used by hackers. However, a phone monitoring app cannot hack your phone easily. If you have an iPhone, the hacker will need the iCloud credentials to hack your phone.
If you keep your iCloud password secure, there's nothing to worry. Android phones cannot be generally hacked remotely without touching the phone.
5.2 Remote Commands and Access
Many spy monitoring apps allow the user to send remote commands via SMS. Using this technique, the hacker can send commands to your phone via messages. Your phone will obey all commands.
For instance, the hacker could ask for your audio to be recorded or pictures to be sent. Ensure you use a powerful malware detection app to stay clear of any hidden apps on your phone.
Part 6: Can Someone Hack My Phone Camera?
Phones are increasingly being used as cameras. We are always taking pictures with our phones, capturing and sharing moments. While cameras have simplified things with their presence in phones, they've also raised security concerns.
Can someone hack my phone camera? The presence of a camera in a phone means a hacker can turn the camera on to see what's happening. Also, the hacker can see all the pictures you captured and the videos you filmed. Those multimedia files can also be remotely transferred.
You may like: How to Know If Your Phone Camera Is Hacked
6.2 Signs Your Phone Might Be Hacked
If you notice that your phone is running slower than usual and is sluggish, it might be hacked. This is because a malicious app might be constantly running in the background. Similarly, if you see an app you never installed, there might be something wrong.
Similarly, if you find constant pop-ups on your phone, this could be an indication of an infection. Seeing outgoing calls or messages you never made? This is also a prominent sign of a hack.
Part 7: Can Someone Hack My Phone Through WiFi?
Can someone hack my phone through WiFi? We're so used to connecting to WiFi networks, aren't we? However, you should be extremely vigilant when on a public network. We highly recommend staying away from unknown WiFi networks.
Once you're connected to a WiFi network, you open doors to hackers. Hackers can use social engineering to capture your username and passwords for the social sites as well.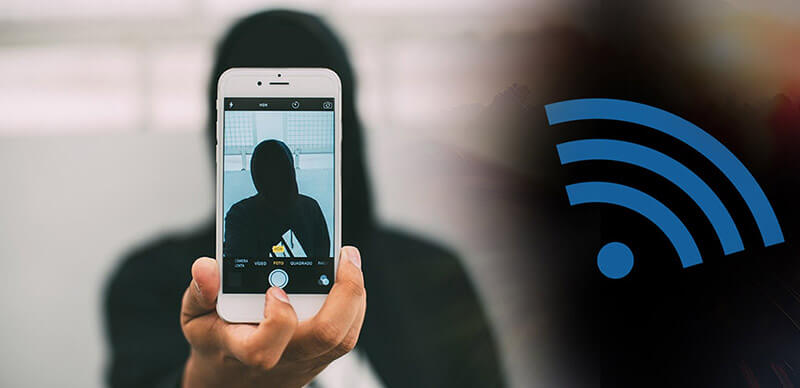 Part 8: Can Someone Read My Text Messages From Their Phone?
Text messages are an integral part of our lives. We exchange important information via SMS. However, can someone read my text messages from their phone? Yes, they can! All they need is a malware tool.
Hackers can inject a malware tool into your phone without you knowing. They can send you malware through email or via text messages. These usually have links. When you click on those, you activate the malware.