In today's smartphone-centric world, iPhone security is paramount. Passvers iPhone Unlocker offers a solution for users facing password challenges and lockouts. In this review, we explore its features, specifications, and the process for wiping screen lock codes. Discover whether Passvers iPhone Unlocker is the right choice for you, whether you're dealing with forgotten passwords or regaining control of your device.
What is Passvers iPhone Unlocker?
Passvers iPhone Unlocker is a must-have solution for those who have never been locked out of their iPhones due to forgotten passcodes, disabled devices, or Apple ID restrictions. This software is not only user-friendly but also highly effective at unlocking various types of passcodes, including the screen passcode, Apple ID, and even bypassing or removing Mobile Device Management (MDM) policies, a feature introduced recently.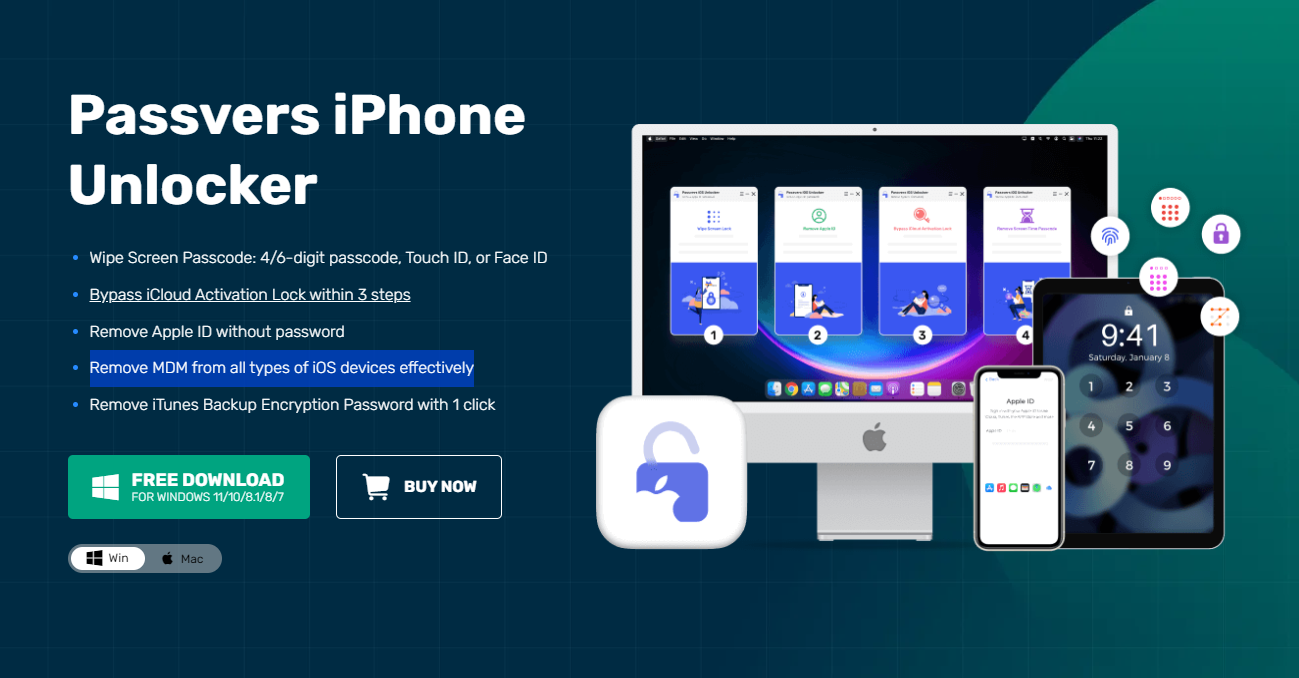 There are circumstances in which you forget the iPhone screen passcode for several reasons. The reason could be:
Forgot Screen Passcode: One of the most common scenarios is forgetting your iPhone's screen passcode.
Disabled Device: If you've entered the wrong passcode multiple times, your iPhone may become disabled.
Purchased a Secondhand iPhone: When you buy a secondhand iPhone and don't know the previous owner's screen passcode.
Forgot Apple ID Password: If you've forgotten your Apple ID password or face restrictions related to your Apple ID.
Bypass or Remove MDM Policies: Enterprise Mobile Device Management (MDM) policies can restrict the functionality of iOS devices.
Access Encrypted iTunes Backups: When you need to access your iTunes backups but have forgotten the backup password, Passvers iPhone Unlocker can help unlock the backup password.
Now that we've introduced Passvers iPhone Unlocker and highlighted its remarkable capability to be the best choice when faced with these common challenges, let's delve deeper into its features and the process of using it.
Passvers iPhone Unlocker Features
Passvers iPhone Unlocker is a multifaceted and robust solution designed to cater to various iPhone-related challenges. Let's take a closer look at what sets Passvers iPhone Unlocker apart:
Unlock All Types of Screen Locks:
4/6-digit Passcodes: If you've set a 4 or 6-digit passcode and can't remember it, Passvers iPhone Unlocker provides a straightforward solution.
Face ID/Touch ID: Even if you've registered your face or fingerprint for biometric authentication, Passvers iPhone Unlocker can bypass these measures.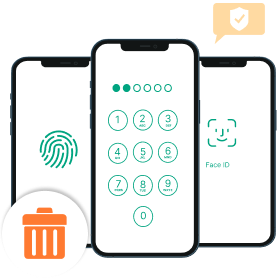 Bypass iCloud Activation Lock:
Unlock iCloud-Locked Devices: Passvers iPhone Unlocker provides you with the capability to bypass the iCloud Activation Lock on iOS devices, enabling you to regain access to a device associated with an Apple ID that you may have lost access to.
Unlock Apple ID:
Remove Apple ID Restrictions: If your Apple ID has been restricted for any reason, Passvers iPhone Unlocker can remove these restrictions, allowing you to access Apple services seamlessly.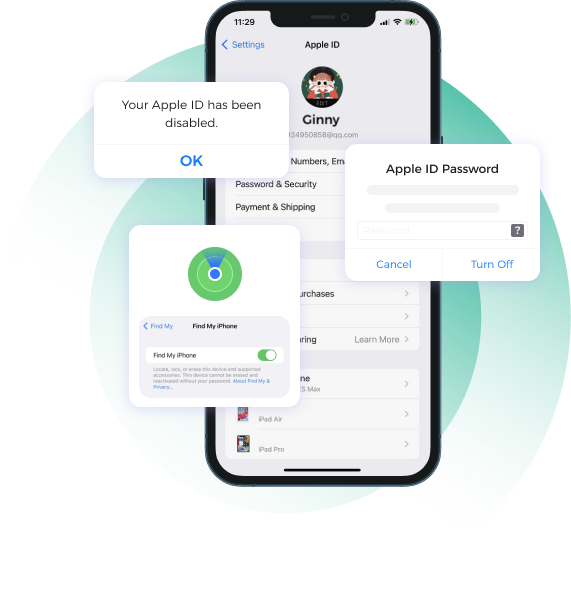 Bypass/Remove MDM [New]:
Overcome MDM Profiles: Mobile Device Management (MDM) policies are essential for organizations but can be limiting for individual users. Passvers iPhone Unlocker introduces a groundbreaking feature to bypass or remove MDM profiles, granting you greater control over your device.
iTunes Backup Encryption Remover
Unlock Encrypted iTunes Backups: When you need access to data stored in encrypted iTunes backups but have forgotten the encryption password, Passvers iPhone Unlocker can remove the encryption and grant you access, also 100% backup data safe.
Ease of Use:
User-Friendly Interface: Passvers iPhone Unlocker boasts an intuitive and user-friendly interface, making it accessible to users of all technical backgrounds.
Fast and Reliable:
High Success Rate: Passvers iPhone Unlocker is known for its high success rate in unlocking iOS devices and bypassing security measures.
Speed: The process is quick, ensuring you can regain access to your device and data promptly.
Compatibility:
iOS Devices: Passvers iPhone Unlocker is compatible with a wide range of iOS devices, including iPhone, iPad, and iPod Touch, running various iOS versions.
Windows and macOS: It works seamlessly on both Windows and macOS platforms.
How Does Passvers iPhone Unlocker Wipe Screen Lock?
Passvers iPhone Unlocker is designed with an intuitive interface to deliver you with easy-to-grasp performance. Here takes the crucial screen lock removal feature as an example to guide you how Passvers iPhone Unlocker performs to bypass iOS locks easily on your iOS devices:
Step 1: Connecting Your iPhone
Step 2: Choose "Wipe Passcode" and Connect Your Device
Launch Passvers iPhone Unlocker and select the "Wipe Passcode" option from the available functions.
Step 3: Download the Firmware Package for Unlocking
This package contains the necessary data to perform the unlocking process securely.
Step 4: Confirm to unlock screen passcode
Note: It's important to mention that throughout this entire process, Passvers iPhone Unlocker maintains the security and integrity of your data. It uses advanced algorithms to ensure that your personal information remains confidential and safe.
Price
Passvers iPhone Unlocker offers multiple pricing options to cater to various needs. Visit the official website for the latest pricing information and payment plans.
One-Month License:USD 35.95
One-Year License:USD 45.95
Lifetime License:USD 59.95
Final Verdict
Passvers iPhone Unlocker is a powerful tool for unlocking various passwords and restrictions on your iPhone. Its user-friendly interface and excellent performance make it a valuable tool. With Passvers iPhone Unlocker, you can confidently regain control of your iOS device, all while keeping your data secure. Don't let iPhone issues hold you back. Download and unlock the possibilities today.