When you've suddenly lost important messages on your iPhone, and to your dismay, there's no backup to rely on for recovery. Whether due to accidental deletion or any other reason, the absence of these critical messages can be disheartening. However, fear not, for in the following article, we will explore three effective methods that you can attempt to use in such a situation to recover those lost messages.
Method 1: Recover Lost Messages from "Recently Deleted" Folder on iPhone
One of the simplest and quickest methods to recover deleted messages on your iPhone, even without a backup, is by checking the "Recently Deleted" folder. This feature is built into your iPhone and can be a lifesaver if you act swiftly.
How to Access the "Recently Deleted" Folder:
Step 1: Launch the Messages App
Step 2: Locate the "Recently Deleted" Folder
Inside the Messages app, navigate to the "Recently Deleted" folder. You can typically find it within the "Message Settings" section.
Step 3: Retrieve Deleted Messages
Once you're inside the "Recently Deleted" folder, you'll find a compilation of messages that have been deleted within the past 30 days. Take some time to peruse this list and identify the messages you wish to recover.
Step 4: Restore Messages
To recover a specific message, simply tap on it to select it. Then, proceed by tapping the "Restore" option, which is generally located at the lower part of the screen. Confirm your selection, and the message will be reinstated to its original location within your Messages app.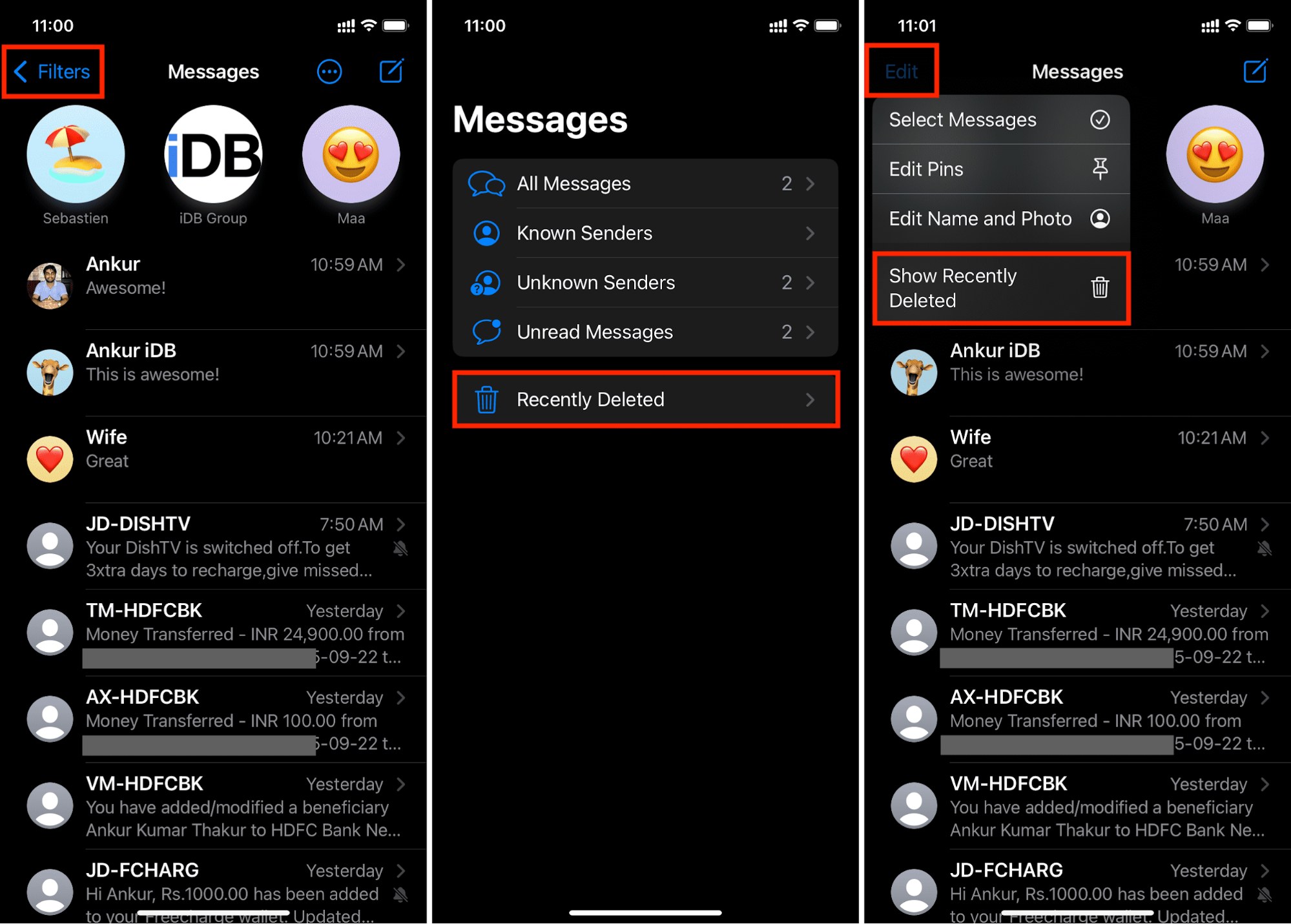 Pros:
User-Friendly Interface:

This method offers a straightforward interface that requires no additional tools or software, making it accessible for users of all levels of technical expertise.

Swift Recovery:

It provides a rapid means of recovering messages deleted within the last 30 days, ensuring that you can quickly regain access to crucial communications.
Cons:
Limited Timeframe:

Keep in mind that the "Recently Deleted" folder retains messages for a maximum of 30 days. Messages deleted beyond this timeframe won't be recoverable using this method, limiting its effectiveness for older deletions.
Acting quickly when you notice message deletion increases your chances of successfully recovering them from the "Recently Deleted" folder, potentially avoiding the need for more complicated recovery methods.
Method 2: Recover Deleted Messages on iPhone via FonePaw iPhone Data Recovery
If your messages are not recoverable from the "Recently Deleted" folder or if you're dealing with older deletions, FonePaw iPhone Data Recovery steps in as a robust solution. This powerful software is specifically designed to help you recover various types of data, including messages, photos, contacts, and more from your iPhone, with or without a backup. It's amazing that FonePaw supports free scan and preview your lost messages before the recovery.
How to Use FonePaw iPhone Data Recovery:
Step 1: Download and Install
Download and install FonePaw iPhone Data Recovery on your computer (available for both Windows and Mac).
Step 2: Connect Your iPhone
Connect your iPhone to the computer using a USB cable.
Step 3: Choose Recovery Mode
Select the "Recover from iOS Device" option.
Step 4: Start Scanning Your Lost iPhone Messages
Click the "Start Scan" button to initiate the scan of your iPhone's data.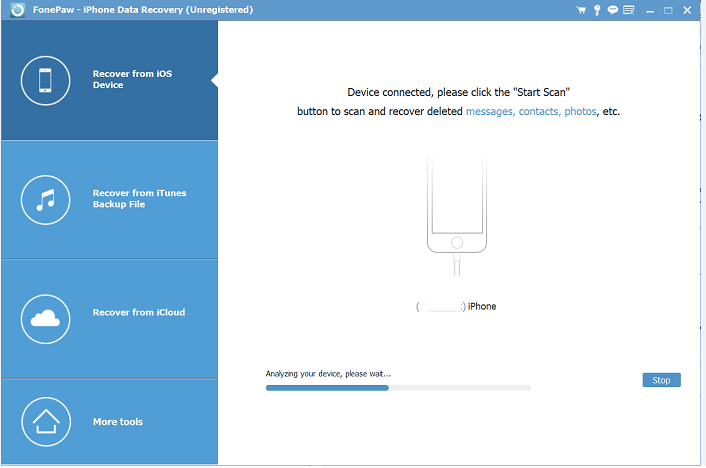 Step 5: Preview and Recover Messages
After the scan, you'll see a list of recoverable data, including deleted messages. Preview and choose the messages you want to recover. Select your desired messages and click "Recover." Save the recovered messages to your computer.
Pros:
Comprehensive Recovery:

This tool is compatible with a wide range of file types, including photos, videos, messages, contacts, notes, and more. Whether you're trying to recover multimedia files, important messages, or essential contacts, FonePaw iPhone Data Recovery has you covered.

Selective Recovery from iTunes Backup:

With FonePaw, you can selectively recover data from your iTunes backups. This feature is invaluable when you want to retrieve specific items without restoring your entire backup. It gives you more control over your data recovery process.

Compatibility with the Latest iPhone and iOS Versions:

FonePaw iPhone Data Recovery keeps pace with technology. It is fully compatible with the latest iPhone models, including the iPhone 15, and the most recent iOS versions, such as iOS 17. This ensures that you can rely on it to recover your data, no matter how current your device's software and hardware are.

User-Friendly:

One of its standout features is the user-friendly interface. Designed with simplicity in mind, it caters to users of all technical levels. Navigating through the recovery process is intuitive, making it accessible to both tech-savvy individuals and those less familiar with data recovery software.
Cons:
Software Installation:

You'll need to install additional software on your computer, and in some cases, you may need to purchase a license for full functionality.
FonePaw iPhone Data Recovery provides a straightforward method for retrieving deleted messages even without backup, making it an effective solution for older deletions that can't be recovered from the "Recently Deleted" folder.
Method 3: Using iCloud to Restore Deleted iPhone Messages
If you've lost messages on your iPhone and are searching for an alternative recovery method, iCloud offers a cloud-based solution. This method is especially useful when your iPhone is linked to an active iCloud account, and you've enabled message syncing with iCloud.
How to Use iCloud for Message Recovery:
Step 1: Connect and Enable
Ensure Wi-Fi is connected, and in your iPhone's settings, enable "Messages" under iCloud.
Step 2: Reset
Navigate to "Settings" > "General" > "Reset" and choose "Erase All Content and Settings."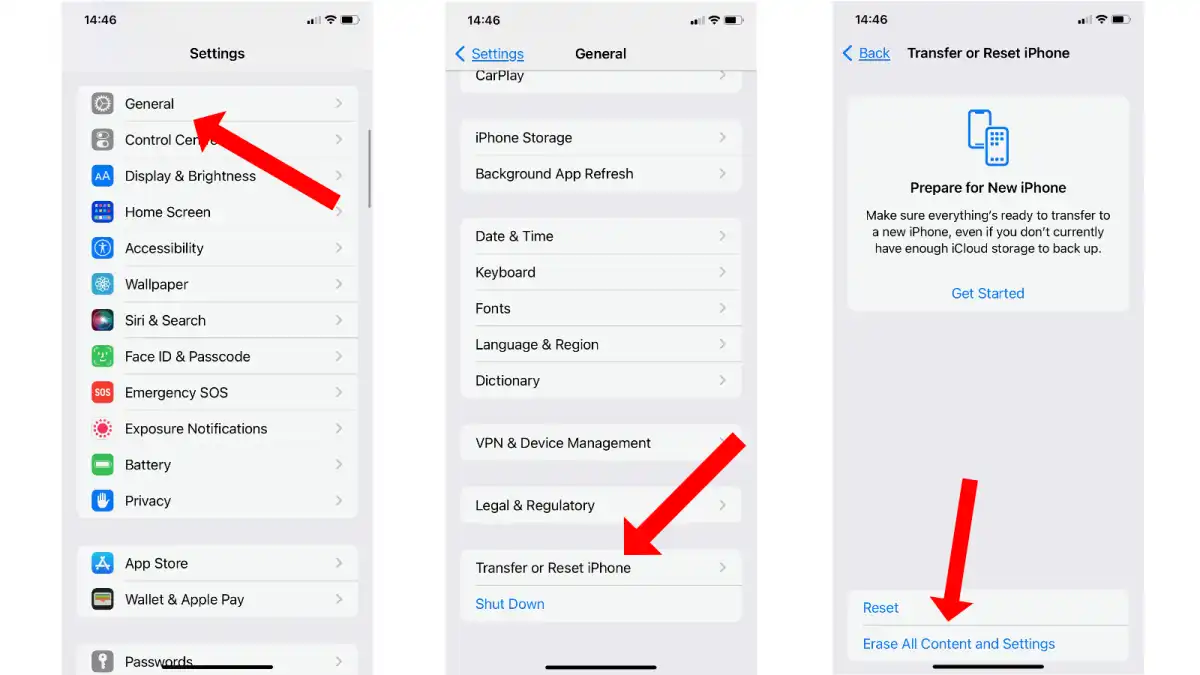 Step 3: Restore
After restarting, select "Restore from iCloud Backup" during the setup process.
Step 4: Access Messages
Once the restore is complete, open the Messages app to access your recovered messages.
 Pros:
Convenient Cloud-Based Solution:

iCloud offers a convenient cloud-based method for data recovery, including messages. If you regularly back up your iPhone to iCloud, this method can be efficient and hassle-free.

Seamless Integration:

iCloud is seamlessly integrated into the iOS ecosystem, making it a natural choice for iOS device users. The process is relatively straightforward if you're already using iCloud for backups.
Cons:
Overwrites Current Data:

Restoring from an iCloud backup replaces your current data with the data from the selected backup. If you have new data that you haven't backed up, you may lose it.

Dependent on Regular Backups:

This method relies on having regularly backed up your iPhone to iCloud. If you haven't done so, or if your deleted messages were not included in your recent backups, this method may not be effective.
Using iCloud for message recovery can be a viable option, particularly if you're an active iCloud user and have regularly backed up your device. However, it's essential to consider the potential loss of current data and ensure that your deleted messages are present in your iCloud backups for successful recovery.
Additional Tips: Back Up Data to Prevent iPhone Data Loss
While it's essential to know how to recover deleted messages, it's equally crucial to take preventive measures to safeguard your data from loss. Here are some additional tips on how to back up your iPhone data, ensuring you have a safety net in case of unexpected data deletion:
Regular iCloud Backups
Set up automatic iCloud backups on your iPhone. To do this, go to "Settings" > [your name] > "iCloud" > "iCloud Backup," and toggle the switch to enable it.
Keep Your iOS Updated
Always keep your iPhone's iOS software up to date. Newer iOS versions often include security enhancements and improvements that can help protect your data.
 Monitor Storage Space
Regularly check your iPhone's storage space to ensure there's enough room for backups. Delete unnecessary apps and files to free up space if needed.
Third-Party Backup Solutions
Consider using third-party backup solutions like FonePaw iOS Transfer to create comprehensive backups of your iPhone data. These tools often provide more flexibility in managing and restoring data, including messages, photos, and contacts. FonePaw iOS Transfer can be a valuable tool for users looking to efficiently manage their iPhone data and maintain regular backups.
By following these additional tips, including the mention of FonePaw iOS Transfer, you'll be better prepared to prevent data loss and ensure that you have reliable backups in place. This proactive approach can be a lifesaver, as it minimizes the need for data recovery efforts in the first place.
Conclusion:
This guide has equipped you with valuable methods and practical tools for iPhone message recovery and emphasized the importance of maintaining backups. To ensure data safety and handle data recovery efficiently, consider using FonePaw iPhone Data Recovery. Download it now to safeguard your messages and data with confidence.
This post is also available in: Русский (Russian) Português (Portuguese (Brazil)) 日本語 (Japanese) Deutsch (German)