Background checks are a necessity in this day and age. It's hard to trust the image people present of themselves. You might be looking at a wolf in sheep's clothing. It's why businesses like CheckPeople.com are in high demand.
CheckPeople.com is a background check business. The company runs a website: www.checkpeople.com. CheckPeople.com is one of many dozens of similar businesses plying their trade on the internet.
Is CheckPeople.com worth your time, though? Is it as effective as it claims to be? Are the records generated thorough enough to warrant a subscription? We help you find out with this review:
CheckPeople.com – Introduction
CheckPeople.com was founded in Palo Alto, California. The team behind the company has over 20 years of experience running internet businesses. They aim to carry out background checks without burning a hole in your pocket.
The website gathers background information together from multiple sources and places it in a single report. According to the website, you can quickly look up the information you need to. They want to help you make informed choices.
What kind of information does the website provide? They can help you locate lost friends, relatives, and partners. They can help you verify online sellers and reverse lookup phone numbers. These services are just the tip of the iceberg.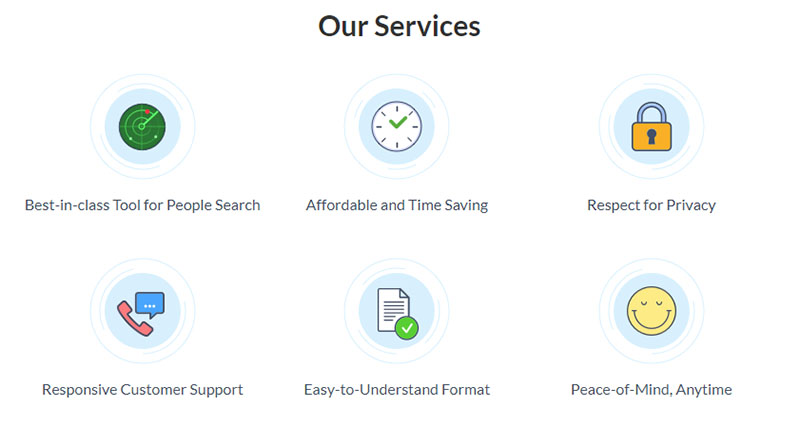 CheckPeople.com – Services Offered
As we mentioned, CheckPeople.com will dig up a ton of information on someone. The information dug up can be classified into three categories. To sum up, CheckPeople.com offers three distinct features or services:
1. Background checks
CheckPeople.com carries out a very extensive check of a person's background. They come through all records available to the public, which number in the billions. The information turned up is organized into an easy-to-read report.
What kind of records does CheckPeople.com trawl through? It checks addresses, arrest records, court records, criminal records, inmate records, license plate records, property owner listings, judicial records, birth records, death records, and more.
The background checks include arrest reports. If someone has an arrest record, you know to be wary. You'll know exactly why they were arrested. You can then make an informed decision on whether to associate with them further.
2. Internet activity summary
Everyone has a large digital footprint. In addition to checking real-world records, CheckPeople.com also searched the internet for the people you want to learn more about. The searches target currently available as well as "lost" content.
What does currently available content include? You'll get information about the person's existing social media accounts, webpages, websites, YouTube channels, and other digital property. You could Google it, but CheckPeople.com is faster.
However, CheckPeople.com also turns up "lost" content. By lost content, we mean content that's been deleted or no longer accessible to the public. CheckPeople.com will turn up deleted websites, images, forum posts, and videos.
3. Reverse phone number lookup
Reverse phone number services are in high demand. If you have a mysterious caller who constantly calls you, but hangs up when you pick up, you can potentially trace them with the service. You could also lodge a police complaint with the info.  
The reverse phone number service also has other uses – like keeping someone safe. For example, if you're worried about a child who's always on the phone with someone but doesn't tell you who it is, you could reverse lookup the number.
Finally, the reverse phone number service is of use to people concerned about their partner straying. The CheckPeople.com service will give you the name of the person who's on the other end of the line, along with their approximate location.
CheckPeople.com – What You Get
CheckPeople.com will arrange all the information it gathers in an easy-to-understand report. Here's a summary of all the information you can expect to receive:
Full names
Current and prior addresses
Relatives – immediate and distant
Criminal records
Sexual offender status
Marriage and divorce records
Internet activity, including social media and dating
Contact information
CheckPeople.com – Pricing
Compared to other background-check businesses, CheckPeople.com is on the cheaper side. So they do live up to their claim of being value for money. However, they have some shady pricing practices, so watch out for that.
How much does CheckPeople.com cost? CheckPeople.com gives you a free trial of the website for $1. After that, you will be billed $44.85/month. For the price, you are offered unlimited searches. There are no hidden fees involved.
CheckPeople.com also has a tiered monthly plan. For $27.65 per month, you can subscribe to unlimited searches. You can also subscribe to a cheaper multi-month plan, which works out to $22.97 per month for 2 months.
CheckPeople.com also offers a cheaper Power Users plan with limited features. If you want a limited individual report on one person, you have to pay $4.95. For a more comprehensive report, you may have to pay extra.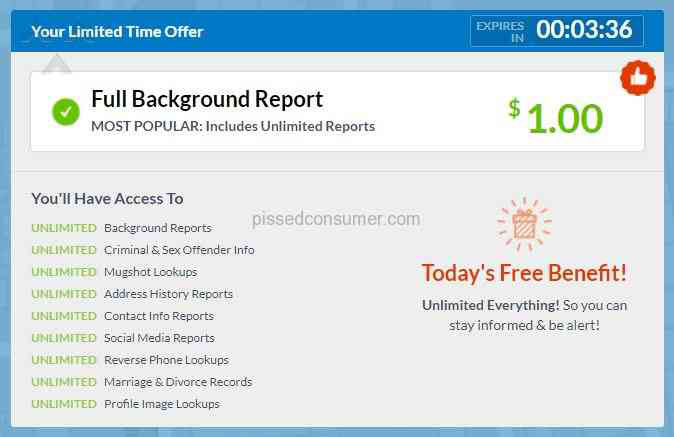 If you're planning to sign up for the free trial, be warned that you are charged $7 to download PDF reports. This charge isn't mentioned anywhere on the site, except in the T&Cs fine print. There's also a $14 monitoring fee.
Canceling a CheckPeople.com Subscription
The membership will automatically renew at the end of the billing term. You need to cancel by calling the CheckPeople.com customer service. They are available at 1-800-267-2122 between 9am-6pm EST. Their email is support[@]checkpeople.com.
CheckPeople.com customer service is notorious for being unresponsive. If you've purchased a subscription, we recommend you call at least a few days in advance before your billing term is about to end.
CheckPeople.com – Data Accuracy
Is the data turned up by CheckPeople.com reliable? Going by user reviews, it's pretty much hit-and-miss. You could get lucky and receive reliable, actionable information. Often, though, you get a report riddled with errors.
For an example of a hit, CheckPeople.com turned up information about a person's long-lost girlfriend. The person had lost touch with their girlfriend for over 30 years but found her quickly with the help of the service.
To give you an example of a miss, a user had three criminal associates. They had a general idea of the associates' criminal records but wanted more in-depth information. A CheckPeople.com search showed all three as having no criminal records!
CheckPeople.com may list phone number wrong. They often show a person having more associates than they actually do. Sometimes they also tell you there are sex offenders in your neighborhood when there are none.
CheckPeople.com – Customer Service
Does CheckPeople.com provide good customer service? We can confidently say their customer service falls far short of expectations. Many users complain bitterly about the apathy displayed by CheckPeople.com customer reps.
Before we get to the customer service problems, we'll give you an overview of the customer support you stand to receive.  First, there's a FAQs section with a reasonable amount of information, though it was a little too salesy for our liking.
Second, you can email CheckPeople.com customer care representatives at support[@]checkpeople.com. However, sometimes you'll get an auto-response email with a number they want you to call instead, which makes email support useless.
Third, you can call CheckPeople.com at 1-800-267-2122. Their representatives are available during regular office hours, which is 9 am to 6 pm EST. You don't get access to around the clock call support or even text-chat support.
About the problems we mentioned? CheckPeople.com representatives can be rude. If you ask for a refund, they may refuse to give it to you. They may rudely ask you to read the T&Cs again. Some may even hang up on you.
CheckPeople.com Alternatives
How to Use CheckPeople.com
CheckPeople.com is pretty easy to use. You have to major search options: people search and the reverse phone lookup. The search bar isn't hard to spot – it's located smack dab in the middle of the page.
To start a search, enter the first name and the last name of the person you're trying to search for. You don't need to enter their current city, though you can to narrow down the search scope. You'll have to pass a human verification check.
When the search begins, you'll have to wait for a few minutes. CheckPeople.com searches through many digital and real-world records for information about the person. You'll get a status bar showing the progress of the search.
After the search ends, you get a single-page digital report of the person you were searching for. At the top of the page is a menu that lets you choose which information to view, like address history, divorce records, and criminal history.
You can read through the report at your leisure. The search information will be saved to the server if you need to retrieve it later. You will be charged $1.99 if you want to download the information and save it as a PDF.
How it Works
How does CheckPeople.com work? It uses a specialized algorithm to search through databases and other content available online. The website's servers will look through everything accessible to the public on the internet.
Note that the information dug up will be internet-based. You don't get access to offline records like, say, county criminal records. If you want access to offline content, you will have to try elsewhere.
CheckPeople.com Breakdown – The Good, the Bad, the Average
So how effective is CheckPeople.com? Here's a quick breakdown of their pros and cons:
1. The Good
Affordable plans: com is one of the cheapest background-check businesses around. You get unlimited searches for a flat monthly fee. Also, you can download individual reports for less than $5.
Easy to use: The CheckPeople.com interface is easy to use. You can look up people in less than a minute. All you need is a phone or a PC with a decent internet connection. There are no download involves.
Large search net: com searches through billions of records, including a person's public records and their entire internet history. It's very comprehensive for the price charged.
Intuitive report layout: All the information gathered is arranged in an easy-to-access report. You can quickly scan through it for pertinent details. Your search information is saved for quick access later.
2. The Bad
Shady pricing practices: com is greedy about the money. They charge $1 for a 5-day trial – but don't mention the additional report monitoring or downloading charges. Later, you get a bill shock.
Terrible customer service: The customer service experience is nothing short of terrible. CheckPeople.com service reps are hard to reach. They are also often rude and may even hang up on you.
Tough to cancel: Want to cancel a subscription? You can't do it conveniently online via your profile. Instead, you have to jump through needless hoops and call CheckPeople.com directly. They don't want you opting out.
3. The Average
Not-always-accurate: The reports you receive may or may not be accurate. It all depends on your luck. For a background-check service, this is about par for the course. Be prepared to do some fact-checking later.
Long wait times: You can expect long wait times while using the service, which will test your patience but is understandable. CheckPeople.com has to look through billions of records, after all.
Our Verdict – You Can Do Better
All in all, CheckPeople.com offers a decent people finder service. However, their shady pricing practices and terrible customer service make them hard to recommend. Choose them only if you want cheap individual reports.