Wondering how to hack a Twitter account? Well, there are several ways to do just that. Gaining access to someone's Twitter can help you see what's going on. You can even track their instant messages. Let us see some of the easiest and most powerful ways to do so.
In this article, we will go over several ways of implementing a Twitter hack. As you will see, the easiest way is to use a keylogger tool to capture the passwords. Once you have the Twitter account username and password, you are ready to dive right in!
Part 1: How to Hack a Twitter Account and View Private Twitter
If you wish to know how to hack a Twitter account, start by choosing the right tools. Yes, you will need the right apps and software to break into Twitter. However, even though it sounds intimidating, it's actually a very simple process!
So, what do you really need? You only need to use an app like Cocospy which is the easiest way to hack Twitter account. It is super easy to use and does not require any rooting or jailbreaking.
1.1 Cocospy App
Cocospy is a trusted name in the phone monitoring space. The app has been repeatedly featured in esteemed media outlets. It is used by millions of customers across 190+ countries globally.
What makes Cocospy so popular? For starters, it is very easy to use and does not need any technical knowledge. You only need 5 minutes to install the app.
Then, it is very secure and the Android version takes less than 2 MB of space. iOS devices need no download at all as everything is cloud-based. Uninstallation can be done remotely in one click. The app is a great option to consider if you are looking out for a Twitter hack.
1.2 Cocospy Features For Twitter Hack
Let us look at the advanced features found in the Cocospy app which make it the best twitter hack tool.
Android Keylogger: Cocospy features an Android keylogger which will keep capturing all taps and key presses on the target phone. It will capture Twitter usernames and passwords too. You can then use these later to hack into their account with ease.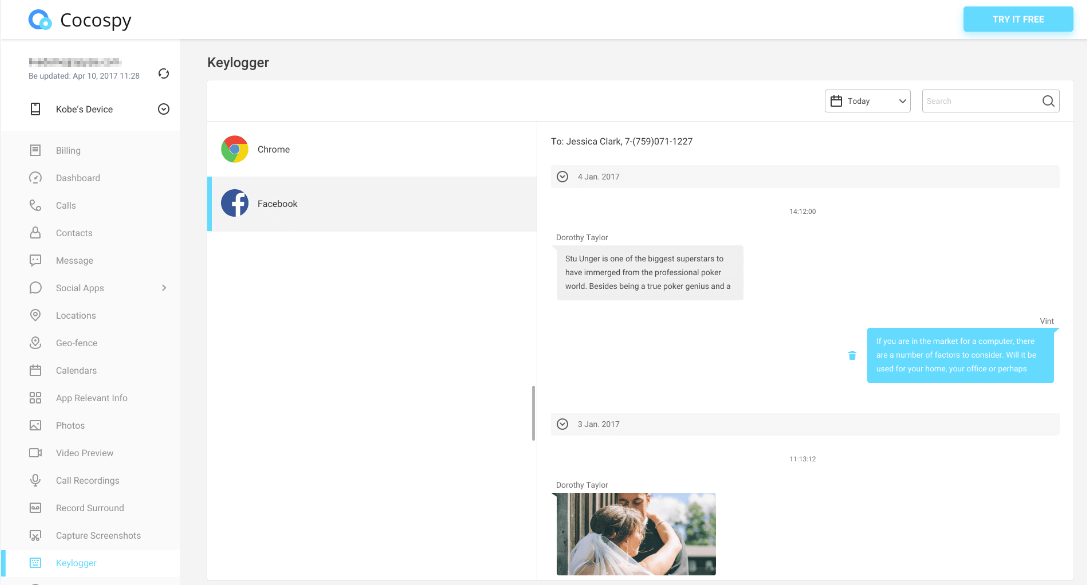 Stealth Mode: One of the most important aspects when spying on someone's Twitter is to be undercover! You need an app that works silently in the background, just like Cocospy. The app will hide its icon after installation and works discreetly.
Battery Saver: You do not want to use a phone monitoring app that drains the target battery often. This can make the target user suspicious. Cocospy minimizes battery usage on the target device and works silently in the background.
1.3 How to Install Cocospy and Use It to Hack Twitter Account
Let us study the process you need to follow if you want to know how to hack a Twitter account. Simply follow the steps we have outlined for you below.
Step-1: Sign up for a new account on the Cocospy website. The process is very straightforward and takes seconds. Enter your email address and chosen password and you should be good to go.
Step-2: Set up the Cocospy app on the target system. If the target uses an iOS device, you do not need physical access to the device at all! Yes, all you need are the iCloud username and password.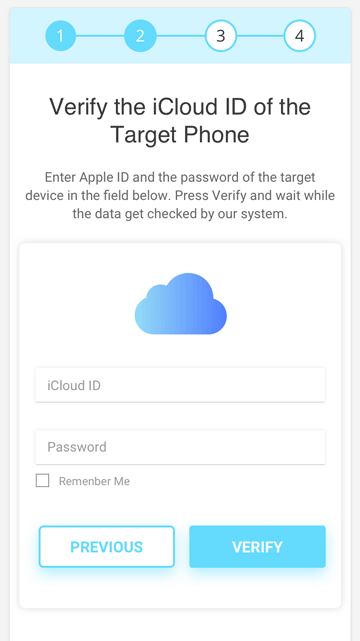 Just enter the iCloud credentials and let the validation complete. There is no need to install anything on the device if you use Cocospy. Isn't that easy?
If the target device is Android, you can download the Cocospy Android app and follow all prompts. Give the app all permissions it needs to send you all the information.
Step-3: Now, proceed to the Control Panel on your computer. At this point, you do not need access to the target device at all. You will see your dashboard interface.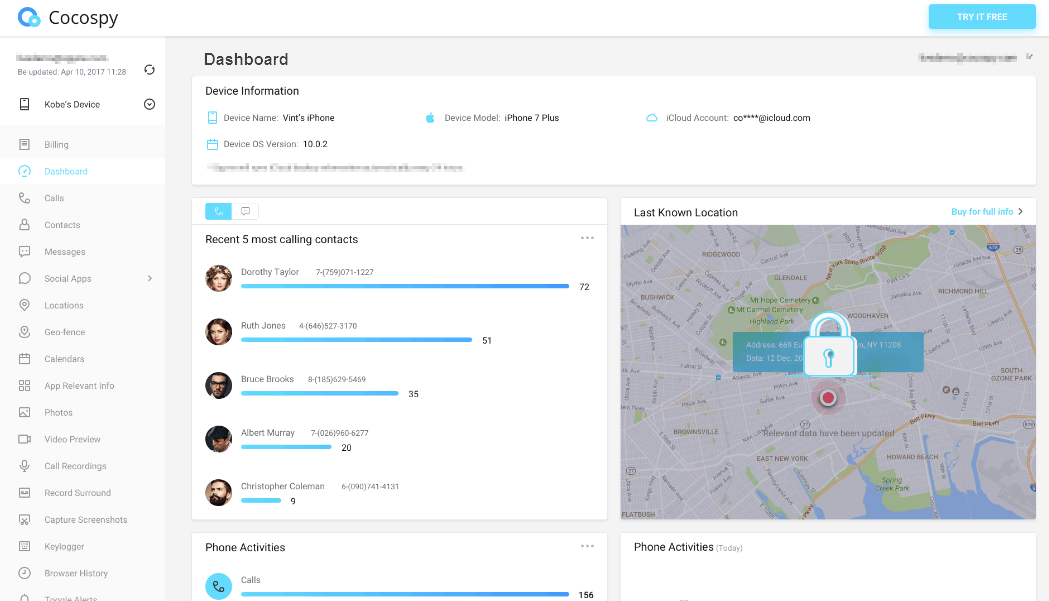 Step-4: Click on the 'Keylogger' section on the navigation pane on your left. You will now see detailed logs of everything the target user has been typing on his/her phone. This will also include their Twitter account username and password.
Take note of these Twitter credentials. Now, proceed to the Twitter website and sign in using these. That's it: you now know how to hack a Twitter account! You will now be able to see all activities, notifications, and private messages of the target user.
The best part is that the process is so simple. There is no need to jailbreak or root the target device at all. You just install the Android app or if the target is running iOS, you don't need even that! This is what makes Cocospy so popular and powerful.
We recommend that you see the Cocospy live demo yourself to see everything in action.
Part 2: How to Hack Someone's Twitter with Just Their Username
Want to know how to hack someone's Twitter with just their username? Well, there's an app for that too! And a very powerful one at that!
Called mSpy, the app allows you to hack into someone's Twitter account. How is this done and what do you need? Read on to know more.
2.2 mSpy Features For Twitter Hacking
Let's see the mSpy features for hacking Twitter in greater detail.
Keylogger: mSpy features a powerful keylogger that tracks all keypresses on the target phone and maintains detailed logs of all passwords. Using mSpy, you can capture the Twitter account username and password.
Twitter Messages: Obtain the login credentials of the target Twitter account remotely. Then, you can log on to the Twitter messages and see the sent and received messages too.
Simplicity: mSpy Keylogger is one of the simplest to use available. You just install the app on the target phone and the keylogger does the rest.
Stealth: One of the biggest advantages of using mSpy is that it works discreetly. So, when it's capturing the Twitter password, the target is left unaware. Everything is done in the background without any intrusions.
2.3 How to Use mSpy to Hack Twitter Account
Step-1: First, you'll need to choose a subscription plan of your choice. Purchase the package you like and make the payment.
Step-2: Once payment is complete, install the mSpy app on the target device. Note that you will need to jailbreak or root the device to access all features.
Step-3: Now log on to the Control Panel. You will now see all the activities on the target device remotely.
Step-4: Proceed to the 'Keylogger' section on the dashboard. Look out for the Twitter username you need the password for. Once you find it, see the corresponding password.
Step-5: Now use this username and password to remotely log on to the target account and see all information.
Note that mSpy does not have dedicated Twitter account monitoring. You will be able to track other social apps such as Facebook Messenger and WhatsApp. However, there is no direct and native support for Twitter monitoring.
The only option you have is to use the keylogger to capture the passwords and use them to log right in.
If you'd like, you can check out our mSpy review here. This should provide you with more information about this spy app.
Conclusion
You might be looking out for how to hack a Twitter account. There are several apps to use but we studied two of the most popular ones in this article. These included Cocospy and mSpy.
Cocospy excels with its market reputation and the ease of use. There's no need to root or jailbreak the target device to monitor it. Furthermore, the app has been featured prominently in well-known publications and outlets.
Cocospy features a powerful Android keylogger which captures all key presses and taps and sends them to you. You will be able to see all usernames and passwords, including the Twitter account credentials.
With mSpy, you need to root or jailbreak your device to access all advanced features. You can use the keylogger to capture sensitive data and make a successful Twitter hack.