The most popular mobile phone operating systems on earth today are Android and iOS. If you are going to spy on your wife, it means this tutorial is an unbeatable must-read.  Many people are anxious about the choice of spyware they can use. Questions like will it be problematic? Will my wife know? Or will it be accurate? are commonly asked.
The use of the Cocopsy app for Android and iOS is remarkable as a result of the efficiency of the spyware. It is simple to use and non-disruptive on the target phone or any of its functionality.
Part 1: How to Remotely Spy on My Wife's Android Phone Without Her Knowing
Cocospy provides you with enough details to enable you to know what your spouse is up to.  You might want to know who she has been discussing with, or the website she frequents most.
The range of features of Cocospy Android Spy App is examined here in detail.
1.1 Android features
You can access the following features on the Cocospy app:
Location tracker
Call Tracker
SMS Tracker
Facebook Message Tracker
Geofence Alert
WhatsApp Spy
Instagram Spy
Snapchat Spy
Viber Spy
Track Website History
Stealth Mode.
1.2 How to Track My Wife's Phone Without Her Knowing (For Android)
To use the Cocospy app, you need to follow these steps:
Step 1: Create your free Cocospy account
Go to the Cocospy homepage and signup
Enter your email address and password as shown below: 
Step 2: Target the Android Phone
If you have access to your wife's Android phone, you can install the Cocospy app on it
To do this, go to the security folder
Enable the allow "download from unknown sources" permission
After turning this on, go to phone browser
Open the mail from Cocospy and click on the app download link
Follow the instructions here for more details.
Step 3: Track Your Wife's Phone Details
Once the download of Cocospy is complete on your wife's phone, the Cocospy app icon will disappear. There will be no sign that there is a tracker installed on the phone. Since the app works in a stealth mode, no noise or beeps will be audible
You can now log into the app display panel on any desktop or device to track your wife's phone, GPS location, text messages, and calls, etc.
You can see the Cocospy app demo to view how it works.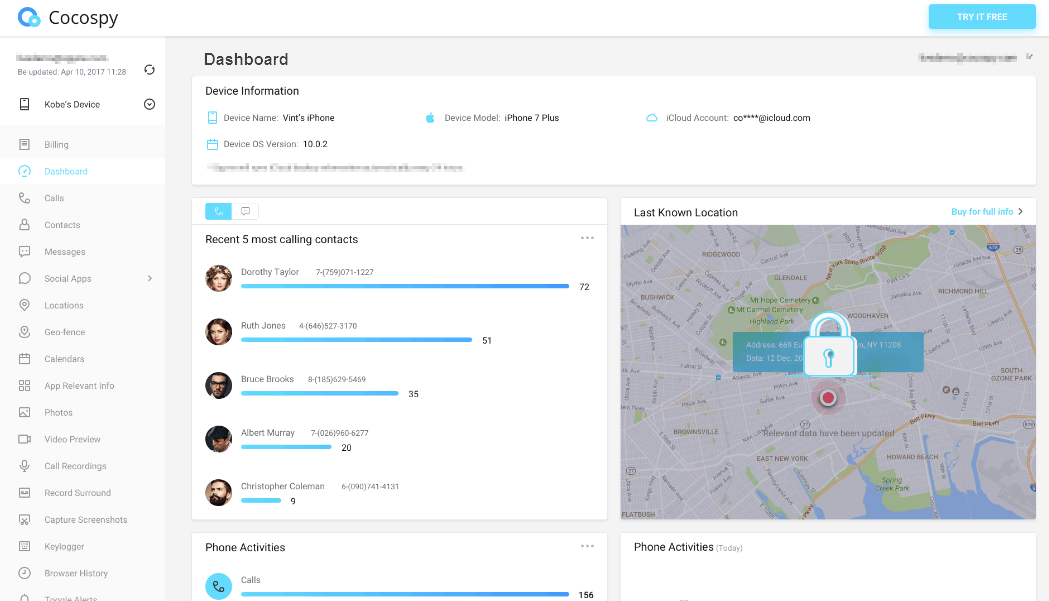 Also Read: How to Track My Girlfriend's Cell Phone Without Her Knowing
Part 2: How to Remotely Spy on My Wife's iPhone Without Touching It
If you wife uses an iOS device, there is no cause for alarm as the Cocospy app is also compatible with Apple gadgets.  You do not have to touch your wife's iPhone to spy on her.
2.1. The Cocospy iOS features
You can use Cocospy iPhone Spy App to easily spy on her phone without touching it. You are going to be able to monitor her phone with the following features:
Call History
The details of persons called, how long the call lasted, and the nature of calls will be retrieved for you by the Cocospy app.
Apple iMessage
Apple builds the iMessage into its devices. You will be able to view all messages on this messenger.
Contact List
Each phonebook of an iPhone can store numerous data like physical addresses, emails and phone numbers. You can view all of these with the Cocospy app.
GPS Tracking
GPS tracker on the iPhone works on a real-time basis. You can view where your wife is at any time, where she passed through, and where she visited with Cocospy.
WhatsApp
The ease of messaging on WhatsApp makes it a common messenger. It also stores videos, audios, and other multimedia files. You can view all that your wife shares with Cocospy.
Internet Pages
All the Internet pages visited by your wife are easy to locate with Cocospy. If she is visiting dating websites or using such services, you can easily keep a track with the spyware.
Installed Apps list
If your wife has compromising apps on her phone, you can find out with the Cocospy app. The apps on her phone are the earliest lead you can use to know if you must be vigilant. The Cocospy demo shows how this works.
Wi-Fi Networks
You can easily log in to WIFI if you have access to the Cocospy app
Events and Calendar
You will be able to view what your wife has planned out on her phone, itinerary, and special dates.
Check Notes
If there are any notes made on the memo pad on her phone, you can read these with the Cocospy app.
Also Read: How to See Who Your Boyfriend is Texting
2.2: How to Track Your Wife's iPhone Without Accessing It
You will be able to use Cocospy to spy on your wife if you have the needed details. You will not need to install anything on your wife's phone if you can produce the following
Your wife's iCloud account details
You need to follow these:
Step 1: Log in to iCloud
You will need to login to iCloud with your wife's account details. Here is an image that illustrates this step: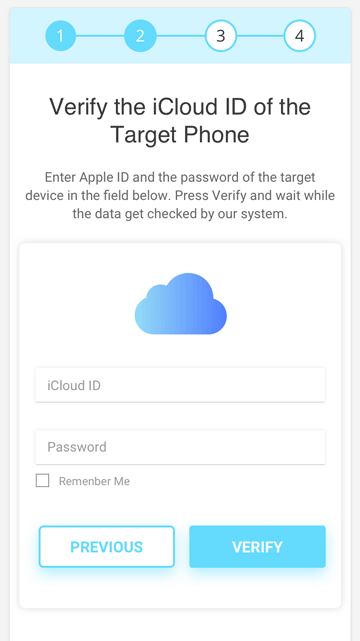 Step 2: Start Tracking
Once you login to your wife's iCloud account you will be able to view the details of her chats, calls, and media files.  Some people ask the question-when can I start to view my wife's chats? The answer is simple. The Cocospy app syncs your wife's details on iOS every 24 hours, and after this interval, you will always see new chat details.
Don't Miss: How to Spy on Boyfriend's Phone Without Touching It
Conclusion
Access to Cocospy gives you the lead on how to spy on your wife with ease. You do not have to worry about where she goes, who she talks to, or the website she visits. The Cocospy app will provide all of these details each time you log in and view the dashboard.
This post is also available in: Русский (Russian) Português (Portuguese (Brazil)) 日本語 (Japanese) Español (Spanish)