If you need to find information about someone, you hire a public record retrieval business like the People Smart. With their help, you can find someone you lost, learn more about someone, or simply do some fact-checking.
Of course, not all information-retrieval and background check companies are reliable. Many promise the moon but fail to deliver. Is People Smart reliable? Should you purchase a report from them? We review them to help you find out.
The People Smart – An Introduction
People Smart is based in Redwood City, California. They're the child company of Inflection, which specializes in public record filtering, sourcing, and analyzing. Inflection has been in the big data business for over 12 years.
People Smart wants to help you find old friends, get in touch with new ones, and expand your network. It also labels itself as a "Public Data Privacy Advocate". They offer a myriad of helpful articles on data privacy on their website.
The company provides the usual people lookup services. They sift through "billion" of public records to find your target. The gathered information is presented to you in an easy-to-read format. They also claim to have affordable plans.
The People Smart – Services Offered
What can People Smart do for you? The company provides several services, all revolving around data retrieval. Here's a quick explanation of the services offered:
1. People lookup
People search lookup service allows you to find lost acquaintances, friends, classmates, loves, and family members. This is almost always the most in-demand service from businesses like the People Smart. It's also usually priced the cheapest.
To use People lookup, you need the name of the person you're looking for, at the very least. You don't need a first name but it helps narrow down the search field. The same goes for the person's location.
Once you initiate the search and pay for it, you'll be given a list of names the company has found that best match your search criteria.
2. Phone lookup
Phone lookup services are also enormously popular. If you have someone's phone number, you can find their approximate location and name. This is a good way to screen creditors, telemarketers, and pesky acquaintances.
With reverse phone lookup, you can check if a call is worth returning. This service is also used by people who screen their partners to see if they're cheating or parents who're trying to keep their children away from undesirable influences.
3. Email search
The Email search service allows you to find someone's name by their email address. It will also match you with their social media profiles if they have any. You can screen out telemarketers and append your contacts this way.
People Smart does not, unfortunately, provide a direct email search service. By that, we meant they don't let you find someone's email if you have their full name. This service is offered by some popular information retrieval and email verification businesses.
4. Address lookup
Want to learn more about those mysterious people in your neighborhood? You can use the reverse address lookup search to find information on them. The service will check property records for the targets' personal information.
The property records searched are the same ones that appraisers and lenders have access to. Consequently, you can also guess at someone's net worth with this service. You may also be able to see if a property may be up for sale.
5. Hire court runners
Not all public records are digitized or uploaded to the net yet. Most information lookup businesses that ply their trade online only allow you to access digitized records. People Smart, however, goes a step further with its court runners.
What are court runners? They are people who retrieve non-digitized records for you in the physical world – say from a county courthouse. People Smart maintains a large Court Runner network.
6. IdentitySmart Protection
Identity theft is rampant these days. As you may be aware, most of your personal information is easily accessible to anyone online. If you can use a service like People Smart, so can anyone else – and they may not always have good intentions.
With IdentitySmart protection, People Smart will monitor your public records on your behalf, including credit accounts and email addresses. If someone accesses them, you get an alert. You will also be insured for $1 mil against ID theft.
7. Free People Directory
The final service offered by People Smart is free. It's called the People Directory and it's very similar to old-school white pages. Via the directory, you can look up people manually.
Results are arranged by surname. You can further narrow down results by state. Depending on the popularity of the surname, you'll likely get a multi-page list of people to look through. You also get their detailed personal info.
The People Smart – Pricing
Now you know what People Smart has to offer. But how much do you need to pay for their services? People Smart has three pricing tiers:
Basic: The basic membership is what most people opt for. It costs $2.95. For the price, you get a person's basic information, email, social media handles, death, birth, marriage, sex offender, and inmate status.
Pro: The pro membership costs $29.95 per month. It includes everything offered by the basic plan – plus you can look up a person's criminal record and work history. You also get discounts on other reports.
Unlimited: Unlimited membership costs $59.95 per month. It includes everything offered by basic and pro. In addition, you get access to "Premium" contact information and cell phone reports.
Not interested in signing up for a membership? You can purchase reports individually. Contact reports are $4.95 and full-fledged Background Reports are $49.95. The IdentitySmart protection we mentioned earlier costs $14.95 per month.
People Smart allows you to opt for a 7-day free trial. You get to purchase reports from them without signing up for a membership. However, note that you need to cancel the trial manually before the 7-day trial period ends.
The company offers a full refund if you don't find what you're after, which scores major brownie points with us. You need to contact their customer service for a refund.
People Smart is expensive – but you get what you pay for. Note that people have complained about being charged a membership fee during the supposedly-free 7-day trial period, so be careful to read the fine print.
Canceling a People Smart Subscription
 The People Smart membership renews automatically each month. That's why you need to cancel it manually. To cancel, you need to sign in to your account. After that, look for the "My Account" tab on the top-right.
Once you're in the "My Account" page, choose the "Membership" option and then "Cancel Membership". You'll be asked for reasons why you're canceling and if you're sure you want to proceed. That's it!
Unlike some information retrieval businesses, People Smart doesn't make you jump through hoops to have your membership canceled. The process is pretty simple, which is a point in People Smart's favor.
Check People Smart's alternative people search service TruePeopleSearch here >>
The People Smart – Data Accuracy
People Smart is one of the best services we have come across when it comes to data accuracy. You will find the person you're looking for almost every time – which is rarely the case when you use an information lookup service.
The reports you receive are full-fledged and detailed. There are little to no discrepancies. The reports are well-laid-out and intuitive. There are tabs at the top that provide different sorts of information about a person.
Information in reports is arranged by categories. Some category examples are criminal and court, contact information, ownership, licenses, and bankruptcies and liens. This will depend on the sort of report you purchased.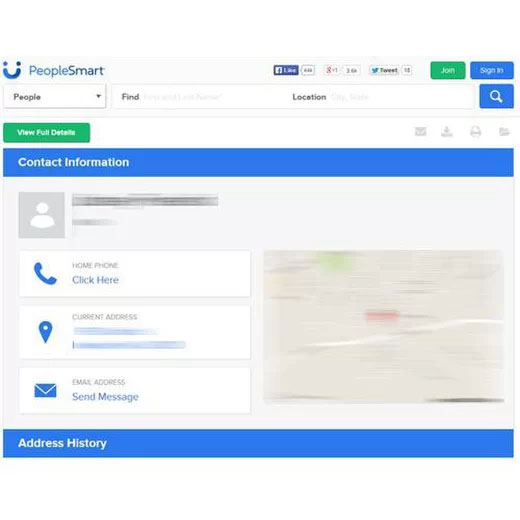 The People Smart engine has a tendency to generate duplicate records. For example, if a person has a single traffic violation, People Smart may display 3. But this is easy enough to straighten out and is a minor flaw, all in all.
The People Smart – Customer Service
People Smart provides average customer service. You can reach them by phone, email, or postal mail. If you want to call, dial 888-813-0008. They're available Monday-Friday, 8AM-6PM CST.
If you want to email them, they have a customer service form for you to fill out. They ask for your full name, order number, and email address. You'll also have to describe your issue briefly. Then, wait for their response.
Finally, you can send them a snail mail or postal mail. Their address is PeopleSmart, P.O. Box 391146, Omaha, NE 68139. Needless to say, don't expect a quick response if you contact them this way.
PeopleSmart doesn't have a mobile app. They also aren't available 24/7, either via phone or live chat. Finally, PeopleSmart doesn't list a customer care service number on its website. We had to dig it up on an affiliated site.
How to Use People Smart
Peoplesmart.com is well-designed and intuitive. You can immediately start using one of their 4 most popular services – People, Phone, Email, and Address – by typing a query in the search bar. For other services, you need a membership.
To get to the other reports or services, you need to initiate a search. After the service turns up records for the person, you'll be asked to purchase a membership and create an account. Alternatively, you can purchase individual reports.
When you sign up for a membership, you will receive a certain number of monthly searches. The $19.95 monthly plan, for example, allows you to look up 10 phone numbers and emails. The company will also send out physical letters on your behalf.
If you're a corporate user, they have a special corporate Pro plan that costs $99.99. For the money, you get 250 phone number searches, 250 email address searches, and 500 emails sent out on your behalf.
How it Works
How does People Smart work? They use a customized search engine to look through digitized public records. The closest result is retrieved. All the information gathered is packed together in a single report.
People Smart is also one of the rare few information lookup services that offer the services of a court runner. You'll be able to look up offline records with their help.
The People Smart Alternatives
The People Smart Breakdown – The Good, the Bad, the Average
Here's a quick breakdown of what's good and bad about the People Smart service:
1. The Good
High-accuracy reports: People Smart delivers on what it promises. Their reports are almost always accurate. Discrepancies are few. In rare cases with wrongful reports, you get a full refund.
Transparent: For the most part, People Smart has a transparent pricing policy. What you see is what you get – and what you pay for. You won't get a bill shock at the end of the month.
Easy-to-use: Using People Smart is simple. Their website is well-designed. Generating reports is lightning-quick. Their server is also fast and doesn't take too much time to retrieve information.
Additional services: The ID protection, postal mails, and the court runner services are a nice touch and reasonably priced to boot. You won't find many other information brokers offering these services.
2. The Bad
"Free" membership: Sometimes People Smart offers a "free" membership – but it isn't always free. They may charge your credit card a recurring monthly fee. Read the fine print carefully.
Expensive: In-depth reports like the Background Check aren't cheap. If you're doing multiple background checks, People Smart will burn a hole in your wallet.
3. The Average
Customer service: The customer service is adequate but nothing to write home about.
Our Verdict – Highly Recommended
People Smart is hands down one of the best information services around. They offer high-accuracy, in-depth reports – and full refunds for wrong ones. Their website is easy to use and you know exactly what you're paying for.