It is understandable as to why people are often reluctant to install a spy application on a mobile device. People are often afraid that someone will notice a top spy app is being used on that said device.
But today you can spy on cell phone without installing software on target phone by using an appropriate app. Cocospy can be used on an iOS device to monitor many of the things that someone is doing with the program.
Part 1: Can You Spy On a Cell Phone Without Installing Software on a Target Phone?
There is a chance for you to get a spy app installed onto a phone without that person knowing. This is perfect as you don't have to worry about a program being found on a device.
It is true that many tracker programs work without being exposed or taking up lots of data usage or disk space. But even then, you might still be worried that a program can stop working or that a phone user will notice the program.
Today you can spy on iOS devices without having to install any programs. This is thanks to the iCloud system.
The iCloud system provides you with access to the data on an iOS phone. This includes regular content that is read through a Wi-Fi link. By using the regular cloud data on a Wi-Fi report, it becomes easier for you to identify content on the target device.
Remember, it is impossible to spy on an Android target device without installing a program. But with an iOS device, you can do just that.
Part 2: How to Remotely Spy on a Cell Phone Without Installing Software On It
You must look at how well you can get a program to load up onto an iOS device. Cocospy is an ideal phone spy app that you can use now.
With Cocospy, you can quickly get information on what someone is doing with an iOS device. This is thanks to the use of the iCloud system. You will get access to someone's iCloud data. The Cocospy program will review the iCloud information on a phone and give you full reports. You will get information on things like:
Contacts on one's address book
Calendar data
SMS and iMessage data
Notes in a private book
GPS data
And more basic content.
Want to see how Cocospy works? Check its Free Live Demo here >>
How to Get Cocospy iOS To Work
The steps you must use for getting Cocospy iPhone spy app to run on an iOS device include the following points:
Step 1: Sign up free for a Cocospy account.

Step 2: Enter in the iCloud username and password of the person who you are aiming to review.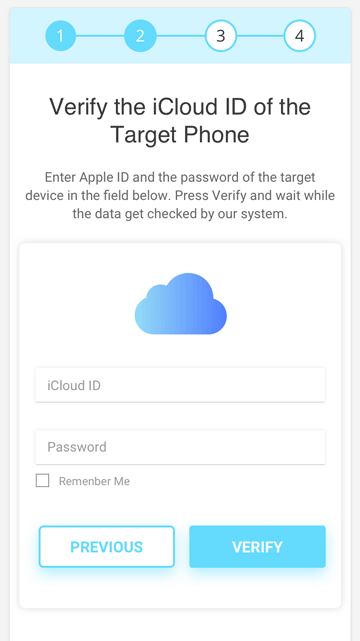 Step 3: After the iCloud name is reviewed, you should get regular updates off of the cloud on what is happening with the iOS device.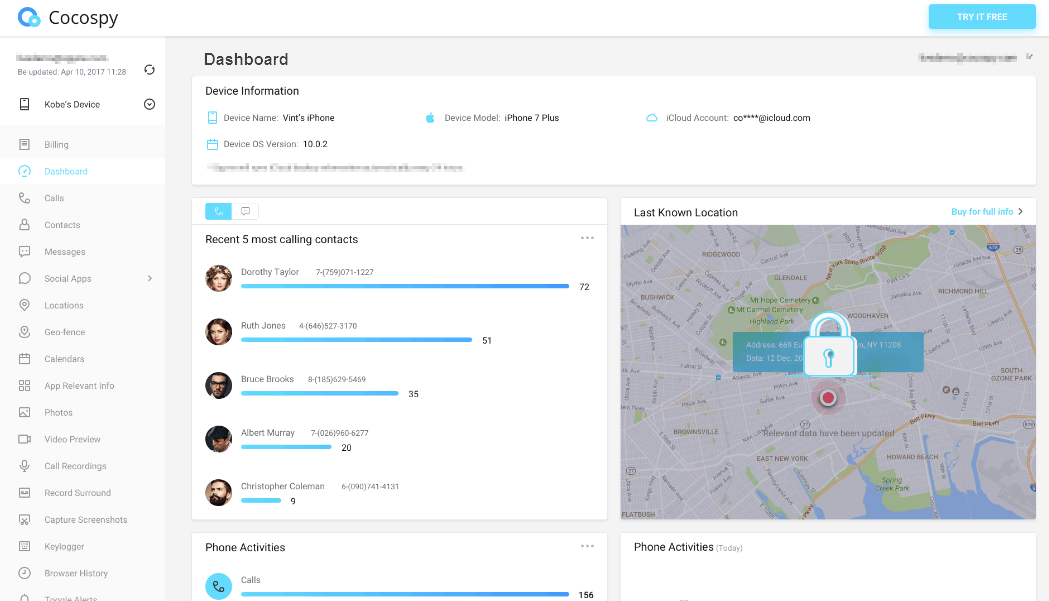 Cocospy iOS non-jailbreak Features
There are many things you can do with Cocospy on your iOS device after you remotely access it through an iCloud account. You do not have to worry about jailbreaking the device to get access to all these features:
Review the contacts a person has on one's phone.
Get all call logs and text messages, including iMessages chats, off of the iCloud network.
Find the user's browser history on the device.
See what events and notes are listed on the guide.
Get information on Wi-Fi networks that someone is accessing through the iPhone.
Find the user's location while on Cocospy. This includes location history based on Wi-Fi or GPS data.
Review the applications that someone is installing.
See media files on the target device.
Use the keylogger to see what one is typing.
Find images one has taken on a camera.
Also Read:
Part 3: How to Remotely Spy on an Android Cell Phone Without Anyone Knowing
You cannot spy on an Android without installing a software program onto a target phone. You would have to physically reach the Android unit if you want to get a spy app working on it. You do not have to root that Android unit, but it would help to do that if you want to get more out of the program you wish to use.
Cocospy Android Solution
Cocospy can work for Android devices even though you would not be able to do this remotely. You can get Cocospy loaded onto an Android device with these steps:
Sign up to use Cocospy Android Spy App.
Select that you want to install the program onto an Android device. This would require you to use the proper link on the targeted device.
Install Cocospy onto the Android device in question. The program will remove its shortcuts after you are finished installing it.
Start tracking what is on the phone.
The features you would get out of spying on an Android phone are the same as what you would get off of an iOS device.
The process to spy on a cell phone without installing software on target phone is good to note. Cocospy will let you spy on an iPhone or other iOS devices without having to install that program onto the said device. Be sure when using Cocospy that you see how well it loads up and that it works for your demands.
This post is also available in: Русский (Russian) Português (Portuguese (Brazil)) 日本語 (Japanese) Español (Spanish)