Do you constantly receive calls from anonymous or unknown numbers? Most of the time they turn out to be annoying telemarketers.
But sometimes, you might even receive threatening or scam calls from unknown sources. Scammers often call you pretending to be banking agents and they try to gather valuable information from you.
In this case, you might want to report them or find out where they are from. You can do that using a call number tracker. There are a lot of different mobile number trackers out there that give you a caller's location and background information based on just their phone number.
In this article, I'll show you how to track a phone number locations using the best Online Mobile Location Trackers.
Part 1: #1 Mobile Location Tracker by Phone Number – Cocospy
Cocospy Cell Phone Tracker is one of the best mobile location trackers in the market. However, it's not meant to track the location of an unknown number.
Instead, you can use this app to track the location of someone you personally know. For example, if you receive a call from your kid or spouse, you can track their phone location.
In order for this to work, you have to install the Cocospy app into the target user's phone. Doing this will give you access to their real-time location updates. You can find out where they are at all times.
As such, if they call you and tell you they're somewhere they're not actually, you can use Cocospy to find out the truth. This app is often used by parents to monitor children, and by spouses to catch cheaters.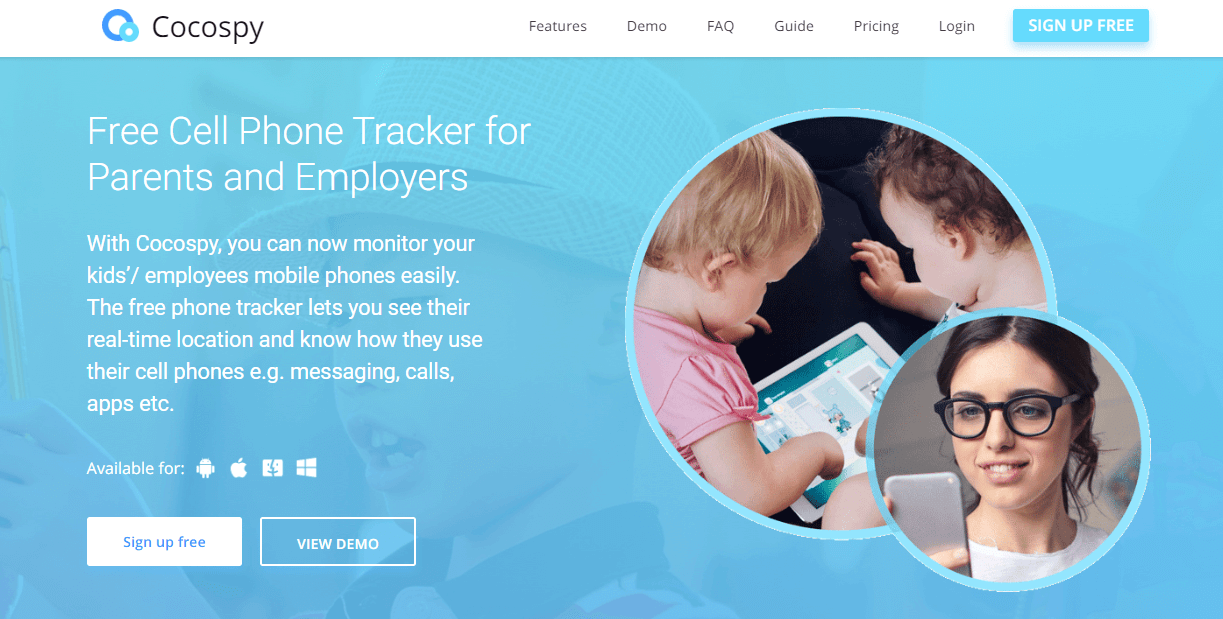 You can use Cocospy either without a need to jailbreak of the target phone or install any software. If you want to track a mobile phone number belonging to an iPhone, you can use the target user's iCloud credentials to track their location directly.
If you don't know their iCloud credentials, you'll have to manually install the app into their phone and then hide the icon.
How to use Cocospy?
Step 1: Create a Cocospy account.
Step 2: For Android – Gain access to the target phone, root it, and then install Cocospy into it.
Step 3: For iPhone (Non-Jailbreak) – Enter the mobile phone's iCloud credentials.
Step 4: Now go to your dashboard and select the 'Location' tab. You can now track the mobile phone number. 
Sign up for Cocospy for free or check the live demo here >>
Part 2: #2 Free Cell Phone Tracker by Number – BeenVerified
BeenVerified is one of the best online mobile number trackers in the market. The best aspect of this website is that it gives you a lot more than just the phone number's location. And, unlike Cocospy, it can be used to track ANY mobile number, and that too without having to touch it personally.
Features:
Find out the caller's name, age, and other personal details.
Track his current phone location.
Find out all the past addresses associated with that number.
Find out their email addresses.
Gain access to other phone numbers that they might own.
Check out all of their social media profiles.
Go through all of their photos available online.
Steps to use it
Go to the BeenVerified Website.
Enter the phone number with the extension code into the search bar.
Click on 'Start Search'.
Wait for the report.
Within a few seconds, you'll have all the information you need. The only biggest drawback with this method is that it gives you their registered home address, not the current location from which they are calling.
Part 3: #3 Mobile Tracker by Phone Number – Spokeo
Spokeo is quite similar to BeenVerified. It works in a similar way and also has most of the same features.
Features:
Find out the first and last name of the caller.
Gather any other personal information available.
Check out all associated phone numbers.
A location history of all their past addresses.
Details of other family members are also revealed.
Check out their email addresses.
Check the online registry to see if any complaints have been filed against them.
Free cell phone tracker by number with Spokeo
Go to the Spokeo Official Website.
Enter the 10-digit phone number you want to track into the search bar.
Click 'Send.'
Wait for the report.
Like BeenVerified, this website is also extremely easy to use. However, it doesn't give you access to the user's social media profiles or picture. Furthermore, it can only give you their registered home addresses, not their current GPS location. If you want to find out a mobile number's current GPS location, you have to use Cocospy.
Part 4: #4 Mobile Number Tracker Online Free with Location – Verispy
VeriSpy is similar to BeenVerified and Spokeo but it's a lot more advanced. While the previous websites are largely meant for personal use, this website is used by professionals as well. It's extremely user-friendly and all you have to do is enter the phone number in the search bar and click on 'Access Records', but it gives you entry into a range of different features.
Features:
VeriSpy is 100% confidential. As such, no one will know that you're investigating someone.
You can access reports from any device, your laptop, iPhone, tablet, etc.
It generates a details background investigation on the caller's identity. An average report size is usually around 17 pages and it can tell you a lot about them.
VeriSpy can give you the following information

The caller's first and last name.
Their current registered address and all past addresses.
Email addresses registered to that name or number.
All associated phone number.
Any criminal records.
Details of previous arrests or warrants against them.
Details regarding bankruptcies.
Information regarding complaints filed against them.
Eviction notices.
Birth certificate.
Marriage and Divorce records.
In addition to all of the information mentioned above, VeriSpy can reveal a lot more as well. Basically, it gives you all the information you need to figure out who a person is and whether they can be trusted.
However, it has one major weakness. Like Spoker and BeenVerified, it can't give you the caller's current GPS location, only their known addresses.
Part 5: #5 Online Mobile Number Tracker – Spydialer
Spydialer isn't quite as advanced an online mobile number tracker as the websites and apps mentioned previously. In fact, it's a pretty straight-forward but rudimentary website that gives you the basic information you need – the caller's location – and nothing more.
You can use this website to track mobile numbers 24/7. It can hone in on the caller's current GPS location and reveal that information to you.
As such, it doesn't just give you their known home address, it tells you where they are currently. This feature is the only reason we've included it in our list.
It negates the biggest drawback of the previously mentioned mobile number tracker websites, and you don't need to install an app into the target phone for it to work. As such, you can use it to track any number from anywhere in the world.
How to use this free cell phone tracker by number?
Go to the Spydialer Official Website.
Enter the phone number that you want to track, along with the extension code.
The cell phone must not have a (-) negative sign, and it must come with a country code.
Click on 'Start Tracking Now.'
You'll get access to the target phone's current GPS location along with info regarding their registered home address.
Conclusion
Now that you know all about the best free cell phone trackers by number, you're empowered to find out the locations of anyone who tries to mess with you via an anonymous call. If you get calls from pesky telemarketers, you can report them. And if someone is pulling a prank on you, just find out their identity!
All of the tools mentioned here have their own unique purposes. Cocospy is ideal for tracking the locations of known phone numbers.
BeenVerified and Spokeo can be used to gather background information on an unknown caller. VeriSpy gives you a detailed report including criminal and financial history.
And GPS Cell Phone Locator can be used to find out the caller's current GPS location.
If you have any other questions, feel free to leave them down in the comments section.
Please be advised that the products provided on this page may require consent in certain jurisdictions–please check in your applicable area before using.
This post is also available in: Русский (Russian) Português (Portuguese (Brazil)) 日本語 (Japanese) Español (Spanish)