Looking out for a Facebook password cracker? Well, you've come to the right place. There are several apps out there that you can use to crack a Facebook account password. In this article, we will present the top 5 Facebook password crackers out there.
Wondering who might need a Facebook password cracker? Well, worried parents with kids who might be in the clutches of a cyberbully might use such apps. They might want to ensure the safety of their kids and keep them protected from abusers. Let us see which apps can help. Check Top 10 Best Facebook Hacker.
Part 1: The Best Facebook Password Cracker: Cocospy App
Cocospy is a well-known name in the phone monitoring space. The app is used by millions of users around the world. What's more, the app has been featured by a number of media outlets. There is no need to root or jailbreak the target phone to use this app.
Cocospy is a very secure app that is easily installed in a few minutes. It allows you access to someone's Facebook account easily so you can track activities and read messages. There is a native Facebook Messages monitoring function built-in. There is also a dedicated keylogger.
1.1 Cocospy Features For Facebook Password Cracking
The following are some important features of Cocospy for cracking Facebook account password with ease. We bring you the Facebook-related features in the list below.
Keylogger: One of the most powerful features of the Cocospy app is the Android Keylogger. The keylogger captures all information from the target's taps and keypresses. This also includes the Facebook account username and password. Log it and hack!
Facebook Messages spy: Another important feature of Cocospy is that you can see all Facebook Messenger messages from the Control Panel directly. There is no need to capture the password first. See all messages and the media files exchanged.
Stealth mode: The key to the power of Cocospy is that it functions in stealth mode. This means that it works discreetly without being noticed. The app removes the icon automatically after installation. It secretly runs in the background.
Battery saver: Another interesting aspect of Cocospy is that while it monitors Facebook activity, battery use is minimized. The app will not drain away all target phone battery.
Secure and Space-optimized: The app only takes about 2 MB of space on an Android phone and is very lightweight. iPhone devices need no installation at all. Everything is done in the cloud so no space is occupied on the phone!
1.2 How to Use Cocospy As A Facebook Password Cracker
Now that you know about Cocospy and its amazing features, let's see how to use it. In this section, we will take you through the simple steps to set up the app. Once you set everything up, it's easy to hack into a Facebook account.
Step-1: Visit the Cocospy official website and sign up for a new account. This is a simple process and will only take seconds.
Step-2: Now, simply install the Cocospy Android app on the target device if it runs Android. Follow all prompts and then give the app all permissions it needs to function.
If it is an iOS device, there is nothing to be installed! Yes, that's right— you do not need to jailbreak it too! All you need are the iCloud account username and the password.
Simply verify the iCloud credentials and you are done.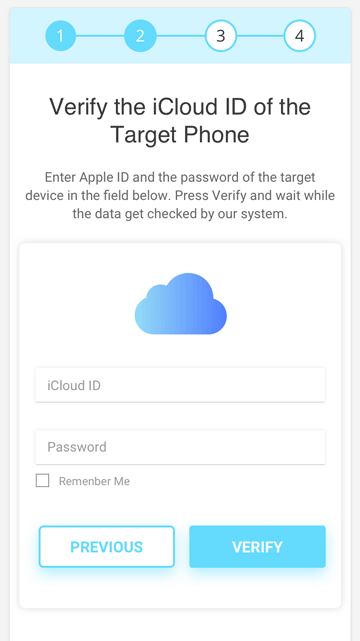 Step-3: Now simply log in to your Control Panel. You will see your dashboard. Proceed to the 'Facebook' section to read Facebook Messages.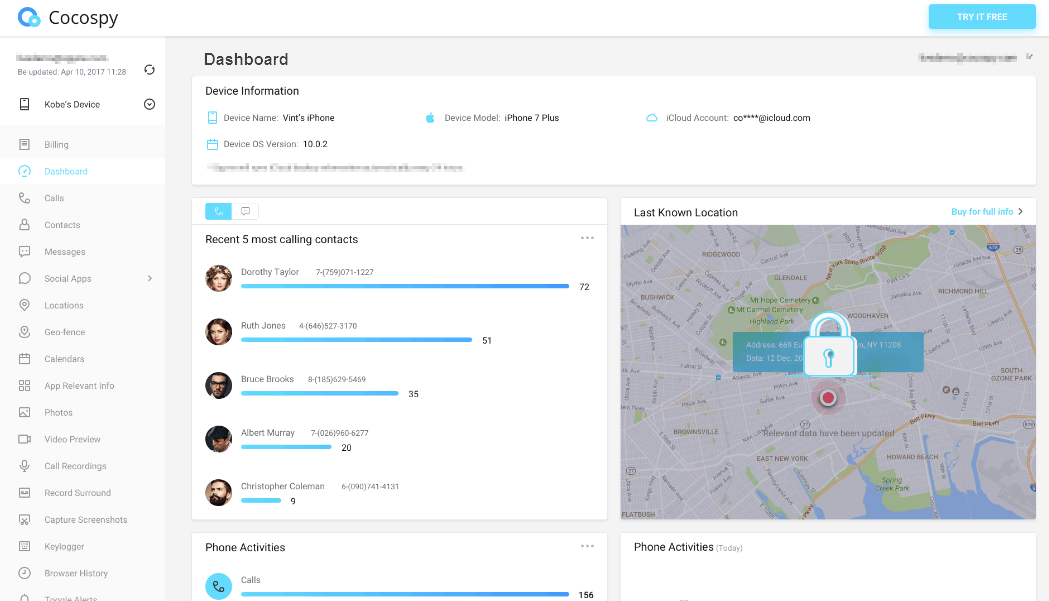 This way, you can read all incoming and outgoing Facebook messages without having to know the password. You can also see the media files being shared and the details of the contacts.
Also read: How to Hack FB Account Without Password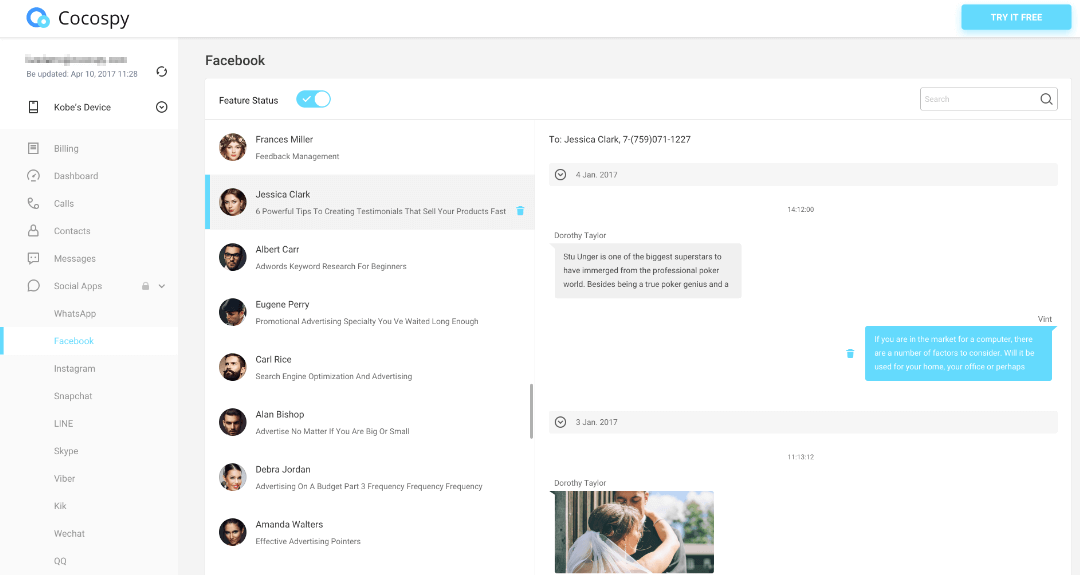 What if you need deeper access into the Facebook account? Maybe you want to read the newsfeed or access the settings? For this, go to the 'Keylogger' section on the dashboard. You will see all usernames and passwords here. Look out for the Facebook account password.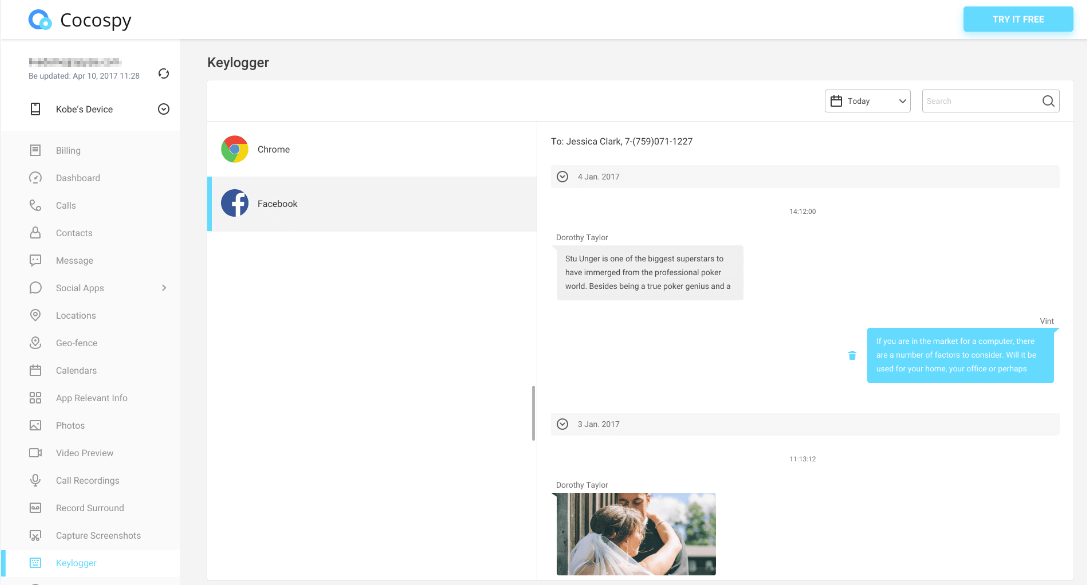 Once you have the password, simply log into the Facebook account. This is one of the greatest password crackers for Android. If you'd like to see all this in action, see the Cocospy live demo here to know more.
Part 2: Hypercracker For Cracking Facebook Passwords
There are several ways to hack someone's Facebook and Hypercracker is one of the most popular ones. This is actually an online Facebook password cracker. All you need to do is enter the username of the target and you can access his account.
Many such online password crackers can require users to complete annoying surveys. They can also be non-functional and you can end up wasting your time. Hypercracker advertises itself as a service that requires no surveys to be completed to function.
2.1 Using Hypercracker Facebook Password Cracker
Let's see how you can use Hypercracker to access someone's Facebook account. There are three simple steps to follow.
Step-1:  Proceed to the Hypercracker online hacking website panel. This is an online application that will help you hack into Facebook without any downloads.
Step-2: Enter the Facebook username of the target account you want to hack on the panel. You must ensure that the username is of a valid profile. Only then will the password cracking be successful.
Step-3: The app will allow you to download the password of the account. The app is one of the fastest and has universal availability.
However, we highly recommend users to stay safe. Such services can potentially compromise your own security. You should only download files from trusted online sources. If you need a secure way to hack Facebook, Cocospy is a powerful app that needs no rooting or jailbreaking.
Part 3: FlexiSPY App
Here's another popular app to use as a Facebook password cracker. FlexiSPY features a Facebook Messenger tracker. It is ideal for parents who are concerned about their child's safety online.
Note: To use FlexiSPY's Facebook spy feature, you have to jailbreak or root the target device.
FlexiSPY also has a number of other features in addition to Facebook monitoring. Let us know more about this app and how to use it.
3.1 Using FlexiSPY App As A Facebook Password Cracker
In this section, we will see the steps to install and use the FlexiSPY app. Let us see the various steps involved in hacking someone's Facebook account using FlexiSPY.
Step-1: First, sign up for an account on the FlexiSPY website. Next, purchase the subscription plan you like.
Step-2: Now download the FlexiSPY app and activate it. Proceed to your Control Panel and log in. You will now be able to read all Facebook messages.
If you need to log in to the Facebook account, capture the username and password. You will find those in the 'Keylogger' section of the Control Panel. If you would like to know more about FlexiSPY, click here to see the FlexiSPY live demo or you can also read our FlexiSPY review here.
Part 4: Using Spyzie Facebook Password Cracker
Spyzie is another spy app that allows users to monitor a target phone remotely. The app can also be used as a Facebook password cracker. Simply download the app and see all information from your Control Panel remotely.
Let us know more about this app and how you can install it. The app, like Cocospy and FlexiSPY, has a number of features but we will focus on Facebook here.
Note: To use Spyzie's Facebook spy feature, you have to jailbreak or root the target device.
4.1 How to Use Spyzie Password Cracker
The process of using Spyzie to crack a Facebook password is simple enough. You will need to install Spyzie on the target, however. Let's see the process in detail.
Step-1: Visit the Spyzie official website and create a new account. Purchase your choice of subscription plan.
Step-2: Download the Spyzie app on the target device. Next, log in to your Control Panel. You will now see the Dashboard interface.
Proceed to the 'Social apps' section to read all Facebook messages and chats. You can also see the media files being shared. You might also want to use the 'Keylogger' feature to access the Facebook username and password if you like.
If you want, you can see the Spyzie live demo here and read more about the app in our Spyzie review on this link. However, Cocospy is a much more powerful solution and is also much easier to use. It is also very secure and is trusted by people from across 190 countries.
Part 5: Face-Geek Facebook Password Cracker
Face-Geek is one of the most popular apps in the Facebook password cracker category. You do not need to install anything when you use this online application.
The benefit of using an online service like Face-Geek is that there is no software to be downloaded. Everything is done online. However, it is important to be aware of security issues. Free services such as this can also add dangerous malware to your system.
5.1 Using Face-Geek to Crack Facebook Password
Let us see how you can use Face-Geek to crack a Facebook password. The process is quite simple and straightforward actually. Ensure you have the target account's Facebook ID handy before you begin.
Step-1: You simply need to head to the Face-Geek website. Proceed to the Facebook hacking panel.
Step-2: Enter the Facebook ID of the person whose profile you wish to hack. Ensure you enter the ID correctly else the service will not work.
Step-3: Wait for Face-Geek to crack the password. Once it does, use the username and password to log in to the account.
There is no guarantee that online services like Face-Geek will work. You might notice that there are several web portals that claim to be the real Face-Geek. However, there is no way to be sure you're using the right application.
If you need a foolproof way of accessing Facebook remotely, we strongly recommend using the Cocospy app. It always works and is 100% secure.
Conclusion
There are several ways to hack Facebook. We highly recommend trying the Cocospy app since it is the easiest to use. There is no need to root or jailbreak the target device. What's more, iOS devices need no installation or downloads at all! It is fast, light-weight, and secure.
You can also use apps like FlexiSPY or Spyzie which offer similar functions. There are even online services such as Hypercracker and Face-Geek. However, the later might put risk on your own security unless you know what you're doing.
In a nutshell, if you need a one-stop solution for a Facebook password cracker, choose Cocospy. You won't be disappointed with this feature-rich application!
You can not only hack Facebook but also track calls, read Facebook messages, WhatsApp chats, and get geofence alerts. Cocospy is a complete phone monitoring app that has every imaginable spy feature you will ever need.