In the recent past, mobile phones have become so close to us to the extent everywhere we go we must carry them with us. We all carry them to courtrooms, churches, schools, boardrooms, everywhere.
Unfortunately, advancement in mobile phone technology through the internet has come with its own hitches. This includes crimes such as hacking, cyber bullying, cyber stalking and maybe catfishing mainly among teens.
This has resulted in parents and employers demand an app to track phone without them knowing. This is because location tracking is one of the most important features of spying, as it helps you know their location at any given time.
In this guide, we shall seek 8 best apps to help you track a cell phone without them knowing.
Part 1: Using A Phone Tracker Without Them Knowing
The biggest concern about tracking your kids, employees or even spouse is whether they will know. We, however, have some good news, as you can track someone's phone without their knowledge.
The best way you can achieve such is by the use of Cocospy Cell Phone Tracker.
Cocospy: Best Phone Tracker App Without Permission
Cocospy is the best phone tracker app you can use to determine a person's location in real time, and even in terms of places they've visited. This is because apart from its effectiveness and reliability, Cocospy has a stealth feature that lets the app run in the background of the target phone without drawing any attention.
Once installed, the app has the ability to disguise itself as something completely different. This means that even when the person tries to check their installed apps, they won't be able to detect anything fishy.
Cocospy is free and easy to use. The app is not even demanding in terms of resources once installed.
Also, this app is compatible with both iOS and Android software devices which have a wide range of phones meaning most people will be best suited to use this Cocospy.
Part 2: How to Track a Cell Phone Without Them Knowing (For Android)
Tracking an Android phone has never been easier with Cocospy.
To track without the targeted person knowledge, you just need to:
Step 1: Sign Up Free. Cocospy only requires your email and password.
Step 2: Get the download URL and download the app in the target Android device. For more detailed instructions, you can click here.
Step 3: After the installation, Cocospy will begin tracking immediately. You can then access your phone tracker online by logging into your dashboard from any browser. You'll see the location of the target phone in real time!
Part 3: How to Track A Cell Phone Location Without Them Knowing (For iOS)
One of the main reasons why most people go for iOS software devices is because of its security features. It's always been very hard to track an iOS device. But with the recent advancement in tracking apps like Cocospy, it is now very easy to track an iPhone.
Cocospy makes iPhone tracking way far too easy than you can imagine. You won't even need to have access to the target device that you want to track. All you need to know is the target device' iCloud credentials. iOS devices sync their vital information to iCloud. Cocospy can then access all information from there.
All you need is sign in with your account. The device, however, needs to have the iCloud feature for back up enabled.
To track with iPhone without them knowing, you just need to sign in to Cocospy with their Apple ID and password.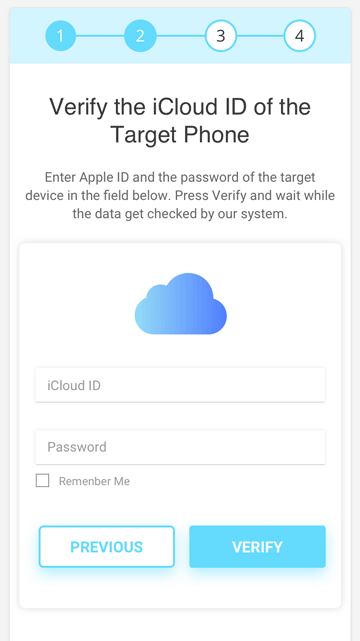 After the interface syncs the data after logging-in to the iCloud account, an interactive dashboard will display all the vital details of the device. In-depth information related to the device can be found on the left panel.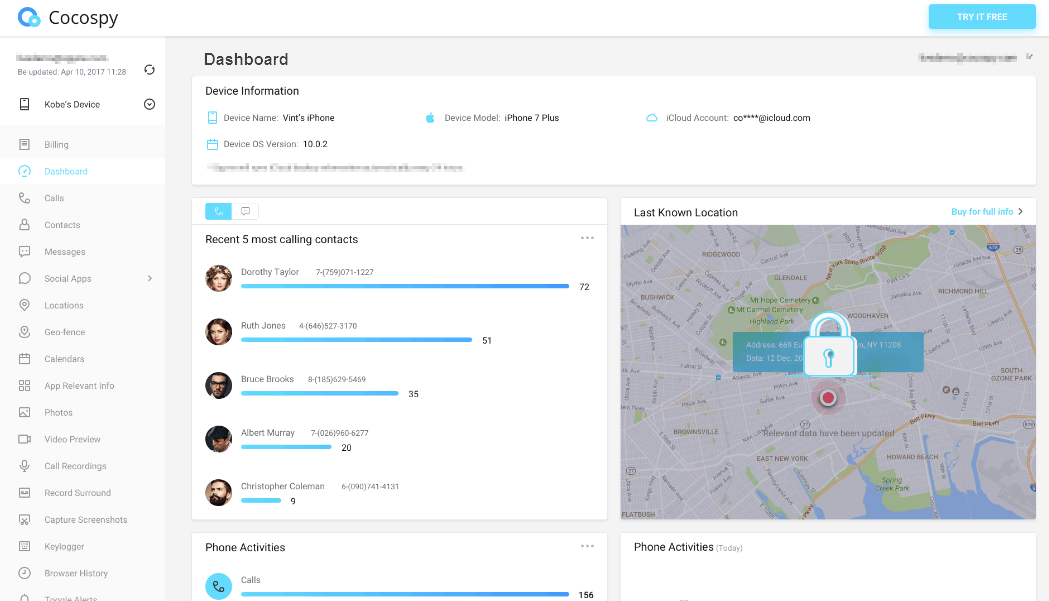 In this way, you can easily spy an iPhone without them knowing using Cocospy!
Part 4: How to Track Someone by Phone Number Without Them Knowing
Spokeo is a great cell phone number tracker. It can also be used to track the details of an unknown caller without access to their phone.
Information Gathered:
First and Last name.
Associated phone numbers.
All registered addresses.
Names of family members.
Email addresses.
History of complaints filed against them.
How to Find Someone's Location by Cell Phone Number Free
Go to the Spokeo Official Website.
Enter the phone number into the search bar and click 'Send'.
Generate the report and go through it.
Pro
Can track any unknown number without physical access to phone.
Complete background check.
Free.
Easy to use.
Cons
You only get registered home addresses. Can't tap into the GPS location.
Don't Miss: 10 Best Phone Tracker Apps to Track A Cell Phone Location For Free
Part 5: How to Track A Cell Phone Location for Free with the Number of the Cell Phone
BeenVerified is a mobile tracker website that can help you gain personal details of an unknown caller. You don't need access to the target phone. You just need the number and you can gather all of the user's personal information.
Information Gathered:
Registered addresses.
Past addresses.
Email addresses.
Other phone numbers.
Social Media profiles.
Photos available online.
How to Track Someone by Cell Phone Number Without Them Knowing
Go to the BeenVerified Website.
Enter the number into the search bar and click on 'Start Search'.
Wait for the report, which you'll get within a few seconds.
Pro
Can be used to track the locations of anonymous phone numbers.
Gathers a lot of personal details.
Free.
No need to personally access the phone.
Takes a few seconds and easy to use.
Cons
Doesn't generate the current GPS location. Only the registered home address.
Also Read: How to Find Someone's Location by Cell Phone Number
Part 6: How to Track A Phone Without Them Knowing (For Samsung)
Tracking a Samsung phone is as simple as an iPhone. For most Android phones one has to install tracking apps, but for the Samsung phone, one can track a phone using a Samsung Account which has a feature called Find My Mobile.
Find My Mobile has features like the GPS phone tracker, remote device locker and siren signal alert sender. Tracking using a Samsung account is free.
Track Android Phone Without Them Knowing
Create a Samsung Account by going to the Android Settings > Account. Then choose Add Account and select Samsung Account
Log into your Account by entering your Samsung ID and password, and then enter.
Go to Find My Mobile icon, select Register Mobile tab and GPS track phone location for free.
Also Read: How to Track a Cell Phone Location Without Installing Software
Part 7: How to Track a Phone Location Without Them Knowing for Free (For iOS)
Find My iPhone is a feature that was implemented by Apple to help people on how to track lost iPhones. However, if you are tricky enough, you can use this feature to track someone's location using their iPhone, iPad or iPod touch.
To use Find My iPhone to track someone for free, you need to have their iCloud credentials. You also need to make sure that the functionality is also enabled on their mobile phones.
How to track a phone location without them knowing for free
Open the Settings app on their iPhone or iPad.
Tap on "Apple ID" at the top.
Tap "iCloud."
Scroll down and click "Find My iPhone."
Switch it on.
From there, you can now track their location using either a browser or your iPhone.
To use a browser:
Go to www.icloud.com using any browser.
Log into their iCloud account.
Click "Find iPhone."
If prompted, enter the Apple ID and password.
Click on "All Devices" at the top, and select the desired one.
You will now get a map with their current location. You can zoom in to see the precise location.
To use your iPhone:
Launch the Find My iPhone
Log in with their iCloud ID.
Tap on the name of the device you'd like to track.
You will now get a map with their current location. You can zoom in to see the precise location.
Since Find My iPhone is meant to find a lost phone, you will have options such as "Play Sound," "Lost Mode" and "Erase." Be careful not to use them, as the other person will know that their device is compromised.
You may like: How to Track an iPhone Without Them Knowing
Part 8: How to Find Someone's Location by Cell Phone Number
Formerly known as Android Device Manager, this is Google's phone recovery feature. You can also use it to track someone through their mobile phones. All you need to do is install the Find My Phone App. It's available on the Google Play Store.
After downloading the app, launch it. You will be required to enter the associated Google account, and so you will need the email and password used on the device.
Immediately after entering the credentials, the app will locate the device and let you see its location in real-time.
Track A Cell Phone Location by Number
There are other alternative apps can help you to track a cell phone location by number. You can try Spydialer and Zabasearch, they are free, but not as good as Cocospy.
Part 9: 5 Useful Tips to Track A Cell Phone by Number Without Them Knowing
Whether trying to help the target person or doing it for your own benefit, spying is something that you shouldn't be caught doing. This is why you should always try to cover your tracks to avoid complicating your relationships with them. Here are a few tips that you should always keep in mind in order to remain undetected, as well as to enhance your spying experience.
Don't act out
The simplest mistake you can do while spying on someone is to tell them. You may not tell them directly, but by showing that you know too much about them. If you have an issue to address, try to find an explanation that will not make them suspect you.
Always stay updated
Not only should you know about the current spy trends, but you should always make sure that you update your spy app. This is because updates are meant to correct something that can either be wrong or improve on something that has become outdated. Failure to update the spy app may make it easily detectable by an updated operating system.
Choose a compatible app
Sometimes you don't only need to track a single person, but your whole family. Choosing a spy app that supports multiple platforms like Cocospy helps you track all your kids/ employees regardless of whether they use an Android smartphone or iPhone.
Keep Your Account Login Details Secret
Most spy apps will require you to create an account so as to access tracked devices. It's important to keep your dashboard private. Do not bookmark it, keep your login details anyhow or use a simple password. This can make you be caught easily and if you were spying on your spouse, things might go south quite fast.
Choose your tracking app wisely
Not all mobile phone track apps deliver what they promise. It's important to look at the quality of service offered by the app in comparison with the price. Cocospy gives you a safe starting point, and it's the best app you can use to track cell phones without them knowing.
You now know how to track a cell phone without them knowing. If you follow the given guidelines, you shouldn't worry about being caught. Though there are various methods that you can use to track a mobile phone, using Cocospy is the best. For example, the Google Play Store notifies a person that their location has been traced using Find My Phone. With Cocospy, you don't have to worry about the target person knowing. If the app sounds too good, that's because it is!
Please be advised that the products provided on this page may require consent in certain jurisdictions–please check in your applicable area before using.
This post is also available in: Русский (Russian) Português (Portuguese (Brazil)) 日本語 (Japanese) Español (Spanish)